Expert renovators and parents-to-be Kyal and Kara Demmrich believe layout design and appliance selection are standout considerations when constructing the perfect kitchen
With more than 25 renovation projects under their belts, Kyal and Kara Demmrich have designed and built their share of kitchens.
The couple, who run boutique design and construction business Diverse Design & Construct, say one of the key learnings they picked up as contestants on The Block Fans v Faves is to understand the kitchen's layout.
"Ensuring there is a good flow between the sink, oven/cooktop and fridge is really important," Kara says.
"Another key consideration is ensuring there is enough bench space close to the oven and cooktop for ease of preparation."
"The Bosch gas cooktop was the standout appliance for us. A large cooktop is an absolute must for any cook."
- KARA DEMMRICH
Kara, due to give birth at the time of print, says they drew inspiration for the design of their Block kitchen from the original architecture of the building - the century-old Dux House was built as a church and once housed a silent movie theatre.
"We had already decided to use bluestone throughout the bottom floor - so the floor became our starting point," she says.
"And we wanted the space to feel open to the dining, living and outdoor space - a servery window was one of the first things we locked in.
"We were targeting a professional couple or family who love cooking, so ensuring that the layout was functional was a priority.
Having the large pantry with a wine fridge was also a big positive."
Kara says every design element was important when designing the kitchen, from the appliances to the choice of benchtops and cabinetry.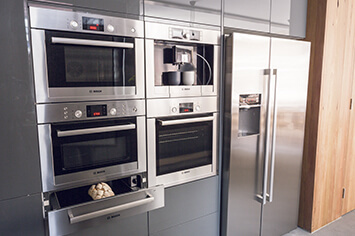 "For us, the exposed brick was a great inclusion as this was such a big feature of the historical Dux House," she says.
"Ensuring that the cabinetry and benchtops worked well (but did not compete) with each other was also important.
"For us, it was all about mixing textures to create a warm and inviting look." overall look of the kitchen."
Kyal says the couple chose to use seamless Bosch appliances for their Block kitchen because "they are modern and robust looking, which really suited our industrial look". This included a bank of four appliances - oven, steam oven, microwave and coffee machine - built into the cabinetry
Kara says the Bosch gas cooktop was by far their standout appliance.
"A large cooktop is an absolute must for any cook, and the Bosch six-burner worked so well against our exposed brick splashback with glass cover and back lighting," she says.
"When you first walked into the space, this was definitely what caught the eye - and helped to warm and soften the overall look of the kitchen."
Kara advises when choosing appliances to take the time to list what is important to you.
"The most important consideration is ensuring you've thought about what is going to be the most practical choice for you and your cooking style," she says.
"For example, would you prefer a gas cooktop or an induction surface?
"In terms of the overall look, have a think about whether you're after a modern, sleek looking kitchen, or something a little more traditional. When choosing appliances, ensure that each selection will be in keeping with your overall look.
"For example, a bank of sleek, in-built appliances will, generally speaking, suit a modern look."
Personally, Kara says her go-to appliance is a gas cooktop.
"We cook a lot of stir-fries - so we absolutely love a good gas cooktop. Having just finished renovating for ourselves again, having a dishwasher is a luxury we're happy to get used to again, too."


Ensure you have a functional "triangle" between the key working spaces of your kitchen — ie the sink, oven/cooktop and fridge.

Ensure you have a functional "triangle" between the key working spaces of your kitchen — ie the sink, oven/cooktop and fridge.

Aim to have your fridge in an easily accessible location on the "outskirts" of the kitchen — so that people aren't constantly passing through the "cooking areas" of kitchen to access the fridge. This is particularly important if entertaining regularly.

Ensure adequate bench space around the sink and appliances such as the cooktop.

Begin thinking about your appliances early on in the design process of your kitchen to ensure you can accommodate those that are important to you. For example, free-standing oven.

Ensure you've created a nice flow between the kitchen and other living spaces such as the dining room. More so than ever, open plan entertaining spaces are what people are looking for.
Source: Originally published by News Corp Australia.