Discover Weber
at the Good Guys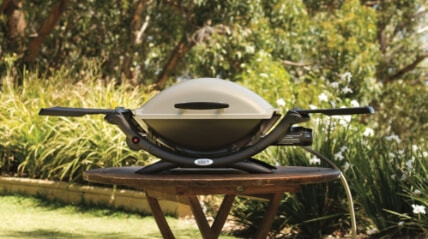 Weber Q
Weber Q gas BBQs are loved for their smart good looks, deceptively compact size and the delicious flavour that cooking with flame imparts. Discover the compact Weber Baby Q, the best selling Weber Q and the large Weber Family Q.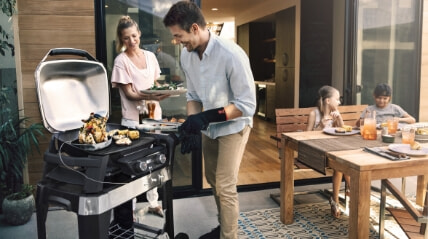 Weber Pulse
Everything you love about a traditional Weber gas BBQ but with the ease of 'plug-in-and-cook' electric power. Great for apartments and small yards, Weber Pulse BBQs are packed with the latest technology for amazing BBQ results.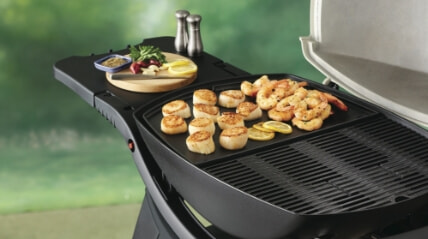 Weber Accessories
Your Weber BBQ is more versatile than you ever thought. Discover a range of accessories including a hotplate great for a breakfast fry-up, a handy trivet for succulent roasts on the BBQ or a pizza stone for pizzas with a perfectly crisp base.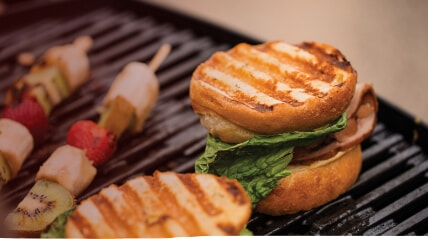 Weber Cookbooks
Your Weber BBQ is great for cooking so much more than just steaks and sausages. Discover Weber cookbooks packed with inspirational and achievable recipes for all BBQ enthusiasts.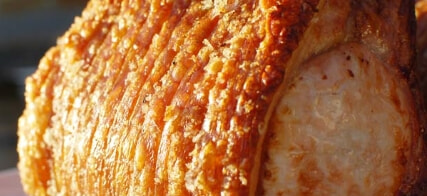 The Best Roast Pork
Creating everyone's favourite mouth-watering roast pork with the crispiest crackling on your Weber BBQ is so easy! Get our recipe here.
Roast Pork with Crispy Crackling
on the Weber
INGREDIENTS
2kg pork with fat scored
Extra virgin olive oil
Salt
6 apples, cut in half
1 bunch fresh sage
6-8 sprigs of thyme
60g macadamia nuts, crushed
30ml maple syrup
METHOD
Preheat the Weber Q with both burners on high heat for 20 minutes.
Place the convection tray and trivet on the hot plates.
To prepare the pork, pat it dry with paper towel, rub about 2 teaspoons of oil over the fat and coat with a generous amount of salt.
In a roasting dish, add the apples, carrots, fresh herbs and macadamias. Drizzle with olive oil and maple syrup.
Set the pork in the middle of the dish on top of the bed of carrots and apples.
Place the roasting dish on the trivet in the Weber and close the lid. Turn the middle burner off and roast for 20-30 minutes or until the crackling has started to pop (you'll hear it).
Then, turn the outside burner down to medium and roast for another hour.
If the crackling has not gone completely crunchy, place the pork in a hot oven for 10 minutes. Alternatively, you can remove the fat from the pork and place it under the griller to make super crunchy crackling (that method never fails!).
Recipe by Emily Pereira, Accredited Practicing Dietitian and runner-up in the 2017 Kitchen Star competition. Emily's mission is to help people nurture a positive relationship with their bodies and the foods they love.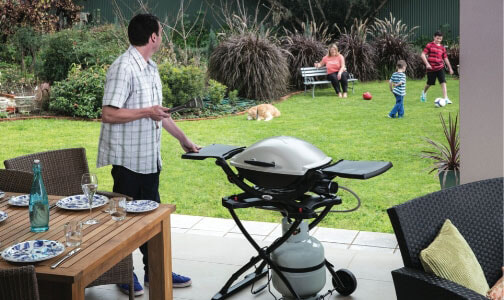 About Weber
For nearly 70 years, Weber have been creating BBQs loved all over the world. Weber are famous for their traditional kettle BBQs, Weber Q gas BBQs and the new Weber Pulse electric BBQs.
Discover Weber BBQs and Webber BBQ accessories online and in store at The Good Guys.