Samsung FlexWash™ washer is now available at The Good Guys
The Samsung FlexWash™ has an XXL capacity that can do 18.5kg of washing at once in two loads—one in the 16kg front load washer, and one in the 2.5kg top load washer. If the front loader has already started and you need to add extra washing or fabric softener, just use the Add Door; that way you won't have to wait for the next load or drain the drum to add more.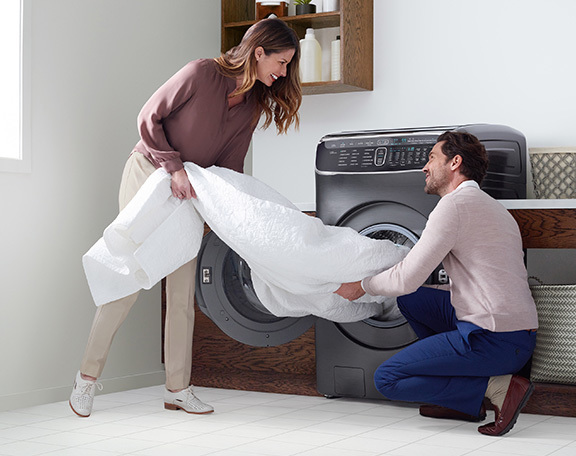 Wash More in Less Time
Instead of having to do sheets and towels in lots of smaller loads, you can do extra, extra large 16kg loads in the Samsung FlexWash™ front load washer.
Do Little Loads Up Top
Do delicates and smaller loads in the little 2.5kg cold-water top loader when you only have a few things to wash, or when you're doing another wash in the front loader below.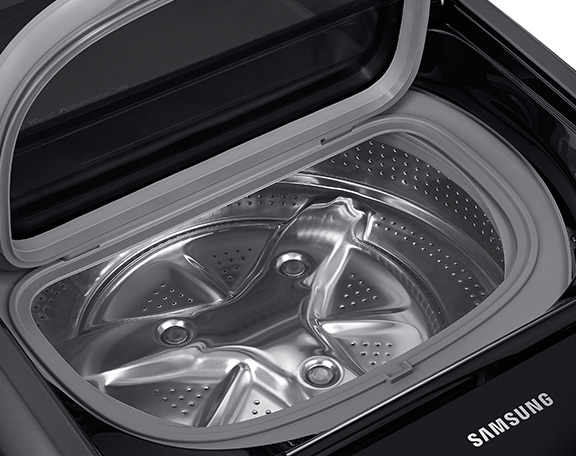 Add Extra Bits While Washing
Found an extra pair of socks or a shirt you want to add to the machine after the washing's started? Just use the Add Door to add any extra bits of washing or more fabric softener.

Bubble Wash™ & BubbleSoak™
Bubble Wash™ pre-mixes the washing detergent with water and air at the start of the cycle to create foam bubbles, and the optional BubbleSoak™ pre-wash treatment soaks dirty washing inside the front loader before the wash cycle starts.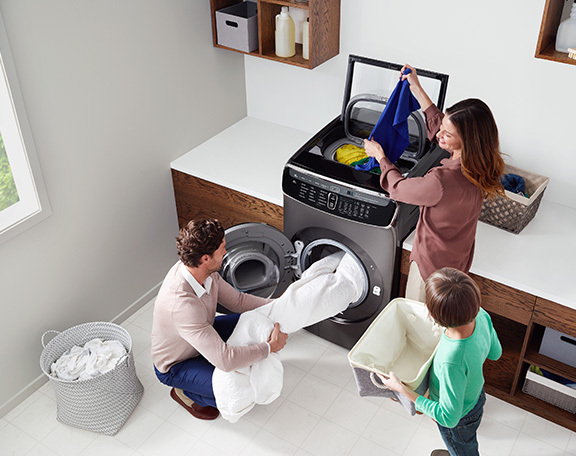 Wash a Little Load in 15 Minutes
Life's busy and there's no time to waste. That's why the Samsung FlexWash™ washer has a Quick Wash cycle that can do up to 2kg of lightly soiled washing in 15 minutes.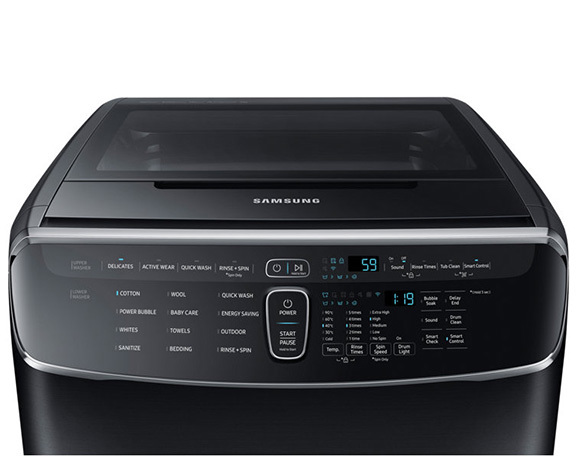 Smartphone App Control & Troubleshooting
Use the Samsung Smart Washer app and your compatible smartphone to start the washing, track its progress and switch cycles on the go. The app also connects to the washer's automatic Smart Check error-monitoring system via Wi-Fi so troubleshooting is easy.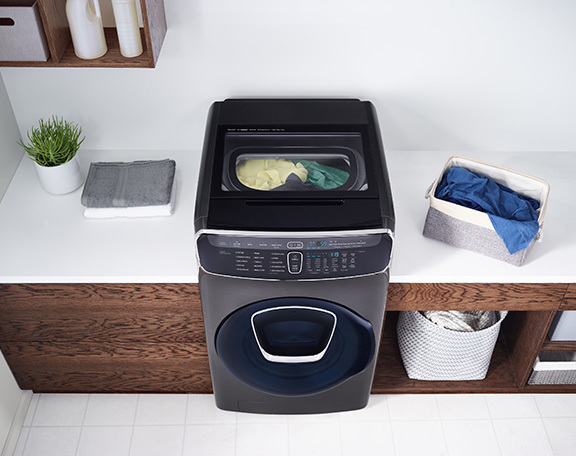 Quiet Washing and Spinning
Even at high spinning speeds with different load sizes, the washer's Vibration Reduction Technology helps keep the machine balanced so it washes quietly.
Designed for Comfort
With easy-to-reach controls that help reduce back bending, and an easy-to-view-and-get-to top loader, it's no surprise the Samsung FlexWash™ has won an Ergonomic Design Award.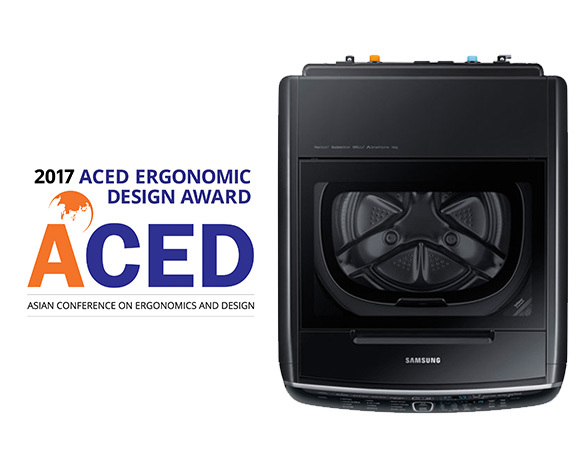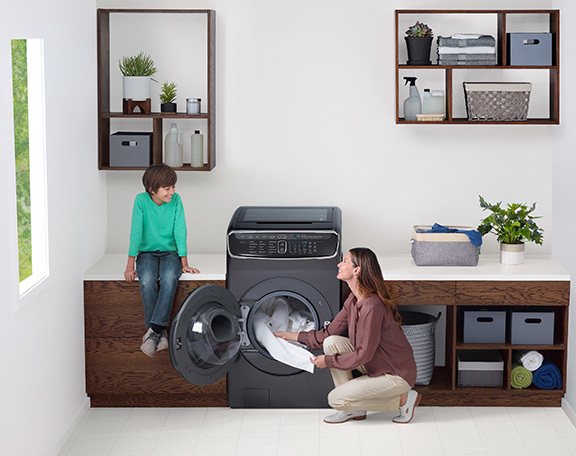 Easy to Install and Set Up
The Samsung FlexWash™ is extremely easy to install and set up. You don't need to screw anything together, just plug in the power cord and attach the two water connections to your taps.
11-Year Motor Parts Warranty
The digital inverter motor comes with an 11-year motor parts warranty and works without brushes so it has fewer moving parts. This creates less friction and low vibrations so it washes quietly.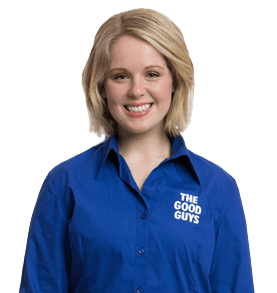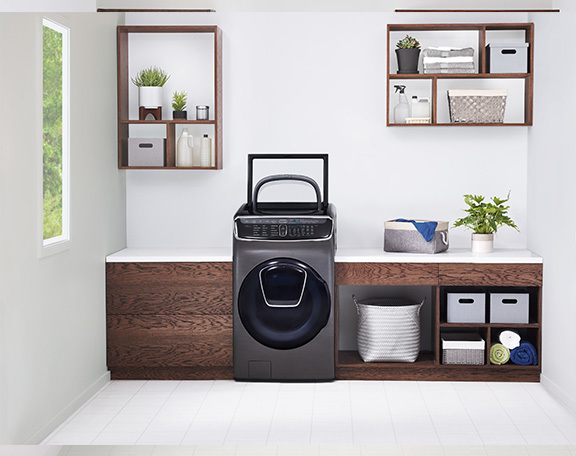 Shop Samsung FlexWash TM
The Samsung 18.5kg FlexWash™ washing machine is available online and in selected stores.
SHOP NOW
FIND A STORE
Compare Samsung FlexWash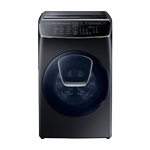 Samsung 18.5kg
Dual Load Washer
FlexWash Feature

AddWash Feature

Activ DualWash Feature

Capacity
11 Year Parts Warranty

Energy Rating
WELS Water Rating
No. of Programs
Control Panel
Detergent dispenser
Smart Check