Discover the DeLonghi difference – timeless oven, cooktop, rangehood and dishwasher designs that give you outstanding performance.

Introducing the new DeLonghi built-in cooking range

Made in Italy
For more than 65 years DeLonghi ovens and cooktops have been made in Italy with a long-standing tradition of excellence in both design and manufacturing. To ensure durability, robustness, and cooking performance excellence, DeLonghi use only the finest materials, creating unmistakable Italian style.
DeLonghi ovens, the heart of the family kitchen

Elegant lines and the latest cooking innovations combine with renowned DeLonghi craftsmanship to inspire you in the kitchen.
Making culinary masterpieces and casual meals for loved ones is much more pleasurable when you feel inspired in your kitchen.

Shop DeLonghi ovens v
DeLonghi oven features & technology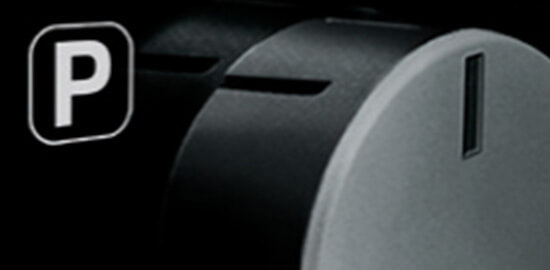 Pyrolytic Cleaning
A pyrolytic oven has clever self-cleaning technology that saves you from having to scrub the oven. It turns grime and food splashes to ashes by heating the oven to 500C. All you need to do is give it a quick wipe with a damp cloth, and there's no need to use harsh cleaning chemicals.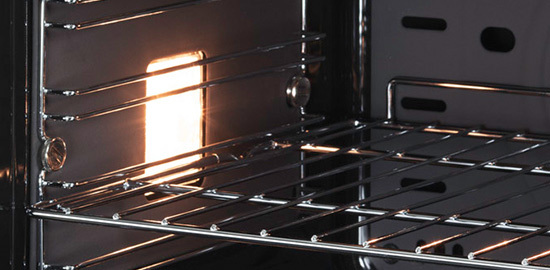 Durastone Plus Enamel
Ovens with a cavity made from Durastone Plus enamel build up less fat and oil because the enamel's high glass content creates a smooth surface. This makes cleaning much quicker because you just soak a cloth in a bit of dishwashing liquid and wipe after each use.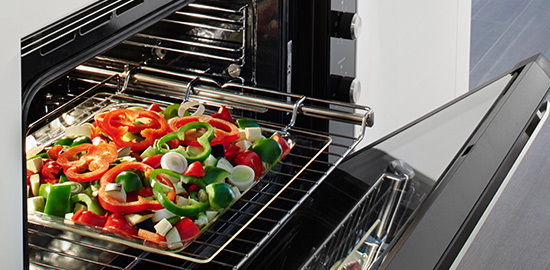 Catalytic Liners
Ovens with catalytic liners simplify the cleaning process because the liners react with high temperatures and convert grease to ash so you can simply wipe it away once the oven has cooled down.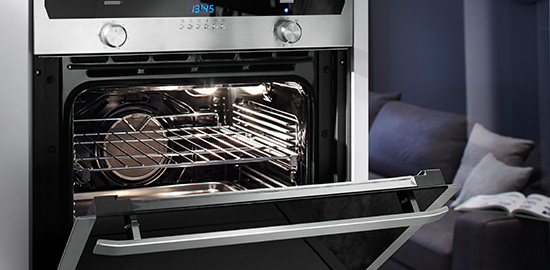 Safe Touch Oven Door
DeLonghi oven doors stay touch cool to help you and your loved ones stay safe in the kitchen. Multiple layers of glass minimise the transfer of heat whilst ensuring food cooks evenly, and the innovative cooling system cools down the door and oven by circulating cool air around the outside cavity.
Cooktops to suit every home cook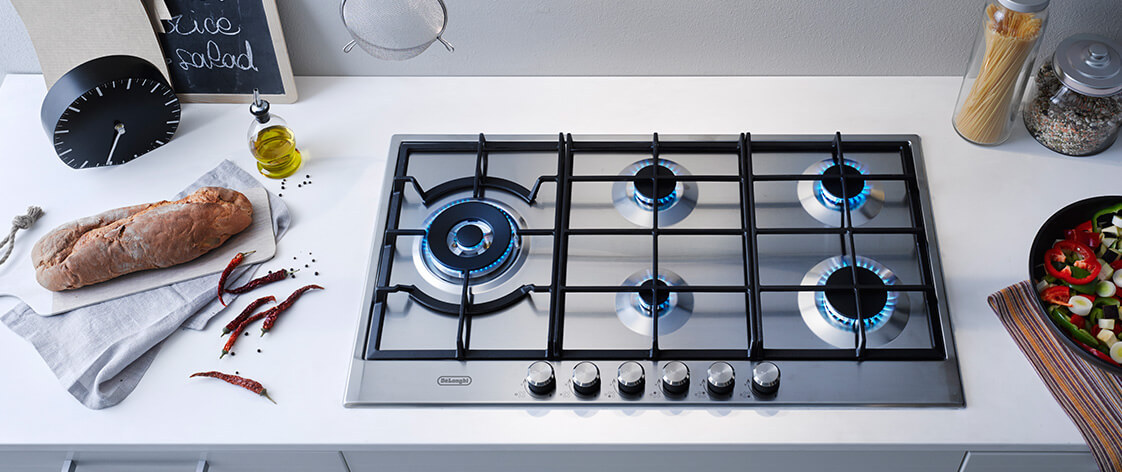 DeLonghi cooktops have clean lines and designer finishes for kitchen elegance, with cooktop technology to suit both budding chefs and beginners.

DeLonghi gas cooktops give you immediate heat and the premium cooking experience chefs expect, while the latest induction cooktop technology gives you fast, precise and efficient cooking performance with added touch-cool surface safety.

Shop DeLonghi cooktops v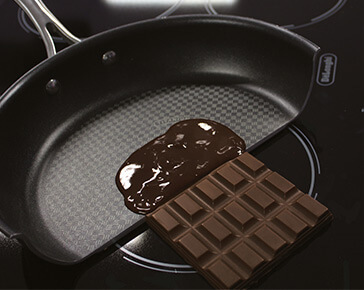 Induction Cooking
When you put a pan on an induction cooktop a magnetic field creates an electric current in the pan itself, instead of heat transferring from the cooktop surface to the pan. This gives you your desired temperature fast, precise control, and excellent cooking efficiency.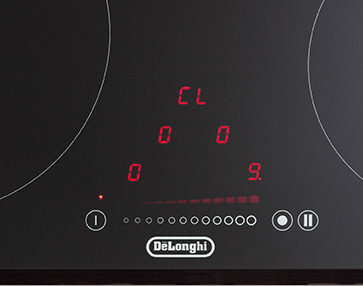 Intuitive Touch Controls
Ceramic glass cooktop controls give you sleek, designer kitchen style and touch control. One flat, continuous cooktop surface also makes wiping up after cooking so simple. The digital controls are designed for easy, intuitive use, with timers and child locks for added safety.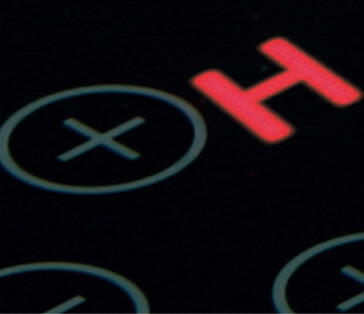 Residual Heat Indicators
The Residual Heat Indicator is an added safety feature – showing you when a cooktop zone is heated and only switching off once the cooktop's a safe-to-touch temperature.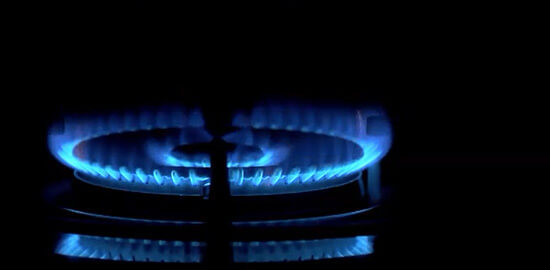 Flame Failure Safety
The flow of gas is automatically shut down if the flame accidentally goes out thanks to the rapid safety valve that senses the increased rate of gas flow, giving you greater home safety.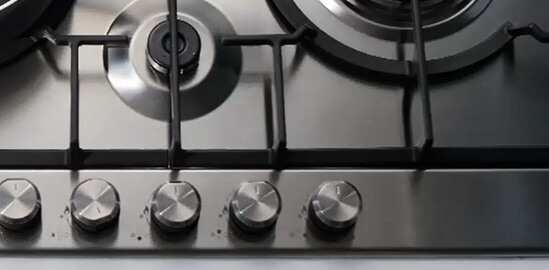 Automatic Ignition
Lighting DeLonghi gas burners is so easy – just push the button and an electronic device inside the cooktop creates the sparks needed to ignite the gas flame for fast cooking.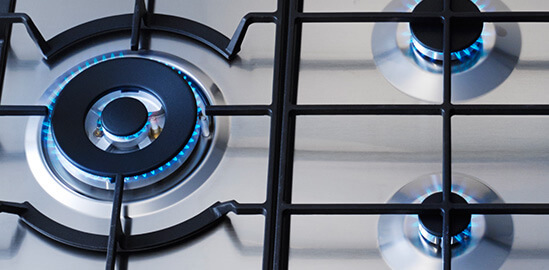 Triple Ring Wok Burner
A powerful triple ring burner for rapid cooking and even heat distribution, making it perfect for Wok cooking. All De'Longhi cooktops come with a wok support that can be added to support the pan for this type of cooking.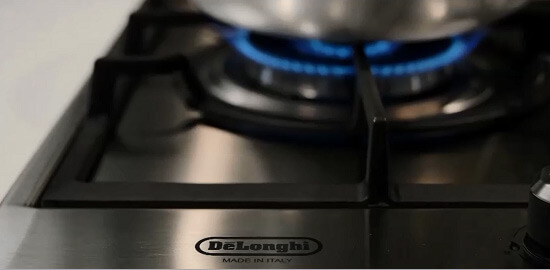 Heavy Duty Cast Iron Trivets
Cast iron supports keep your pots and pans stable while you're cooking and stirring. They're designed to be long lasting and easy to clean so your cooktop stays in excellent condition.
Make a statement with a stylish DeLonghi rangehood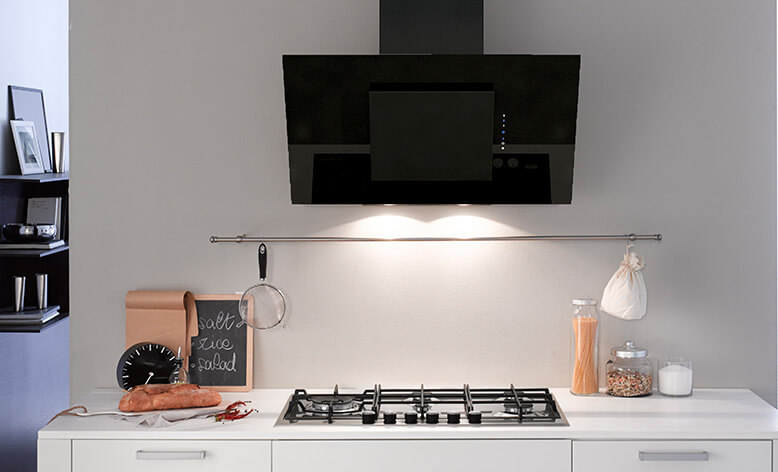 A designer rangehood can create a striking kitchen feature. DeLonghi rangehoods combine black or white glass with stainless steel to enhance any kitchen style and layout. The addition of innovative soft touch controls and dimmable lights make DeLonghi rangehoods a modern masterpiece.