ARTICLE
What Are The Best Robot Vacuum Cleaners in 2022?
May 05, 2022 - 7 min read
Let's face it, vacuuming is a chore most of us would like to avoid if we could. And now, thanks to robot vacuum cleaners, we can. The Good Guys have a great range of robot vacuums to choose from as well as all the latest in stick, barrel, handheld and pet vacuums and all the accessories to go with them. If you're looking for the best in all things vacuum cleaners, you've come to the right place.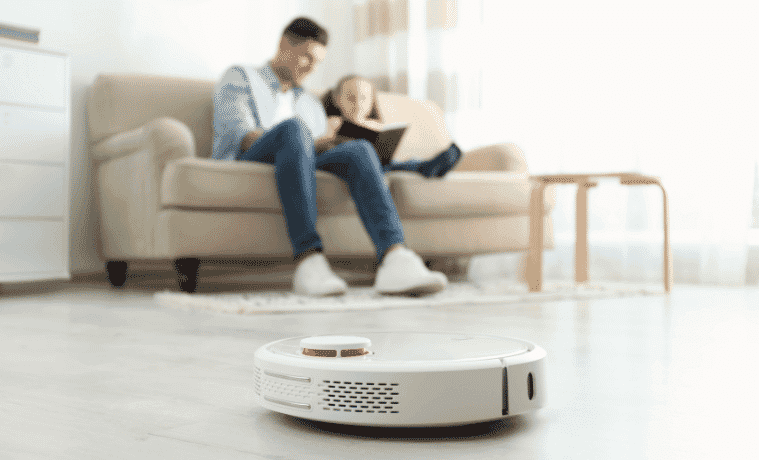 What are robot vacuum cleaners?
A robot vacuum cleaner is, as its name suggests, a vacuum cleaner which operates on its own without the need for a human to push it. Some robot vacuums use spinning brushes to get into hard to reach places and may have a number of cleaning features over and above basic vacuuming. For example, the ability to mop hard floors. The latest models use artificial intelligence and deep learning for better mapping (learning where your walls and furniture are located) and can vary suction power as needed.
Best robot vacuums
Let's examine the very best robot vacuums for your specific floor type and home.
Best for carpet
If you have a lot of carpet, read on.
iRobot
The iRobot Roomba i7 Robot Vacuum has flexible rubber brushes with unique treads to loosen and lift debris. It hugs the surface of the floor to carefully clean carpet and hard floors, picking up hair and allergens with the help of its ingenious Power-Lifting Suction.
Best for hardwood floors
When it comes to hardwood floors, obviously you'll want to avoid scratching them with your vac.
iRobot
The iRobot Roomba 692 Robotic Vacuum Cleaner has hard floor and carpet cleaning ability so you can pick up dust and dirt from a variety of floors. It's equipped with a 3-Stage Cleaning System, featuring Dual Multi-Surface Brushes, an Edge-Sweeping Brush and powerful vacuum suction. Plus, it has WiFi connectivity so you can control it from wherever you are on a very user-friendly phone app.

Best for apartments
If you're one of the many Australians living in an apartment, there are plenty of robot vacuum options for you.
Eufy
The Eufy RoboVac has WiFi connectivity, which enables you to operate it even when you're away from home. Its 3-Point Cleaning System combines three brushes and strong 1500Pa suction to loosen and extract dirt for a spotless clean. The design is compact and slim so it won't get in the way and it cleans continuously for up to 100 minutes at a noise level no louder than a microwave. This robot vacuum cleaner can be operated either via the touch control panel, the EufyHome app or using your voice with your compatible Google Assistant or Amazon Alexa voice-assisted speaker. And how about this, it's also self-charging. It will find its way back to the docking station whenever it needs a charge.

Best robot vacuum for dog hair
We all love our pets but none of us love the hair they shed around the house. When it comes to finding a robot vacuum to help deal with pet fur, one of the most important considerations is suction power. Most robot vacuum manufacturers talk about power in pascals (Pa), which is the metric unit of pressure (but iRobot doesn't always make this information easy to find). In general, the higher the Pa the better, especially if you have carpet. However, battery life and obstacle avoidance capabilities also play a big part in overall performance.
LG
The R9 Master is a powerful robotic vacuum which can analyse and remember information about the space it cleans with the assistance of a camera and laser sensor positioned at the front of the vacuum. Its amazing 3D DUAL Eye™ technology utilises a front mounted camera and 3D laser sensor in combination so the vacuum can accurately recognise its surroundings and navigate around household objects.
Best vacuum and mop combo
As mentioned earlier, some robot vacuums also have a mop setting.
Ecovacs
With structured light technology and a 3D scanning algorithm, the Ecovacs scans surroundings with amazing precision, detecting even the smallest obstacles in the room to avoid collisions or getting stuck or tangled. It has an inbuilt water tank which, combined with its mopping technology, enables it to vacuum and mop in one go. This vac also comes with an auto-empty station, which holds up to 30 days worth of dust and dirt with the station's disposable dust bag.
The Latest Robot Vacuum Technology
Lugging a cumbersome vacuum around can now be a thing of the past. Read on for the latest tech in robot vacs.
Auto-Clean Station
The ECOVACS DEEBOT X1 OMNI has amazing self-cleaning tech so you get the ultimate cleaning experience, without having to get your hands dirty at any stage! The OMNI Station has a sleek finish and houses an all-in-one cleaning system. From cleaning, emptying, refilling water and hot air drying, it really does have it all! Uniquely, this model will keep not only your floor clean, but the actual vac will stay clean too!

Obstacle avoidance technology
This technology uses cameras, AI or infrared to enable your vac to avoid obstacles commonly found on the floor such as shoes, clothes and power cords (all of which would trip up robots with simpler navigation systems).
Mop and sweeping option
Some robot vacs also have a mop and sweeping option, meaning you really don't have to lift a finger to clean your floors.
Drop-sensing technology
The Eufy RoboVac G30 Verge uses clever drop-sensing technology. Boundary Strips set via the EufyHome app make sure it only cleans within designated areas, preventing the machine from dropping off stairs or ledges. Plus, it'll clean continuously with the same powerful suction for up to 110 minutes at a noise level no louder than a microwave.
Voice activation
Most Wi-Fi robot vacuums can be programmed and controlled remotely using your smartphone. Many can even be activated with Amazon Alexa or Google Assistant voice commands.
Are robot vacuums worth it?
If vacuuming isn't your thing, then yes, buying a robot vacuum cleaner is well worth considering. Just how good they are largely depends on what you want to use them for. They are a godsend for busy working people because they can be set to patrol the home all day long, picking up dust, dirt and any pet hair along the way. And they save the one thing we all desperately want more of: time! As we've outlined, there are certain things you need to consider when it comes to their functionality and features. However, these clever little devices are efficient, quiet and do all the hard work for you.
Find your perfect robot vacuum with The Good Guys
The Good Guys have a great range of all the latest robot vacuum cleaners and other vacuum cleaners to suit both your wallet and lifestyle.
Trends In Home & Lifestyle
Have A Big Family? Let's find the best family-friendly heat pump dryer for your needs.
Say goodbye to sneezing spells and hello to a healthier, happier home life!
Wondering which is right for you? Keep reading to find out more...
5 of the best reverse cycle air conditioners to help you stay warm this winter.
Here's how you can clean your home budget-friendly, green cleaning and beyond.
The best washing machines for big families- all the smart features you need.
Remove Tough Stains
The best washing machines for tough stains plus our tried and tested stain removal tips.
Ever wondered which Dyson vac and purifier is right for you - we can help.