Whether you're looking for a new appliance that comes with all the bells and whistles built in, or have an older one in need of a software upgrade, there are options to suit every style and budget.
Lifestyle-tech commentator, Channel 9 techspert and cybershack.com.au blogger Charlie Brown says it all comes down to price point and personal preference, but there are a few must-have technological luxuries guaranteed to amplify your viewing pleasure.
Stream it
Most smart TVs support popular content streaming services, such as Netflix and Stan, with many coming pre-loaded with these apps to further simplify the user experience.
Some smart TV brands allow you to 'favourite' your most-used apps or programs on a toolbar, thus allowing for faster activation when it comes time to get your couch potato on.
"There are even TVs around now that have a Netflix button built into the remote," Charlie says.
"All you do is turn on the TV and push the Netflix button, and it will take you straight back to the point you were at when watching it last time."
Charlie says manufacturers are starting to build in niche features, such as apps in alternative languages so that you can press a button and watch your favourite shows from around the world. Hello, If You Are The One marathon nights.
"Go back five years, and if you wanted to watch these shows, you had to illegally download them off the internet," Charlie says. "Now, there are services providing content for a fair fee."
Smart tech
Like other smart devices, a smart TV has integrated internet features. It is basically a hybrid between a television and computer, offering traditional broadcasting functionality as well as internet capabilities.
The benefit of having built-in web services is multi-pronged. Not only does it enable you to stream online content straight through your TV screen — sans laptop-connected HDMI cable — it also allows for easier connectivity between other devices, such as Wi-Fi speakers.
"Most TVs now are set up so you can just turn it on and go," Charlie says. "When you get a new TV, all you have to do is pull it out of the box and turn it on. It says 'hi' and starts scanning for you — easy.
"If you have Netflix or another streaming service, your TV will connect with your Wi-Fi, they'll sniff each other and your Wi-Fi will say 'here's the code to put in'."
In other words, no fumbling your way through user names and passwords.
Many smart TVs also come loaded with apps and other features. You can now play Angry Birds on your TV or give yourself a stitch watching hilarious cat videos on YouTube.
Some high-end smart TVs are fitted with built‑in cameras and offer video‑calling services, such as Skype.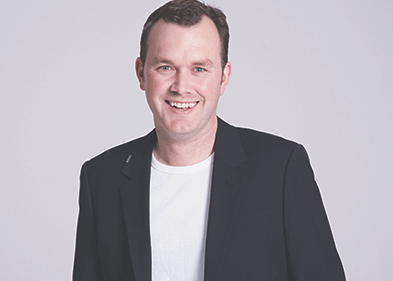 Lifestyle-tech commentator, Channel 9 techspert and cybershack.com.au blogger Charlie Brown
Decode It
FHD, UHD, SUHD, 4K, HDR; what does it all mean and can the naked eye really tell the difference between regular high definition, ultra high definition and high dynamic range?
The answer, it seems, is a resounding yes. A FHD (full high definition) TV has 1080 pixel resolution, which provides a sharp picture with more than 2 million screen pixels (1920 x 1080 pixels).
But if you're looking for a tech feature that will dramatically enhance the quality of your picture, 4K — also known as UHD (ultra high definition) — is the one to, er, watch, with 4K widely used to describe content created in 3840 x 2160 pixels resolution.
"That is the same resolution as what's being played at the cinema, but on your home screen" Charlie says. "Cinematically, you'll sit there and it's phenomenal."
The Good Guys TV merchandise buyer Greg Wilson says UHD TV provides more information on the screen so you can enjoy stunningly clear images with incredible detail.
"It also provides additional features such as HDR (high dynamic range) — a relatively new feature that gives you brighter whites, deeper blacks and a broader colour palette so you can see even more detail on your screen, and WCG
(wide colour gamut), the expanded colour reproduction abilities of 4K TVs," Greg says.
Samsung has even adopted its own pixel lingo, SUHD (the S is for super), which utilises Quantum Dot technology to offer a wider colour range and brighter image. It's basically the company's premium version of UHD.
So how do you make the most out of 4K technology? With optimised content. This is why streaming services are tailoring the way they produce content to appeal to the growing demand for a better quality picture.
"Netflix is now building (HDR) into its shows, which basically means they are able to carry a greater colour range and more nuanced colour details," Charlie says.
"So now we have 4K shows on Netflix, 4K YouTube, 4K home movies through our smartphones and GoPros, and can watch 4K blu-ray on our 4K televisions. It's pretty incredible what we can do with technology these days."
Sound Tech
It wouldn't be a cinema experience without surround sound, which is another reason to love wireless technology.
Although Charlie says it's hard to get good quality sound if the speakers are built into the actual panel of the TV, many manufacturers are now offering soundbars and add-ons.
"There are all sorts of clever tricks to improve the sound quality, but nothing really compares with having speakers around the room," he says.
In the past, if you wanted surround sound you had to wire everything from your TV, which was messy and — to be frank — hazardous, he explains.
Fast forward to now and wireless technology makes the transmission of sound between devices much simpler.
"You put a soundbar in front of your TV, a sub-woofer next to it if you want the vibration and then set up speakers around the room; most people just put two behind them," Charlie says.
"Some wireless speakers can even do their own sound test. They send out a ping and calibrate off each other — it's amazing."

The wall bracket
LINDEN TV wall bracket fixed
easy-mount, LFWMEZ15.

The media player
Samsung UHD 4K blu-ray
player, UBD-K8500

The sound system
Yamaha home theatre
system 600W, YHT-1810B.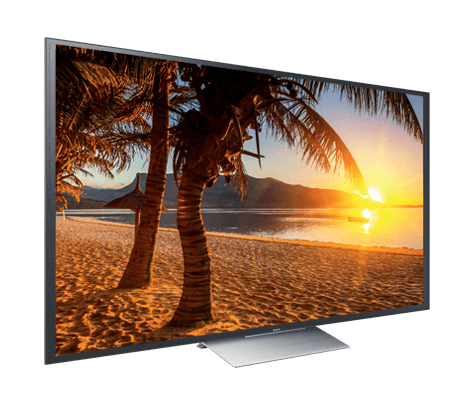 On display
While LCD (liquid crystal display) and LED (light emitting diode) TVs are yet to be a thing of the past, the latest display buzzwords are OLED (organic light emitting diode) and Quantum Dot.
"They're the ants' pants of what's going on this year," Charlie says.
"Samsung is pushing a format called Quantum Dot, which is a big step up, while LG is pushing OLED technology, which is a completely new thing."
OLED display doesn't require a backlight, Charlie explains.
Instead, each pixel is lit up on a case-by-case basis, allowing for brighter and higher-contrast imagery, 'perfect black' and greater colour accuracy and a wider colour range. "If you're watching a film like Interstellar, it's in its element in OLED," Charlie says.
The Quantum Dot format works along similar lines, but it is still derived from LED technology.
For all your TV and audio advice, visit www.thegoodguys.com.au/buying-guide/living-room-guides .