1. Heat pump dryer vs condenser vs sensor vs vented
Dryers are one of the most expensive appliances to run so energy efficiency is extremely important. Look for the energy star ratings when comparing different models. More stars = more power bill savings! There are four different types of dryers: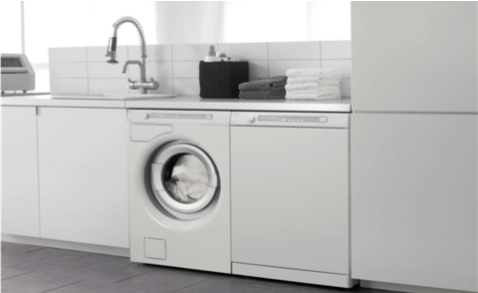 Heat Pump Dryer
The most energy efficient type of dryer and no venting is needed. Heat pump dryers don't create hot air or moisture so they're perfect for apartments. Uses less than half the energy of a vented or condenser dryer, so the higher purchase price is recouped on power bill savings over the dryer's lifetime.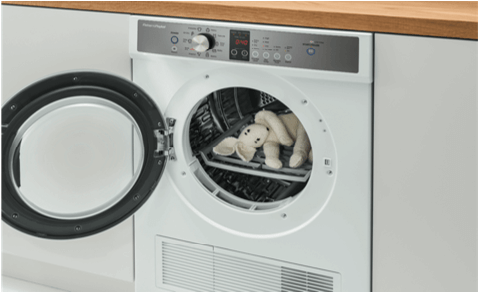 Condenser Dryers
No outside venting is needed for a condenser dryer, so they're more expensive than vented dryers and great for rental homes. Some models have a water container that needs to be manually emptied after each load, and some have a hose that drains the water automatically. Drying increases air moisture levels, so a well-ventilated room is needed to prevent mould forming.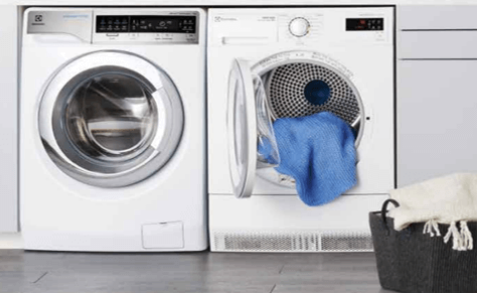 Sensor Dryers
Smart sensors save energy by detecting when clothes are dry then switching off, which also prevents over-drying damage to clothes. Need a ducting vent that pumps the hot, humid air outside the house, or to be in well-ventilated room to prevent mould forming on walls and ceilings. Sensor dryers are more expensive to buy than timed vented dryers but they cost up to 15% less to run for power bill savings.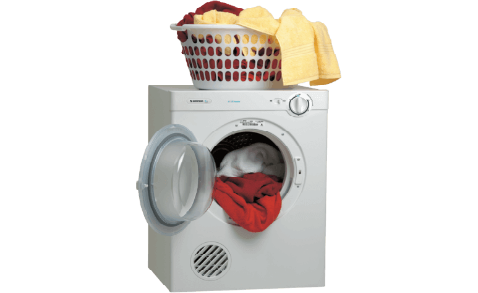 Vented Dryers
With the lowest prices they are the most affordable to buy but they generate a lot of warm, moist air so need a ducting vent installed to pump the hot air outside the house, or need to be in a well-ventilated room to prevent mould forming on walls and ceilings.
2. Size and capacity
Physical Size
The second thing you need to consider is what size dryer will actually fit in your laundry. Make sure you measure the laundry space carefully, leaving an extra 2.5cm of space around all dryer sides for air circulation, and an extra 15cm of depth to take the door at the front, and dryer vents, cables, and hose hook-ups at the back into account. Some dryers can be stacked on top of your washing machine to save space.
Drying Capacity
You also need to consider size from a clothing capacity perspective – how much you want to fit in each load will determine how many kilos your dryer needs to be size-wise. A larger drum size dries everything faster but the power usage is also higher, so it's important to get a dryer that's large enough for your needs but not so big it wastes power. Keep in mind that for faster drying and fewer creases you need to put less in per load.
It's important to note that dryer capacity tells you how many kilos of dry laundry will fit in the dryer in one load. So if you're going to transfer a load of washing weighing 8kg (when it was dry) straight from the washer into the dryer, you'll need at least an 8kg dryer.
Here's a rough guide for what size dryer suits different sized household: 1-2 people: 4kg-6.5kg

Each load can dry approximately:
4-6 towels (1 dry beach towel/bath sheet = approx. 1 kg)
OR

4-6 outfits (pants, top, undies and socks)
OR

1 single doona (6kg+ washers only) 3-4 people: 7kg-8.5kg

Each load can dry approximately:
7-8 towels (1 dry beach towel/bath sheet = approx. 1 kg)
OR

7-8 outfits (pants, top, undies and socks)
OR 5+ people: 9+kg

Each load can dry approximately:
9+ towels (1 dry beach towel/bath sheet = approx. 1 kg)
OR

9+ outfits (pants, top, undies and socks)
OR

3. Energy Efficiency
Dryers have a fairly high energy consumption compared with other laundry appliances, so you will need to be aware of this before buying one. Each unit will have an Energy Star Rating, with more stars meaning the dryer is better for the environment (and your power bills!).
While most dryers have a low energy rating, heat pump condenser dryers generally have a six star energy efficiency rating, and although they are considerably more expensive than conventional dryers, with continual use they can pay for themselves over time. You may also want to look for models that have a timer delay so you can set the dryer to start when electricity prices are lower.
4. How long does it take to dry?
The amount of time a load takes to dry will depend on many variables, including the size of the drum. Larger drums move hot air around more efficiently, which will result in faster drying cycles. You can also speed up the process by putting fewer items of clothing in with each load.
5. Other Features to consider
While most dryers come with a lint filter, where it is located on the machine could be important. Dryers strip away lint while in operation, which is stored in a filter at either the front or back of the appliance. Front-mounted filters are easier to access, especially if you intend to place your dryer on a shelf or mounted to a wall.
Some dryers have the following special features, so think about what's important to you:
Anti-wrinkle—technology to reduce the number of wrinkles for less ironing time
Delay start—to set the dryer to start later during off-peak power periods or finish when you'll be home to hang everything up and avoid creases
Drying rack—protects precious teddy bears and shoes from being bumped around during drying
Speed drying—dries clothes faster so you're not waiting ages for the dryer to finish
6. Knobs or a digital display
Dryers are controlled by a program knob or digital display technology. Digital displays are typically found on more expensive dryers because they have more hi-tech features and cycle types than dryers with a traditional control knob.
7. Cycle programs
Different dryers have different drying programs so it's important to think about which ones matter to you most. Hate ironing? Dryers with an extended tumble program give you clothes with fewer creases, and dryers with a steam cycle can give clothes a quick steam refresh by removing odours and wrinkles without using water.
Do a lot of delicates? Dryers with a delicate program carefully clean your fine fabrics and protect your precious garments. Have kids or a hands-on job? Dryers with a sanitation cycle eliminate bacteria for a healthier home. Hate high power bills? Dryers with an eco-cycle use less energy for power bill savings.
8. Type of Installation
How you choose to install your dryer depends on how much space and the type of washer you have:
1. Side by side—the dryer and washer sit beside each other on the laundry floor so it's easy to transfer everything from one to the other.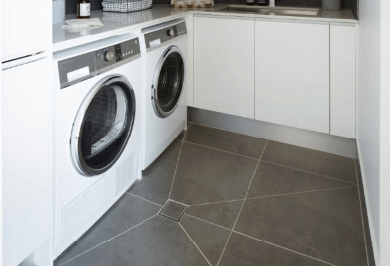 2. Side by side with pedestal—the dryer and washer are side by side and slightly elevated off the floor by a little pedestal which doubles as extra storage space.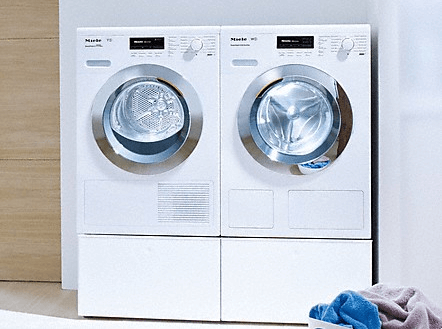 3. Stackable—a stacking kit is used to stack the dryer above the washer (only if you have a front-loader washer).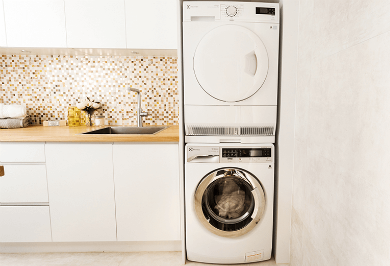 4. Wall mounted—the dryer is mounted above the washer on the wall using the bracket. If it will be above a top loader washer make sure you leave enough space betwewn the two appliances for the lid of the washer to open fully.