ARTICLE
Buyer's Guide To An Entertainer's Fridge
April 7, 2022 – 7 min read
There's something special about an entertainer's kitchen. Whether you're a regular dinner party host or an enthusiastic home cook, these spaces are well used, well thought out and very well loved. In the heart of the home, the kitchen appliance that is often the hardest working is the refrigerator – so finding the right fit is essential. Here's everything you need to know about buying a fridge when you just love to entertain..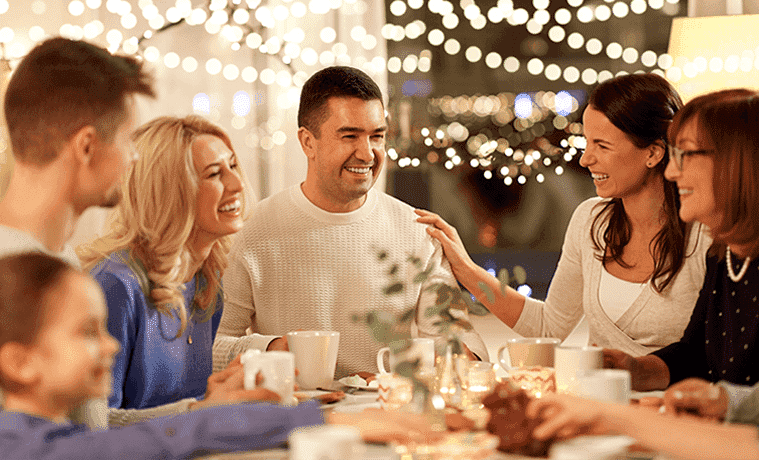 Style
A fridge can be more than just a functional appliance, it can be a standout in any kitchen. If you're looking for an elegant fridge unlike any other, the Fisher & Paykel 690L Quad Door Refrigerator has a black matte glass finish, with recessed handles for a streamlined look that takes style to a whole new level.. With an ultra slim water dispenser that doesn't take up any internal storage space and adjustable glass shelving, this Fisher & Paykel fridge will cater for all your entertaining needs.
Capacity
How many people are you catering for at any one time? The chances are it's never less than five, so you'll need a refrigerator that can store and chill enough food to feed that many people (and then some). "You wouldn't want anything less than 500L capacity, as the very minimum," says Peter Simic, National Category Manager – Refrigeration at The Good Guys. "For five or more people, we'd usually recommend closer to 700L," he adds. Though if you have a small family yourself and only host every second weekend, you'll get away with the former.
Quad Door, French Door or Side-by-Side?
Next, you'll need to consider the configuration of your fridge. "French door fridges and side-by-side fridge-freezers are the top two choices for entertainers," says Peter Simic. Both options offer large amounts of space but vary in a few key ways.
Quad Door Fridges
Quad Door Fridges are rising in popularity, and for good reason. They are a great storage solution, and alongside the latest in tech are the perfect companion for an entertainer or home chef.
For the ultimate flexibility consider Haier's 508L Slimline Quad Door Refrigerator. Meet SwitchZoneTM Technology – an entertainer's best friend! When you need extra space, SwitchZoneTM will let you change the bottom right compartment into a fridge or freezer with just the press of a button. This means that you can adjust your fridge depending on how you use it.
You also get complete control over temperature, choose any temp from -18 °C to +5°C. Ideal for those perfectionists who want to store their produce in the intended conditions.

French Door
"For cheese platters, seafood lovers and anything else that requires preparation on a large tray, you'll want to invest in a French door fridge," says Peter Simic. This configuration features the refrigerator up top with two side-by-side doors and extra-wide shelving at eye level, and a freezer below (this can be in the form of drawers or doors). The narrow size of the doors is great for keeping the area clear even with the doors open, and some models are also equipped with a water dispenser.
"For cheese platters, seafood lovers and anything else that requires preparation on a large tray, you'll want to invest in a french door fridge."
Side-by-Side
Side-by-side refrigerators are also great for space and large capacity sizes, but the narrow fridge shelves are less accommodating to platters and large trays. "These models have a freezer on the left and fridge on the right, and are great for organising and storing frozen goods," says Peter Simic. Ice and water dispensers are common, though they will take up storage space in the freezer.
Smart Fridges
It might sound like a gimmick, but smart fridges do exist and they can be an absolute lifesaver. Thanks to Wi-Fi connectivity, models such as the Samsung Family Hub Refrigerator and the LG French Door fridge can be connected to your smartphone through an app. It gives you access to double-check what's inside from the supermarket aisle or change the temperature settings when you're on your way home with an extra-large grocery shop. If you are a help-yourself style host, other smart features such as door-in-door compartments are worth investing in. "This is great for guests to grab themselves a drink, or to pass the tomato sauce, and it saves energy by not having to open the full door as much," says Peter Simic. "Some models have a knock-twice window so you can see what's inside without opening the door at all." By simply knocking twice on the window, this clever feature illuminates the fridge interior so you can clearly see what's inside.
Energy Efficiency
There's a good chance your grocery bills are big enough without having to pay extra to keep them fresh. Choosing the most energy-efficient fridge you can afford will help you to cut down on energy bills and reduce your carbon footprint. Thankfully, the Government-regulated Energy Rating Label makes the process a lot easier. The red, black and yellow stickers compare the energy efficiency of other models the same size, so the more stars, the better.
Cool Zones And Drawers
Modern refrigerators offer a lot more control over things like temperatures and settings than ever before, and as a result, offer a lot more flexibility. "On many new models, you can actually control the temperature settings of specific compartments or zones," says Peter Simic. "For example, a crisper drawer can be controlled to accommodate exactly what's inside, or a section of the freezer that can be switched into fridge mode when you need the extra space."
Measuring Up
When it comes to the external dimensions of a new fridge, consider the height, width and depth of the fridge itself and compare it against the space you're planning to put it in. "Ventilation is crucial, so allow some gaps on the sides, back and above the refrigerator for air," says Peter. Allow about five centimetres on the sides and behind the fridge, and 10 centimetres above. While ice makers and dispensers are ideal for the entertainer, many fridge models with this feature will need to be installed by a plumber – check out The Good Guys Home Services to arrange a trusted and professional tradesperson.
Other Features
Every kitchen and every cook is different. As a result, everyone will have their own unique list of requirements when it comes to purchasing a new refrigerator – they're a big investment, after all. Here are some stand-out features you may like to consider:
- Automatic door opening when you step on the sensor light, handy for when you've got your hands full.
- LED touch-screen display panels that can play music, videos, share recipes and keep track of your grocery list.
- Air filtration systems to help reduce the odours of certain foods.
- Spill-proof shelves for when things get knocked over.
- Adjustable, split or sliding shelves that can be rearranged to accommodate tall bottles or other large items
How much is a Fridge perfect for entertaining?
The entertainer's fridge is a worthwhile investment. On a budget? Look out for great deals on both French door and side-by-side models with pricing as low as under $1500. The price will change depending on the capacity and features, such as water, ice, wifi, touch screens etc that you choose. Expect to pay $2,000 plus for middle to top of the range models.
Trends In Kitchens & Cooking
Discover which air fryer would suit you - plus how they could help you!
Bring the café to you and enjoy your favourite coffee at home!
Steal the style - discover all the latest kitchen reno trends!
Tips on how to cook sustainably, plus - the appliances that can help make it happen.
Why staying in is the new going out this winter.
Turning Up The Heat!
Is it time for a new cooktop? Here's our guide to finding the perfect match for you.
Sleek And Sophisticated
How black appliances can help complete your kitchen reno.
Air Fryers Vs Deep Fryers
Discover which of these appliances is the best fit for you.