ARTICLE
Find Your Perfect Black Kitchen Style
Jul 22, 2021 - 5-6 min read
Black is a fashion staple for a reason – it's versatile, timeless and the perfect backdrop to have fun with. And now the black kitchen trend is taking the nation by storm. Turn your kitchen into the talk of the town with these sleek and sophisticated black kitchen appliances, designed to capture the true essence of a dark kitchen from contemporary to classic styles.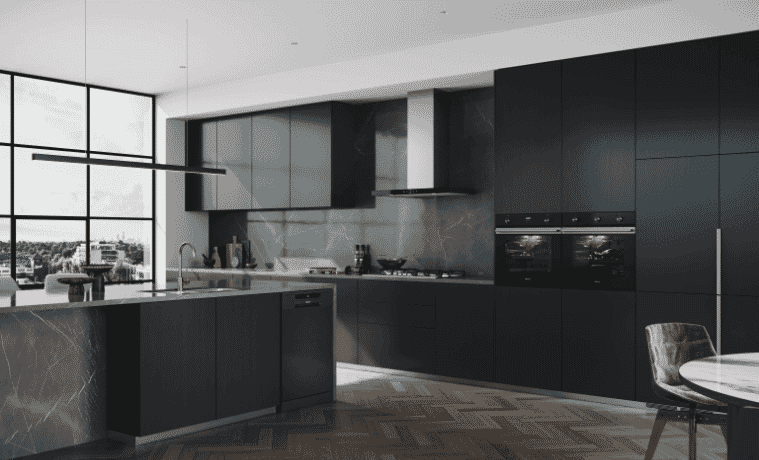 Kitchen Design Layout
If food is the language of love, then the kitchen is the heart of the home. From long chats over meals to laughter and dancing while cooking, it is where life comes together. So, how do you envision the layout of your new black kitchen?
Galley-shaped and straight-line kitchens are a great modern way to showcase your sleek black appliances, while opening it up to light. They're ideal for small to medium kitchen spaces, with a long narrow walkway flanked by a benchtop on one side and cabinetry on the other.
If you prefer a more traditional kitchen design, U-shaped kitchens are the perfect canvas for black kitchens. It's a chef's and entertainer's dream space for large spaces, with ample room for appliances and sumptuous spreads.
The L-shaped kitchens are perfect for modern, open plan living areas. Designed in darker hues, this will be a popular spot to gather around with family and friends.
If you prefer a kitchen island or peninsula kitchen, the stunning black design with make your freestanding bench space the centre of attention, turning everything from cabinetry, sinks and taps into show-stopping accessories.
Appliances for Dark Kitchens
Sleek black appliances can set the tone for any kitchen. Whether glossy black, black stainless steel, matte black or dark grey, The Good Guys have just what you need to add dark elegance and stunning class to your kitchen.
"Sleek black appliances can set the tone for any kitchen."
Fridges for Black/Dark Kitchens

As the most loved appliance in your kitchen, the fridge draws all eyes and hands to it. It's also the biggest appliance in most kitchens, and a black fridge is a style statement on its own.
Samsung 648L French Door Refrigerator
Striking in appearance and innovate in design, the Samsung 648L French Door Refrigerator gives you easy access to your favourite drinks with the new Beverage Centre featuring an autofill jug, water dispenser and drink storage. Made of fingerprint resistant matte black steel, it also features a premium flat door design.
LG 508L InstaView Refrigerator
The stunning matte black finish on this LG Slim French Door Fridge with InstaView Door-in-Door adds a touch of style to your kitchen. The slim width features a surprisingly spacious interior and a handy built-in ice and water dispenser.
Hisense 30 Bottle Wine Cellar
Chill your wine in style with this uber-sleek and stylish Hisense Wine Cellar. With a black glass finish and wooden shelves to hold up to 30 standard wine bottles, it will be the perfect addition to your elegant black kitchen.
Freestanding Black Oven for Black/ Dark Kitchens

Dark freestanding ovens blur the lines between utility and style. Find the perfect one to uplift your kitchen.
Smeg Portofino 120cm Dual Fuel Upright Cooker
In true Smeg style, the Smeg Portofino Dual Fuel Upright Cooker brings together world-class technology and versatility to deliver two independent 60cm ovens with dedicated functions. Plus, it offers gas, induction and teppanyaki cooktops. Cook like a pro and look good doing it.
DeLonghi 90cm Dual Fuel Upright Cooker Anthracite
This Italian-made DeLonghi Dual Fuel Upright Cooker with five gas burners and a large electric oven boasts quality design finishes like brushed metal knobs and highly polished towel rail to complement the stunning dark anthracite façade. Made with Durastone Plus enamel, it takes the effort out of cleaning up.
Ovens for Black/ Dark Kitchens

Nothing says serious cook like a black oven in your kitchen. They're smooth glass and nifty finishes ooze sophistication.
Bosch 60cm Multifunction Oven Black
The electric powered oven with 3D HotAir technology makes Bosch Multifunction Oven a kitchen essential. The slick black glass finish looks great and is easy to clean.
Technika 60cm Pyrolytic Oven Dark Stainless Steel
The Technika Pyrolytic Oven in dark stainless steel finish adds timeless class to your kitchen, while bringing home brilliant innovations like the Air Fry function for healthy cooking, Pyrolytic function for safe and easy cleaning, and the triple-glazed door for quick and efficient cooking.
Cooktops for Black/ Dark Kitchens
Whether you're after induction or gas cooktop, The Good Guys have the perfect black kitchen appliances to elevate your dark kitchen style.
Miele 80cm Induction Cooktop
The Miele Induction Cooktop doubles as a décor piece in your kitchen with its futuristic, black ceramic design, integrated rangehood and sleek edges that blend into your black kitchen.
Bosch 75cm Gas Cooktop
Not all gas cooktops look the same and the Bosch Gas Cooktop with 5 gas burners proves this point with its black tempered glass finish, black cast iron rivets and sleek knobs.
Black Sinks & Taps

Doing the dishes may not be the most glamourous job, but it can look stunning with black sinks and taps. Choose from multiple options to suit your space and personal style.
Black Benchtop Appliances

Black kitchen appliances are a great way to infuse the dark kitchen trend into your kitchen. From coffee machines to toasters, find your piece of black magic.
KitchenAid Onyx Black Classic Stand Mixer
Bake in black! Every home baker needs a KitchenAid Classic Stand Mixer, and it's hard to look past the Onyx Black version.
Smeg 50s Retro Style Kettle – Black
Make boiling water look great with the Smeg 50s Retro Style Kettle in black. Smooth lines and shiny black surfaces elevate this kitchen essential from drab to fab.
Trends In Kitchens & Cooking
Discover which air fryer would suit you - plus how they could help you!
Bring the café to you and enjoy your favourite coffee at home!
Steal the style - discover all the latest kitchen reno trends!
Tips on how to cook sustainably, plus - the appliances that can help make it happen.
Why staying in is the new going out this winter.
Turning Up The Heat!
Is it time for a new cooktop? Here's our guide to finding the perfect match for you.
Sleek And Sophisticated
How black appliances can help complete your kitchen reno.
Air Fryers Vs Deep Fryers
Discover which of these appliances is the best fit for you.