Dyson Cinetic DC54 barrel vacuum
Dyson Cinetic technology is scientifically proven to maintain suction, effectively removing dirt and dust from every floor type. The Dyson DC54 Allergy and Multi Floor barrel vacuum cleaners are available now at The Good Guys.


Historically, manufacturers based "no loss of suction" claims on IEC60312-1 Clause 5.9. This suction power test can be completed before a vacuum's bin is full. We test DC54 to IEC60312-1 Clause 5.9 and then repeat the test 100's of times consecutively using an equivalent of 10 years' worth of test dust, to ensure DC54 maintains constant suction.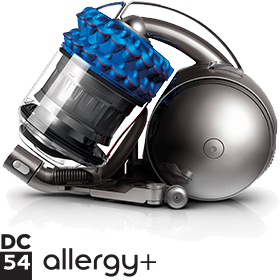 Engineered for people with asthma or allergies to remove dust from floors and furniture
Includes five Dyson tools including BONUS Soft dusting brush valued at $49 RRP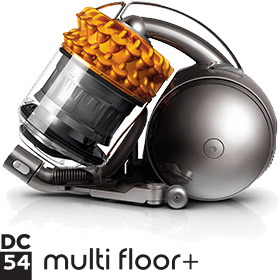 Hard Floor Specialist
Engineered for homes with mainly hard floors and some carpets
Includes four Dyson tools including BONUS Swivel hard floor tool valued at $59 RRP

Soft bristles gently remove dust and allergens from flat surfaces and furniture. Vacuum-assisted dusting around the home.
Bonus tool included with DC54 Allergy+.

Soft nylon bristles gently remove dust. Ultra-slim profile reaches into awkward gaps.
Bonus tool included with DC54 Multi Floor+.

Other vacuums base their 'No loss of suction' claims on IEC 60312-1 clause 5.9. This is a suction power test that can be passed using only a small amount of dust – before the vacuum's bin is full. So although it might claim 'No loss of suction,' the vacuum may actually lose suction after sucking up as little as 50g of dust.
In order to reflect real usage, Dyson has gone further to prove DC54 will never lose suction in its lifetime. Based on the same test, DC54 maintains constant suction after sucking up 10 years' worth of test dust.

Bagged vacuums lose suction because the bags' pores clog, blocking airflow.
Most bagless vacuums use inefficient cyclones to separate dirt and dust from the air. Dust that isn't captured passes onto the filter – clogging it.
To prevent loss of suction, you need to regularly wash or replace the filter.

54 ultra-efficient Dyson Cinetic™ tips oscillate up to 5,000 times per second to separate the microscopic particles that clog other vacuums. Because of their efficiency, there's no filter that needs washing or replacing, meaning there is no loss of suction.
Watch the video and see how Dyson has re-invented vacuum technology – again.

DC54 turns on the spot and follows effortlessly around the home, without the awkward moves.

DC54's turbine head has stiff nylon bristles to remove ground-in dirt from carpet and soft carbon fibre filaments to gently remove dust from hard floors. There's no need to adjust anything when moving from one floor to another.

Hygienic bin emptying.

Just push the button to release the dirt.

Large bin capacity.

DC54 has a large bin – so you don't have to empty it as often.

Long Reach.

DC54's cable, hose and wand provide a total reach of 10 metres.

Extra Tools.

All Dyson vacuums come with Dyson-engineered tools for cleaning hard to reach places around the home.

No extra costs.

Dyson Cinetic™ vacuums don't use bags and have no filters to wash or replace so there are no extra costs.

2 year guarantee.

All Dyson upright and barrel vacuums come with a 2 year guarantee – parts and labour.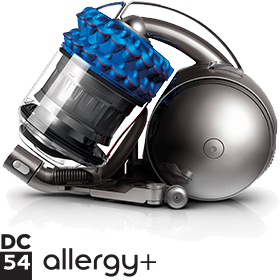 Engineered for people with asthma or allergies to remove dust from floors and furniture
Includes five Dyson tools including BONUS Soft dusting brush valued at $49 RRP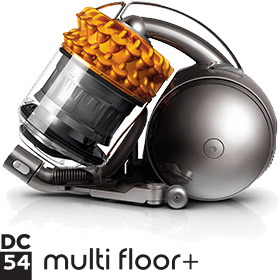 Hard Floor Specialist
Engineered for homes with mainly hard floors and some carpets
Includes four Dyson tools including BONUS Swivel hard floor tool valued at $59 RRP