ARTICLE
Cooking up Charming Country Kitchens
Jul 22, 2021 - 4 min read
There's something magical about country style – the simplicity, rawness and pared-back beauty evokes a sense of comfort and cosiness unlike any other interior style. If you're looking to bring home that rural charm, The Good Guys have all the essential appliances and designs for perfect country kitchens.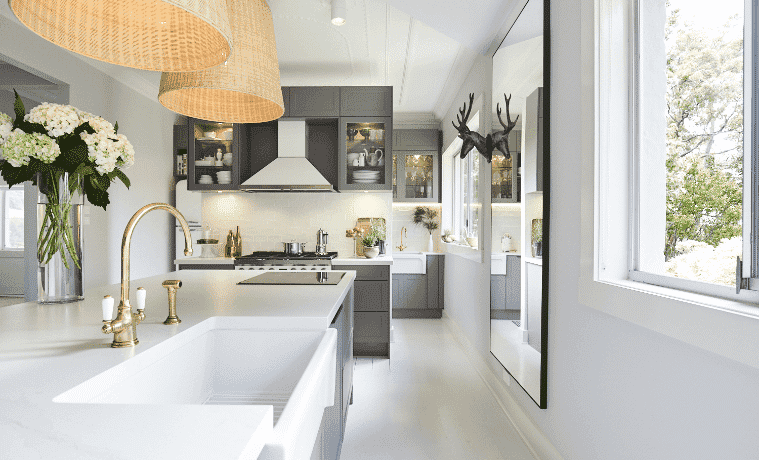 Country Kitchen Design Layout
Designing the best country kitchens begins with optimising the space to create the ultimate country style kitchens. The style is versatile enough to suit every kitchen layout, so explore the options to see what works best for your space.
U-shaped: Best suited for larger spaces, the U-shaped kitchen is perfect for a country style kitchen in soft tones and rustic accents. It sets the mood for the family to gather around the table while the Sunday roast simmers.
L-shaped: Give the traditional country kitchen designs a modern feel with the L-shaped kitchen, ideal for open plan living homes. Draw inspiration from French Provincial styles to bring a city touch to your country kitchen.
Galley kitchen: A long narrow walkway sits between the benchtop and the kitchen counter with the cooktop and cabinetry creating the ideal entertaining spot. Transform your galley kitchen space into a country haven with shades of white, pastels and neutrals with highlights of copper and greenery.
Kitchen Island: Give your freestanding bench top a modern country kitchen makeover with overhanging fixtures, appliances in rustic finishes, and fittings in warm notes. What is a country kitchen if not people gathering around the kitchen island over platters of fresh food and drinks.
Peninsula: A peninsula is when the island benchtop meets the wall, combining the contemporary style of an island with the comfort of a country kitchen. The design creates a feature wall that can be decorated with still-life paintings to channel old country charm.
Appliances for the Country Kitchen
Kitchen appliances are crucial in setting the tone for your kitchen. From colour, finish and placement – appliances form the backbone of your kitchen, so spend time familiarising yourself with the various brands before you make your choice.
"From colour, finish and placement – appliances form the backbone of your kitchen."
Fridges for Country Kitchens
Having a country kitchen doesn't mean you have to blow the budget on designer appliances. Here are some great country kitchen ideas from The Good Guys that complement your décor while delivering state-of-the-art technology.
Large French Door Fridges
Add panache to your provincial theme with a large French door fridge in classic stainless steel. With so many sizes, designs and finishes to choose from, it's easy to find the perfect one to fit right into your country kitchen.
Freestanding Ovens for Country Kitchens
Aromas of hearty meals cooking away are a defining factor for country kitchens, and it all starts at the oven. Find yours here.
90cm Freestanding Ovens
Bring all your country dreams to life with the incredible range of freestanding ovens at The Good Guys. From classic finishes like stainless steel and black to vibrant colours that complement your cosy, country aesthetic.
Rangehoods for Country Kitchens

Complete your country kitchen with a rangehood that exudes warmth and country charm with a contemporary edge. Once you have shortlisted your kitchen design and oven type, it's easy to find a rangehood that complements them. Whether it is integrated, freestanding, undermount or sliding, all these styles lend themselves well to country kitchen designs. A colourful canopy rangehood adds to the rustic charm.
Toasters and Kettles for Country Kitchens

No kitchen is complete without the essential toaster-kettle combination. Find the perfect pair to continue telling your country tale.
Smeg 50's Retro Style
Charming, fun and uplifting best define the Smeg 50s Retro Style toasters and kettles. While most appliances are designed to blend in, Smeg is designed to stand out and elevate country style kitchens. Available in fun retro designs and a range of vibrant colours that will pop against the backdrop of your soft country palette.
Sinks and Taps for Country Kitchens

Turn up the charm with of your country kitchen with this range of sinks and taps.
Slim Width Dishwashers
With colours ranging from classic stainless steel to pristine white, explore the range of slim width dishwashers that add shimmer and metal accents to temper your warm country kitchen tones.
Trends In Kitchens & Cooking