Is a Single or Double DishDrawer™ Dishwasher Best for You?
If you're building or renovating a small kitchen, or have a small household, a Single DishDrawer™ Dishwasher might be best. If you're replacing an existing dishwasher, your kitchen is more spacious, you have a bigger household or you entertain a lot, a Double DishDrawer™ Dishwasher is probably better for you.

Single DishDrawer™ Dishwasher– Cleverly Compact
The space-efficient technology inside a single DishDrawer™ gives you a compact dishwasher designed to fit as many dishes as possible. For small kitchens where space needs to be used carefully, a single DishDrawer™ Dishwasher is the perfect solution and can be positioned in numerous places around the kitchen, including under bench at waist height.
Double DishDrawer™ Dishwashers – Two Loads at Once
DishDrawer™ Double Dishwashers have two completely independent drawers so you can select two different wash cycles for two different loads at the same time. Use one drawer for storage while the other one's washing so your kitchen is always clean and tidy.
Do you need a Tall or Wide DishDrawer™ Dishwasher?
Think about whether you might like extra height to fit larger plates, platters, and wine glasses – if you do, a Tall DishDrawer™ Dishwasher might be your best choice. If you'd like to be able to fit more dishes in every load consider a Wide DishDrawer™ Dishwasher that has extra width and fits nine place settings.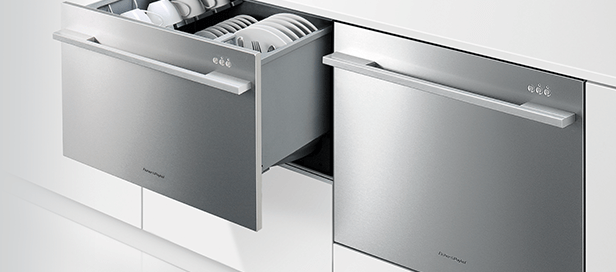 Tall DishDrawer™ Dishwashers
If you love entertaining but hate cleaning up a Tall DishDrawer™ Dishwasher has more drawer height to fit platters, long-stemmed wine glasses and 330mm plates so you can say goodbye to time-consuming hand washing.
Shop tall Dishwasher™
Wide DishDrawer™ Dishwashers
An enhanced width of 90cm holds nine place settings and complements the Fisher & Paykel family of 900mm kitchen appliances, making the Wide DishDrawer™ Dishwasher perfect for medium-sized households
Shop wide Dishwasher™