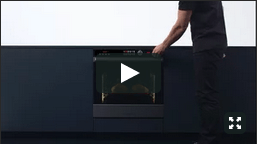 Choose an oven to suit your cooking style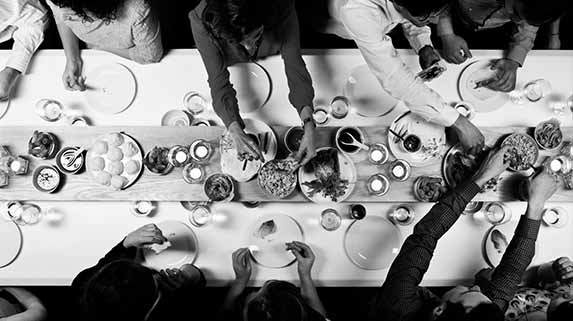 Exceptional cooking performance is simplified with an intuitive control system that makes selecting cooking-modes and controlling the precise temperature easy.
Some ovens even have a self-cleaning pyrolytic function that turns food splashes to ashes so you can say goodbye to scrubbing the oven.
All ovens have sleek lines designed to match the coordinated family of Fisher & Paykel cooktops, ActiveSmart™ fridges and DishDrawer™ dishwashers for modern kitchen style.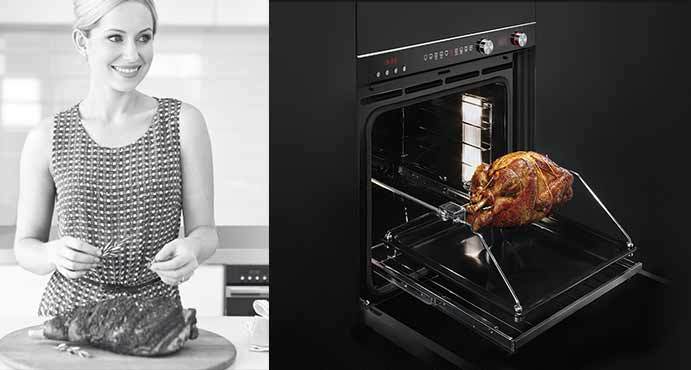 PERFECTLY BRONZED SUCCULENT ROASTS
The right amount of moisture is critical for a juicy roast with crispy skin. Too much or too little oven moisture can turn your roast into a disaster. Fisher & Paykel's unique ActiveVent system carefully controls oven moisture levels so you get the best baking and roasting results every time. You can also make perfectly basted and evenly browned rotisserie roasts at home with the optional Rotisserie Kit for the 9 and 11 function ovens only available at The Good Guys.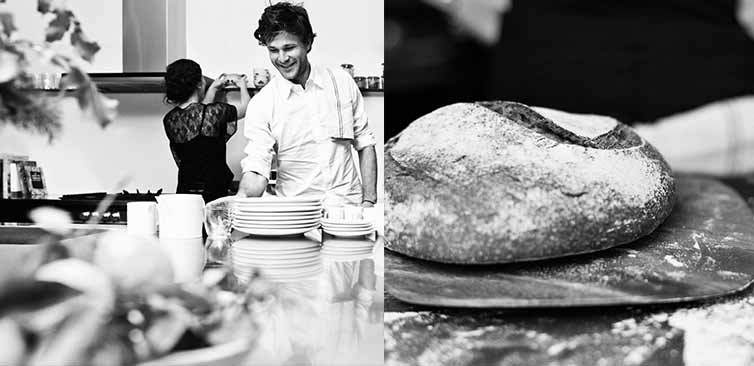 BIGGER OVENS & BETTER RESULTS
Fisher & Paykel ovens are designed to maximise cooking space, and the 90L total capacity 11 function self-cleaning pyrolytic oven fits 30 percent more than traditional European ovens. Special oven functions like Vent Bake allow you to adjust moisture levels during cooking so you can cook more at once without compromising on cooking performance for better baking and roasting results.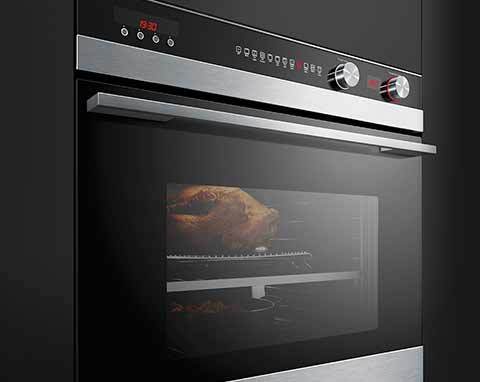 TOUCH-SAFE OVEN DOOR
Kitchen safety is important in every household – especially in family homes with little ones who like to help in the kitchen and see what's cooking in the oven. Fisher & Paykel have designed their range of ovens with safety in mind. Multiple glass panes and an advanced cooling system give you CoolTouch oven doors for family-friendly cooking.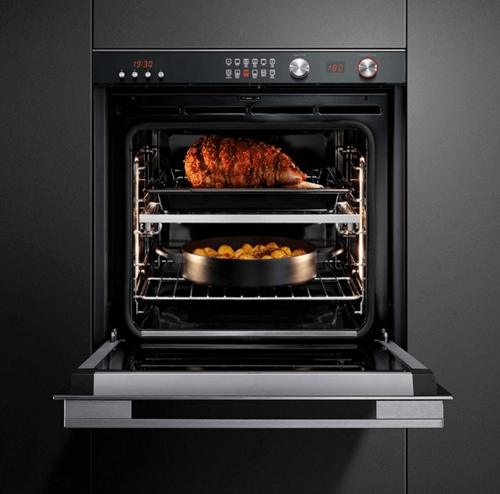 SO SIMPLE TO CLEAN
Everyone hates cleaning the oven. That's why Fisher & Paykel created self-cleaning pyrolytic ovens. You cook and the oven cleans itself! After you take out the shelves and switch on the pyrolytic function, the oven uses high heat to break down grease and grime and turn food splashes into ash you just wipe away with a damp cloth. It's the simplest way to keep your oven squeaky clean. Say goodbye to scrubbing and hello to the ultimate in oven convenience.
FISHER & PAYKEL OVEN FUNCTIONS
Quick-Roasted Butterflied Coconut Chicken
INGREDIENTS – Serves 6-8
2 x Size 16 free-range chickens
2 limes or 1 lemon, zested and juiced
Salt and pepper
2 tbsp oil
2 shallots, finely chopped
2 thumbs of fresh ginger, finely chopped
1 tbsp sugar
1 ¾ cups unsweetened coconut milk
Chopped fresh coriander, sliced chilli and lime wedges to serve
METHOD
Rinse and dry the chickens..
Using kitchen scissors cut down either side of the backbones and remove them.
Turn the chicken legs out and place both chickens in the roasting dish, breast side up.
Rub zest and juice over chickens and season with salt and pepper.
Heat oil in a pan and gently saute the shallots, ginger, chilli and garlic.
Add remaining ingredients (except those to garnish), stir and pour mixture over chicken.
Cover and chill for 3-24 hours.
Place roasting dish in the lower third of your oven and turn on the Grill function to 190°C. (Or straight onto the Roast function for the entire cooking period if you have it.)
Grill for 15-20 minutes till golden and then switch the function to Bake for a further 30 minutes or so (or until chicken is cooked and the juices run clear).
Garnish with chopped coriander, chilli and lime wedges.
Banana, Coconut and Caramel Pavlova
INGREDIENTS – Serves 12
For the pavlova:
6 egg whites, at room temperature
2 cups caster sugar
2 tsp white vinegar
2 tbsp oil
2 tbsp cornflour
2 tsp vanilla essence
For the topping:
150g palm sugar
150ml water
2 tsp white vinegar
300ml cream
3 bananas
Fresh coconut shavings
METHOD
For the pavlova:
Preheat your oven to 150°C and line a baking tray with greaseproof paper.
Beat the egg whites on high with an electric beater until stiff peaks form. Add sugar gradually in a slow stream whilst beating on high.
Once all sugar has been added continue to beat for 10 minutes.
Mix together the vinegar, cornflour and vanilla essence, decrease the mixer setting to medium-low and add the cornflour mix.
Mix until combined.
Draw a circle 25cm in diameter on the baking paper and spoon the mixture onto this circle in a cylindrical shape. Smooth the sides and the top and place onto the middle shelf of your oven.
At this stage, turn the oven down to 125°C and bake for 1 hour. Then turn the oven off and leave the pavlova in the oven to cool completely.
For the topping:
Combine the palm sugar and water in a saucepan and stir until the sugar has completely dissolved. Continue to simmer until the syrup thickens then remove from the heat and let it cool for a few minutes.
Whip the cream into soft peaks and spread it over the top of the pavlova.
Top with sliced banana and shaved coconut then drizzle with the palm sugar syrup.
Italian Easter Pie
INGREDIENTS
Crust:
2 cups flour
¼ cup sugar
¼ tsp salt
½ tsp baking powder
120g cold, unsalted butter, cut into cubes
2 large eggs
Filling:
2 tbsp olive oil
1 large onion, finely sliced
2 cloves garlic, crushed
450g ricotta
3 large eggs
¼ cup grated romano cheese (parmesan is fine)
1 tsp pepper
100g mozzarella
150g prosciutto, finely sliced
2/3 cup flat leaf parsley, chopped
1 egg, beaten with a pinch of salt (egg wash)
METHOD
Crust:
Combine the flour, sugar, salt and baking powder in a food processor and pulse to mix.
Evenly distribute the butter and pulse again until just mixed and resembles fine breadcrumbs.
Add the eggs and continue to pulse until the dough forms a ball.
Remove the dough and press into a disc and chill for half an hour.
Pie:
Gently fry the onion and garlic in the oil until browned. Leave to cool while preparing the rest of the filling.
Place the ricotta in a bowl and stir in the eggs one at a time to make a smooth mixture. Then stir in the remaining ingredients.
Cut off 2/3 of the pastry and re-wrap the remaining third. On a floured surface, roll out the pastry to a thickness of 2mm. Line the pie dish leaving a little extra pastry draped over the edges.
Spoon the filling into the pie dish. Roll out the remaining pastry, also to a thickness of 2mm and place it on top of the mixture. Carefully fold over the edges and press down with a fork to seal.
Brush the top of the pie with the egg wash and bake for 45 minutes until the pastry is golden.
Seed Bread
INGREDIENTS - Makes 1 loaf
3 tbsp honey
330g lukewarm water
190g lukewarm milk
16g dried yeast
650g high-grade white flour
100g rye flour
30g pumpkin seeds
30g sunflower seeds
30g sesame seeds
30g chia seeds
30g flax seeds
20g flaky sea salt
Spray oil
METHOD
Warm the honey to make it liquid and add the water and milk.
Sprinkle over the yeast, stir and set aside for 5 minutes.
In a large bowl or the bowl of an electric mixer combine flours, seeds and salt. Add in the liquid and mix lightly using a dough hook or with a wooden spoon if mixing by hand.
Once the wet and dry ingredients have come together to form a shaggy dough continue to mix for about 5 minutes on a medium-low speed, or by hand on a lightly floured bench. The dough should be in a ball shape but still slightly sticky, Add a little more flour only if necessary.
Turn dough out onto a floured bench and continue to knead until you have a soft, supple ball of dough.
Place dough in a large lightly oiled bowl, cover with plastic wrap and place in the refrigerator overnight.
The next day, place the dough somewhere warm for a couple of hours to proof.
Remove the dough onto a lightly floured surface, shape the dough into a round cob shape. Transfer the dough to a baking tray lined with baking paper, mist with spray oil and loosely cover the loaf with plastic wrap.
Proof the dough a second time, until the loaf has doubled in size.
Preheat your oven to 180°C on Bake.
Brush or mist the loaf with water and use a sharp knife to cut a cross-hatched pattern in the surface of the loaf.
Place loaf in preheated oven for 40-50 minutes, or until it is a rich golden brown and sounds hollow when tapped on the bottom. Cool on a wire rack before serving.
Dark Chocolate Torte
INGREDIENTS - Serves 6-8
250g quality dark chocolate (at least 50% cocoa)
225g butter
½ cup caster sugar
2 tbsp brandy
5 eggs
2 tbsp ground almonds
Cocoa or raw cacao powder to decorate
METHOD
Pre-heat the oven to 180°C on Bake. Grease a 23cm spring form cake tin and line the base with baking paper. Wrap the bottom and sides of the tin with foil to stop water leaking in when baking.
Melt butter, sugar and chocolate together in a saucepan over a low heat. Remove from the heat and leave to cool for a couple of minutes, then stir in the brandy.
In a large bowl beat the eggs lightly for a minute. Add in the ground almonds and mix to combine. Slowly add in the melted chocolate mix and beat until well blended.
Pour the batter into the cake tin. Place the cake tin in a large roasting pan and pour boiling water into the pan around the cake tin (enough to come 1-2cm up the side of the tin).
Bake the cake for 25-30 mins at 180°C. The cake is ready when the edge is set but it is still a little bit soft in the centre. Leave to cool.
When cooled, remove the side of the spring form tin. Put a plate on top of the cake and then flip it over so that the base is now the top. Gently remove the base of the tin from the cake and peel off the baking paper.
To decorate, sprinkle all over with a generous amount of cocoa or raw cacao powder. Serve with yoghurt or enjoy as is!
Baked Eggs
INGREDIENTS - Serves 2
2-4 large eggs
1 can (400g) of diced tomatoes
1 can (400g) mixed beans
2 shallots, finely diced
1 clove garlic
1 tsp of smoked paprika
½ tsp of ground cumin
1 handful of fresh parsley, coarsely chopped
Salt & pepper to taste
1 tbsp of olive oil
Crusty bread to serve
METHOD
Preheat the oven to 180°C.
Heath the oil in a medium oven-proof fry pan, add the shallots and garlic, and cook until shallots are soft and clear.
Add the ground cumin, fry for about 30 seconds and then add the diced tomatoes and paprika. Cook for about 10 minutes, or until the tomatoes are cooked through. Add the beans in the last 2 minutes of cooking.
Take off the heat, add salt and pepper to taste. Make small wells in the sauce with the back of a spoon, one for each egg. Carefully crack an egg into each well.
Place the pan into the preheated oven and bake until the eggs are cooked through.
Serve in the pan with plenty of crusty bread.
SHOP FISHER & PAYKEL KITCHEN APPLIANCES