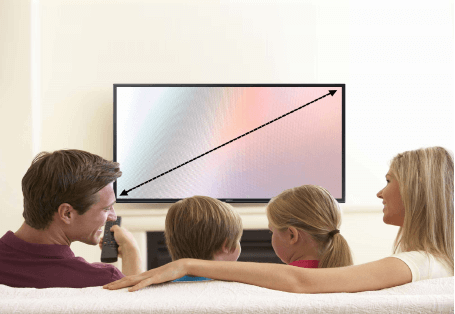 You'll need to consider the size and layout of your room first. Think about the best position for your TV relative to the room layout and whether you'd like a TV wall mount for space-saving, minimalist style and family safety. If yes (and you know your wall can handle the weight), make sure you add a wall-mounting bracket to your TV purchase.
The Good Guys have a great range of TV sizes: from the biggest 88" TVs right down to the smallest 18.5" TVs which are perfect for caravans. Remember, TV measurements are taken diagonally across the screen i.e. from the bottom left corner to the top right corner. The TV size that's right for you comes down to what you're comfortable watching, but when thinking about the size of the TV relative to the viewing distance you can use these measurements as a rough guide:
For an Full HD TV you should sit at a distance that is three times more than the height of the TV screen.
You can watch a 4K Ultra HD TV from a distance of just 1.5 times the screen height. In other words, you can sit twice as close to a 4K UHD TV as an Full HD TV.
Luckily, technology advances mean that whilst screen sizes are now much bigger, televisions can be just an inch thin – saving considerable space.
The resolution of your TV screen determines how sharp the picture quality will be. If you watch a lot of sport, action movies or play fast-paced games on your TV, a screen with a high resolution will give you better picture clarity. These days there are two main types of TV screen technology:
1. OLED
OLED TVs are a fairly new type of TV and take television realism to another level, giving you the very best picture quality. So what is OLED? When you're watching an LED LCD TV the black can look more like charcoal grey because the technology uses a backlight, whereas OLED TVs have no backlight so you see deep blacks and explosive colour on an OLED screen. An OLED TV has a pencil-thin display and gives you excellent picture quality and rich, vibrant colours. TVs with OLED (organic light-emitting diode) technology give you the best viewing experience so are more expensive than LCD TVs.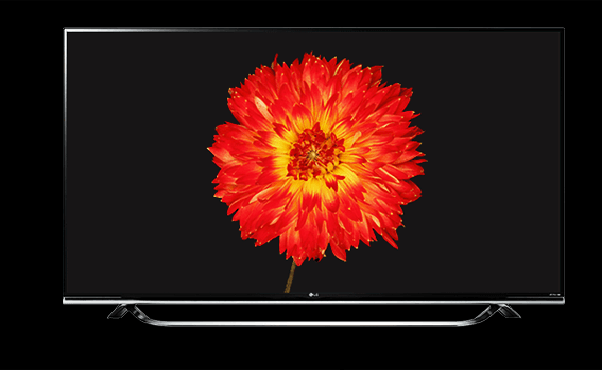 LG LED LCD TV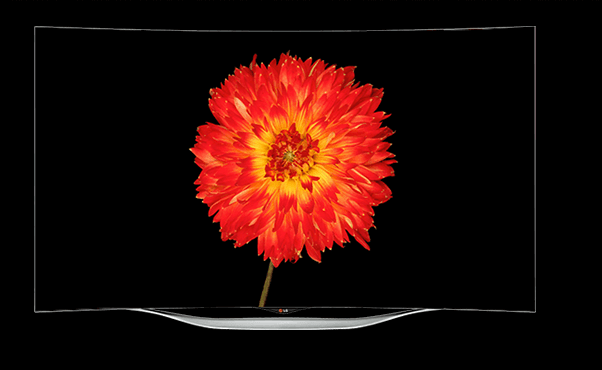 LG OLED TV
2. LED/LCD
LED LCD TV is a type of Liquid Crystal Display (LCD) television that uses light-emitting diodes (LEDs) to backlight the display. LED TVs are more formally known as LED-backlight LCD television, and are the most common type of television on the market today.
8K
8K is the latest new TV technology, and with a big-screen 8K TV you can immerse yourself in movies, sport, 8K resolution gaming and more. An 8K resolution gives you outstandingly crisp detail thanks to 33 million pixels — four times as many as 4K UHD. You see perfect picture definition close up on an 8K TV — from just 2m away on a 65 inch, 2.3m on a 75 inch, and 2.5m on an 82 inch 8K TV. You'll see sharper definition, more depth, and the best possible picture quality on an 8K TV as upscaling technology enhances compatible content, and in the future, when movies, shows and games are released in 8K.
4K UHD
A 4K UHD TV gives you four times the picture resolution of a Full HD TV, with more than 8 million screen pixels.
What is Ultra HD? Also referred to as a 4K Ultra HD TV, 4K UHD TVs have 3840 x 2160 pixels so you can enjoy stunningly clear images with incredible detail. 4K gives you the full colour range experience close up, and UHD TVs update the screen more frequently to smooth out motion so you can watch sport and fast-paced action scenes with crisp clarity – even on a big-screen TV.
What is UHD Premium? UHD Premium is being used in numerous 4K TVs from brands like Samsung, Panasonic, LG, Sony and others under the supervision of the UHD Alliance, which is a display technology and media industry consortium of companies which came to an agreement on what should constitute HDR, colour and other specs in a premium UHD entertainment experience.
Ultra HD Premium Specifications – In January 2016 the UHD alliance issued specifications that TV manufacturers need to meet for their 4K models to be certified as Premium 4K UHD. It wasn't enough that 4K UHD TVs had 4K resolution to be classified as a Premium 4K UHD TV, but now must meet certain performance standards such as High Dynamic Range (HDR) – a relatively new feature that gives you brighter whites, deeper blacks and a broader colour palette so you see even more detail on your screen.
Other benchmarks include, Wide Colour Gamut (WCG) the expanded colour reproduction abilities of 4k TVs, Full Array Local Dimming (FALD) which helps to achieve better black levels and a colour depth of 10 bit.
Full HD
A Full HD TV has a 1080p Full HD resolution that's up to five times sharper than a standard TV, with more than 2 million screen pixels (1920 x 1080 pixels). With an FHD TV you can watch TV shows and videos produced in FHD and Blu-ray discs for a clear, sharp, immersive viewing experience on a large-sized FHD screen.
When you're comparing different Full HD TVs also look at the screen refresh rate (measured in Hz) – this tells you how many times per second the picture on the screen is refreshed. 60 Hz is the standard refresh rate but action movies and sport can look blurry on a screen with a 60 Hz refresh rate, so try to get a TV with at least 120 Hz for a smoother image and better viewing experience. This doesn't apply to 4K UHD TV.
Once you've worked out which type of screen technology you want, you should also consider which special TV features will enhance your viewing experience. Some TVs can auto record your favourite shows, some have hands free voice control, and some suggest new content you might like based on what you already watch.
What is a smart TV? A smart TV has built-in internet connectivity. This means you can use a smart TV like you use your smart phone – you can use apps, play online games, Google, watch You Tube videos, watch catch-up TV, and stream TV shows and movies through your online TV streaming subscription services like Netflix – all on your smart TV screen. You can also connect your smart phone and tablet to most smart TVs so you can share content between screens.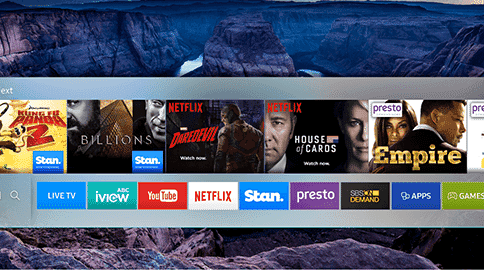 SAMSUNG SMART TV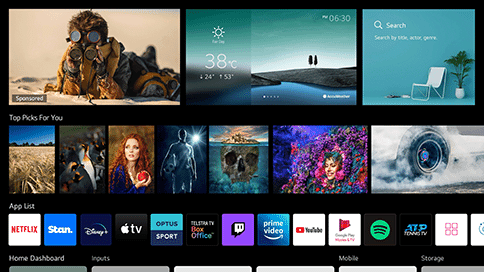 LG SMART TV
Smart TVs are so easy to use – there's a home screen menu that makes it really easy to access free-to-air TV channels, subscription services like Netflix, online apps, YouTube, Freeview Plus, your connected devices like gaming consoles, DVD and Blu-ray players. Different smart TV brands have different menu layouts but they're all designed to be intuitive so you can find what you want fast. Try using different TV remote controls in store so you can find the best smart TV for you.
Smart TV's require Internet Connectivity to operate, and to ensure you have a seamless experience it is important to ensure your Internet equipment is capable of providing the best video streaming quality without buffering. We recommend 802.11AC modems, modem/routers and range extenders to achieve this!
When buying a television, you'll also need to make sure you get a TV that has all the important connections you need based on how you'll use it. Think about all the different devices you'll want to connect to your TV – DVD or Blu-ray player, gaming consoles, a USB hard drive, home theatre system or soundbar.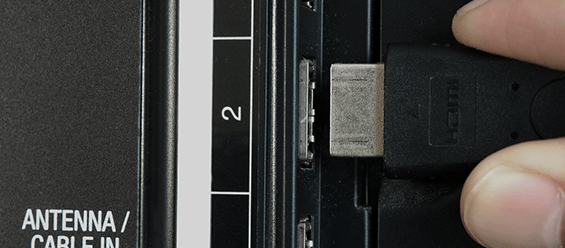 Ports & Inputs - Count how many devices you'll want to connect that need an HDMI port or a USB port, and make sure your TV has all the ports and inputs you'll need, with one or two extra to cover any additional devices you may want to connect in the future.
It's important to think about the connections needed for a home theatre system or soundbar because today's TVs are so thin that there's not much space for quality built-in speakers. A soundbar really enhances your new TV experience and is easy to set up, and a home theatre system gives you the full cinematic experience at home.
TV Cables & Accessories - You should also consider how many HDMI cables you need to connect all your devices, powerboards to keep them all power similtaneously, TV antennas and antenna cables and accessories such as 3D galsses. Shop TV Accessories
Installing a small TV is fairly suited to one person, but trying to transport, setup and dispose of rubbish from a TV that's 50" or larger can be difficult as its usually a two person job and no box fits into a recycling bin. We offer installation services that ensure you have a hassle-free experience from the very beginning and even shown how the new TV operates… We can even conceal all the wires in the walls so that you only see the TV equipment without a mess or cables around it.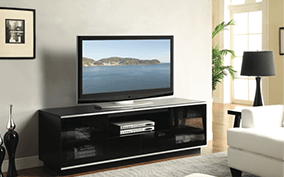 Tabletop: Your new TV is unpacked, assembled and completely setup on a table/cabinet with a tutorial on how to operate the TV whilst we also take away the rubbish.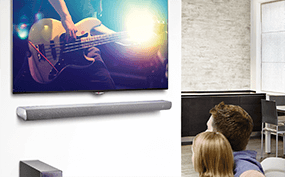 Wall Mount: Your new TV is unpacked, and two technicians will level and safely secure your wall mount to the wall then mount the TV to it whilst completing the setup and a tutorial on operating the TV and then removing any rubbish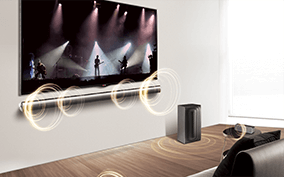 Home Theatre/ Audio Setup: If you matching your visual experience with an audio experience we can ensure to have it completely connected and optimised for maximum sound quality and room presentation.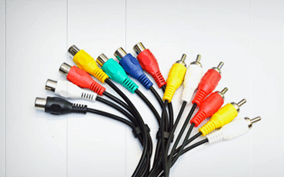 Cable Management: If you have chosen to wall mount the TV, then you probably don't want to see the cables and wires running down the wall, this additional service allows us to conceal all the wires behind the wall.