Anything you can do, you can do better.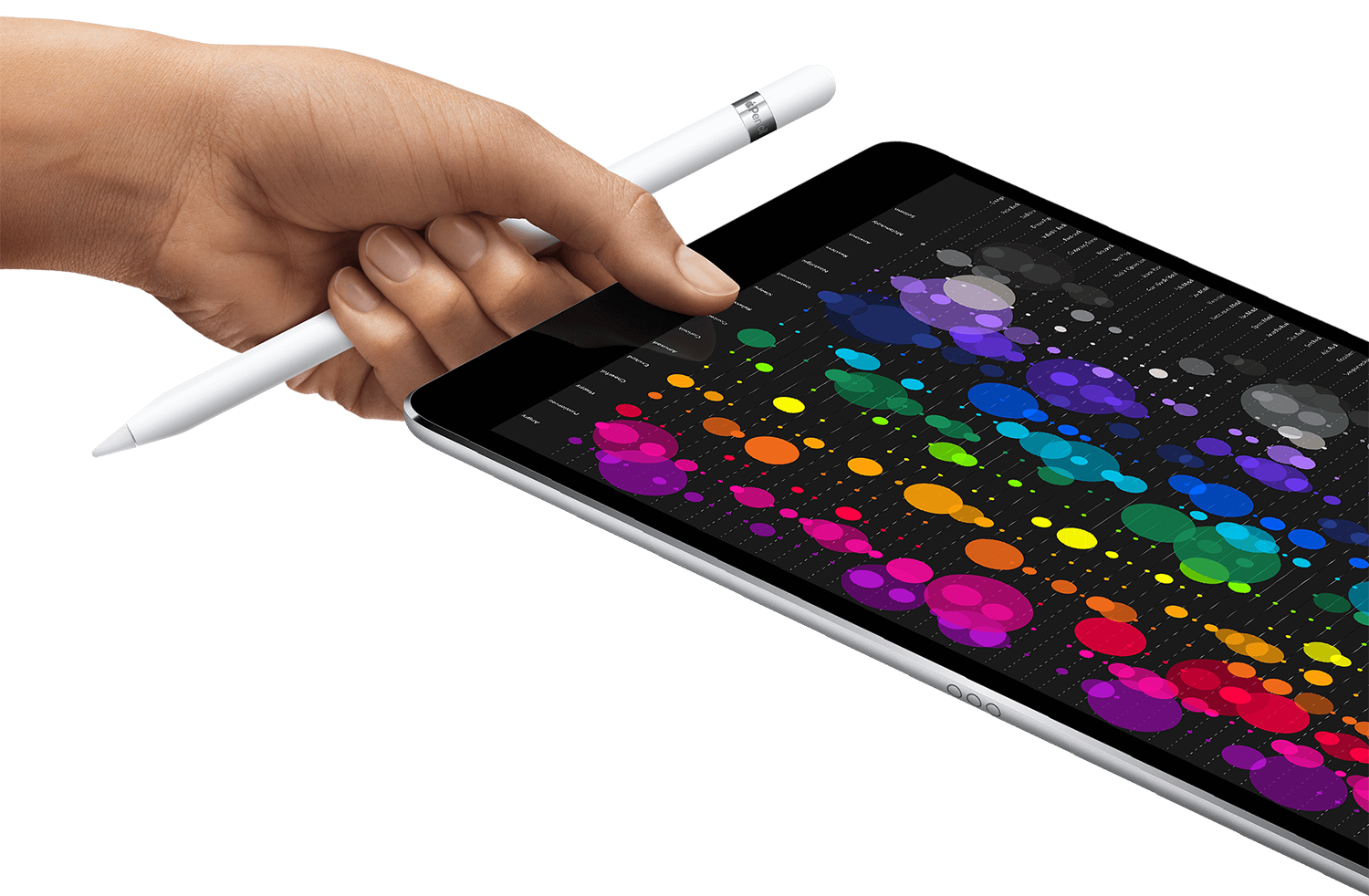 No matter the task, the new iPad Pro is up to it — and then some. It offers far more power than most PC laptops, yet is delightfully simple to use. The redesigned Retina display is as stunning to look at as it is to touch. And it all comes together with iOS, Apple's most advanced mobile operating system. iPad Pro. Everything you want modern computing to be. Now even, well, better.
An all-new
10.5-inch model.
Apple's most
advanced display
More powerful than
most PC laptops
iOS 11 takes iPad to
a whole new level.
Retina Display
Brighter
In so many ways.
iPad has always offered the ultimate Multi-Touch experience. The redesigned Retina display on iPad Pro sets a whole new standard. It's not just brighter and less reflective — it's also far more responsive than anything that's come before. Whether you're scrolling through pages in Safari or playing an intense 3D game, everything feels utterly smooth, fast and immersive.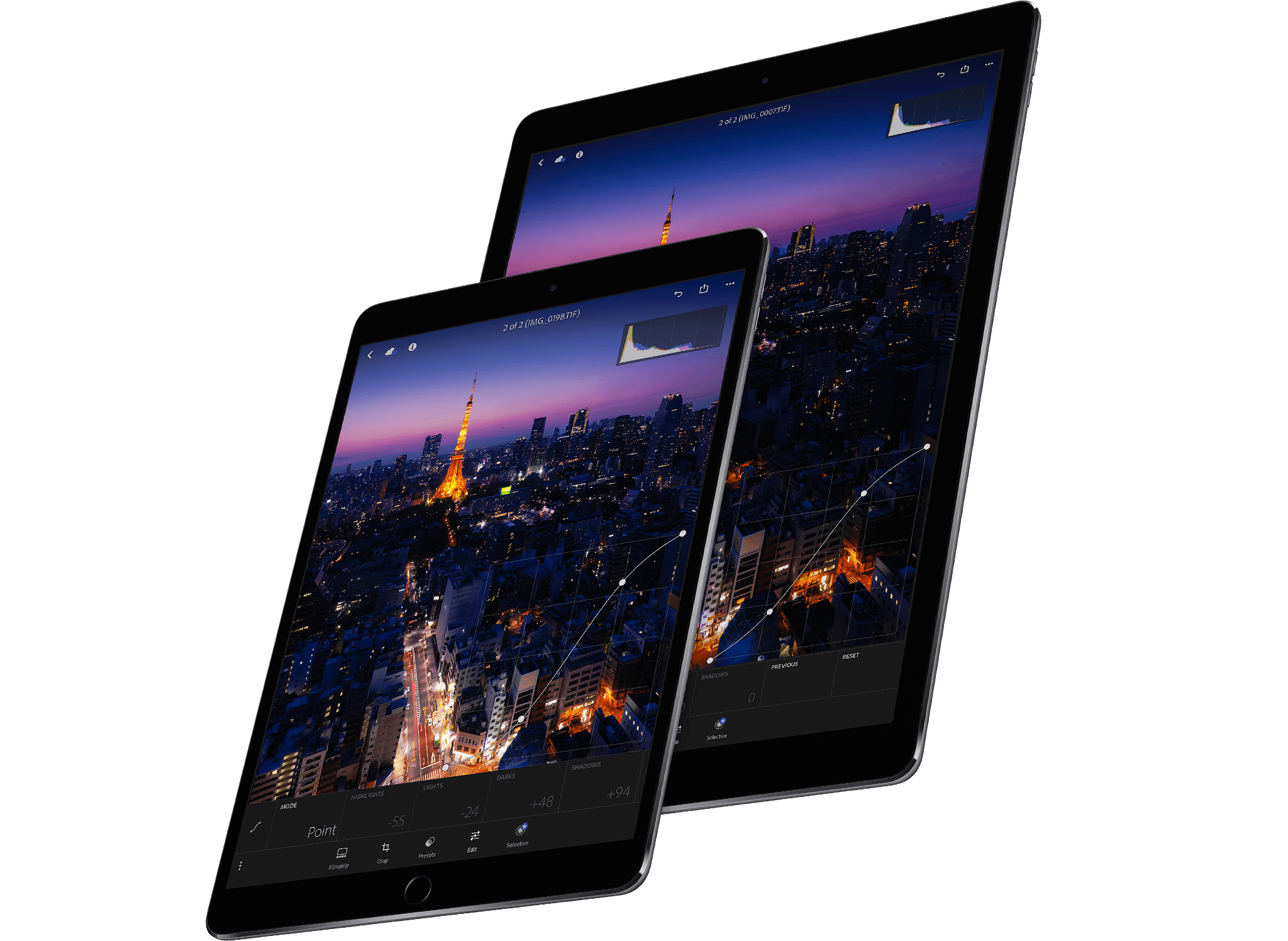 A New 10.5-inch
display
The new 10.5-inch iPad Pro comes with a screen nearly 20 per cent larger than the 9.7-inch model, so you get more room to do more.¹ It also delivers a full-sized onscreen keyboard. Yet it's just as portable as ever.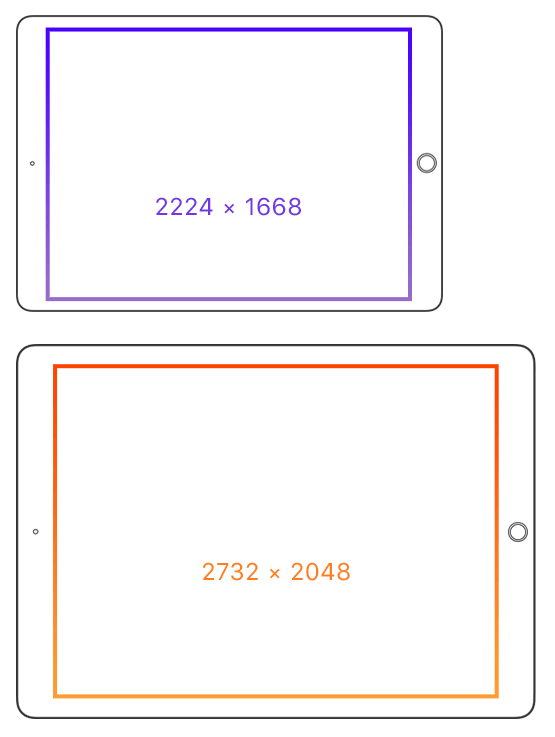 120Hz refresh rate.
You've never seen or
felt anything like it.
The new iPad Pro Retina display now supports a 120Hz refresh rate. So movies and videos look spectacular, while games play smoothly without distracting artefacts. Fast, it turns out, is incredibly beautiful. And however you use the display — with your finger or Apple Pencil — everything will feel more responsive. ²
New iPad Pro

120Hz
refresh rate
Standard LCD display

60Hz
Even more to
meet the eye.

600 nits
brightness
Enhanced brightness makes it easier than ever to see, wherever you are.

P3
wide color display
With P3 wide colour, you get more vibrant greens and reds for more true-to-life images and videos.

1.8%
reflectivity
Apple's custom-designed antireflective coating makes the display clearer and more readable - wherever you take your iPad.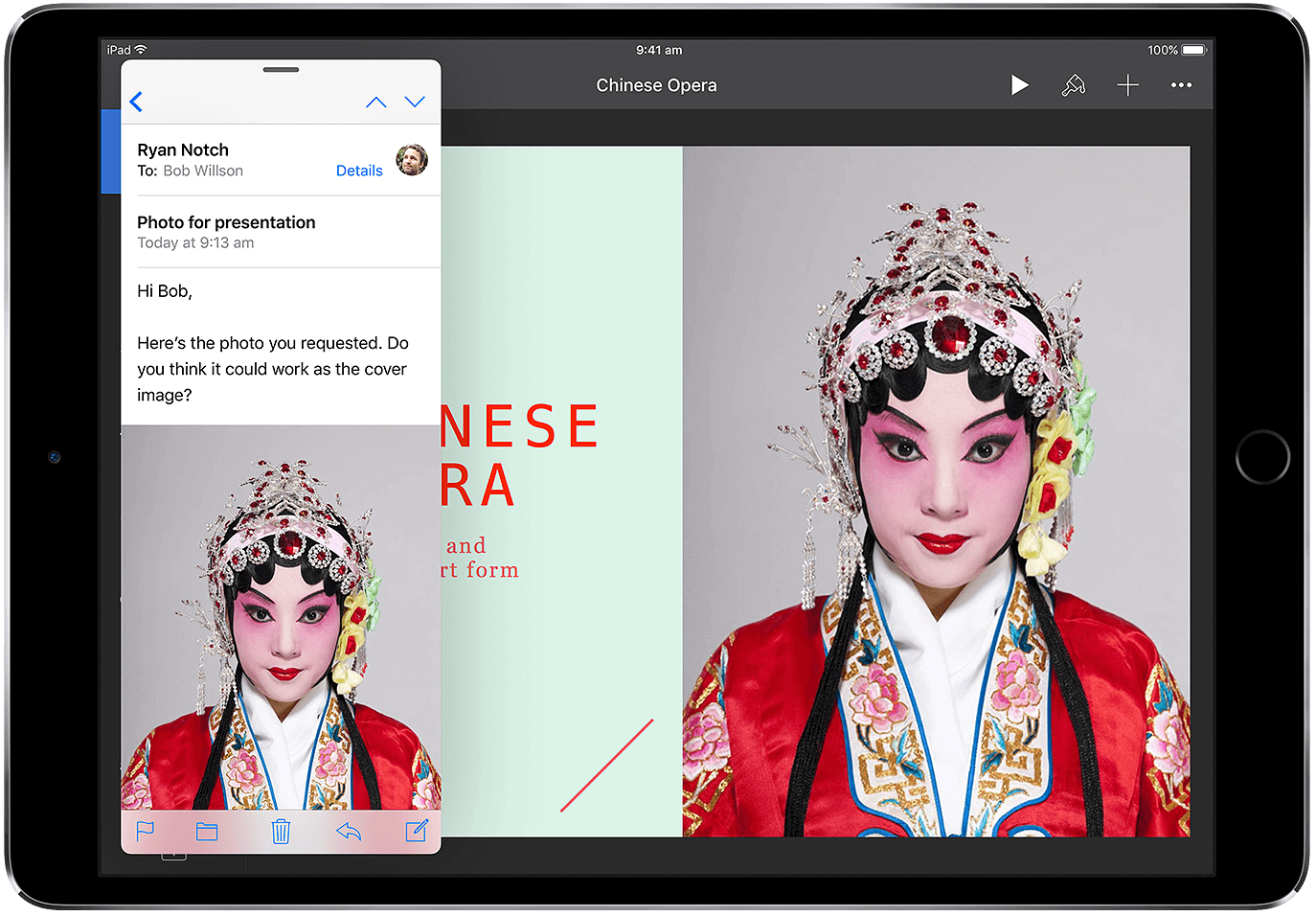 Multitasking.
Redesigned from
the swipe up.
Doing more than ever will soon be easier than ever. In iOS 11, an all-new Dock makes it simple to open recently used apps and files. And when you use Slide Over or Split View, both apps will stay active so you can work with them simultaneously. You can edit an image in Adobe Photoshop Fix while creating a web page. Or use Safari to plan your next holiday while confirming dates in Calendar. iPad Pro and iOS 11 are perfect for doing everything you want to do — at once.
Performance
More powerful
than most PC
laptops
The A10X Fusion chip with 64-bit architecture and six cores puts incredible power in your hands. So you can edit a 4K video on the go. Render an elaborate 3D model. Or create and mark up complex documents and presentations. Easily. All on a device that still delivers all‑day battery life ³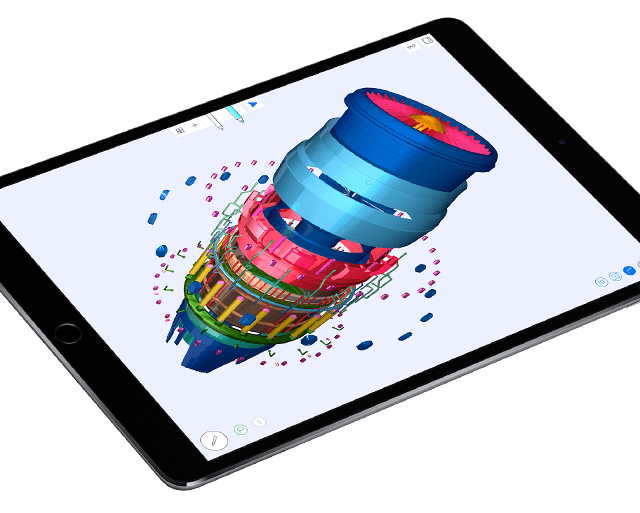 A10X
Fusion chip
The A10X Fusion chip makes complex tasks like editing 4K video, rendering 3D images or playing games feel effortless.

ISP
Image signal processor
The Apple‑designed image signal processor uses machine learning to make the photos and video you capture look amazing.

Up to
10-hour
battery life
Stay productive and creative with all-day battery life. ³
CPU speed

iPad Pro (new)
30% faster

iPad Pro (previous generation)
Graphics speed

iPad Pro (new)
40% faster

iPad Pro (previous generation)
Apple Pencil
Now even sharper
The increased refresh rate of the new iPad Pro display makes Apple Pencil feel even more responsive and natural. No other digital pencil lets you write, mark up and draw with such pixel-perfect precision. ³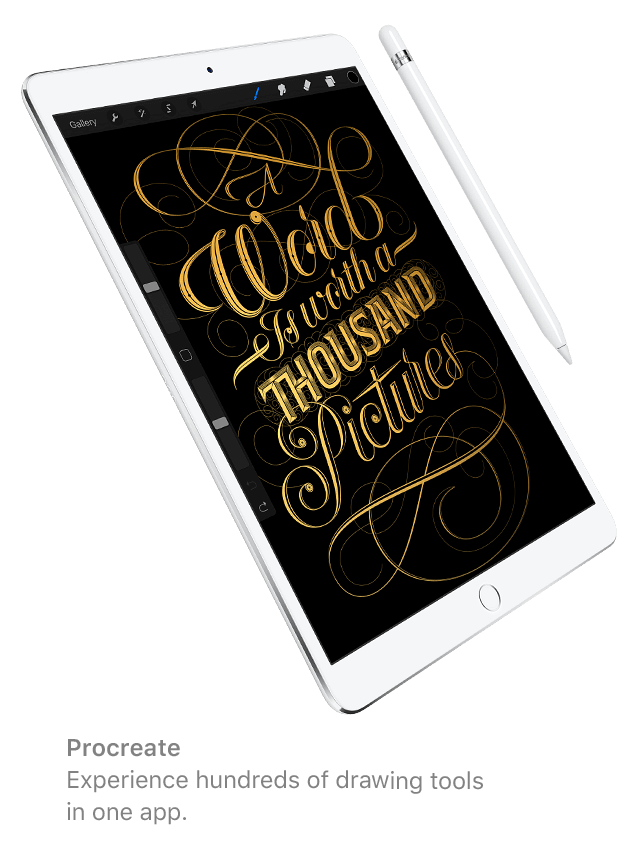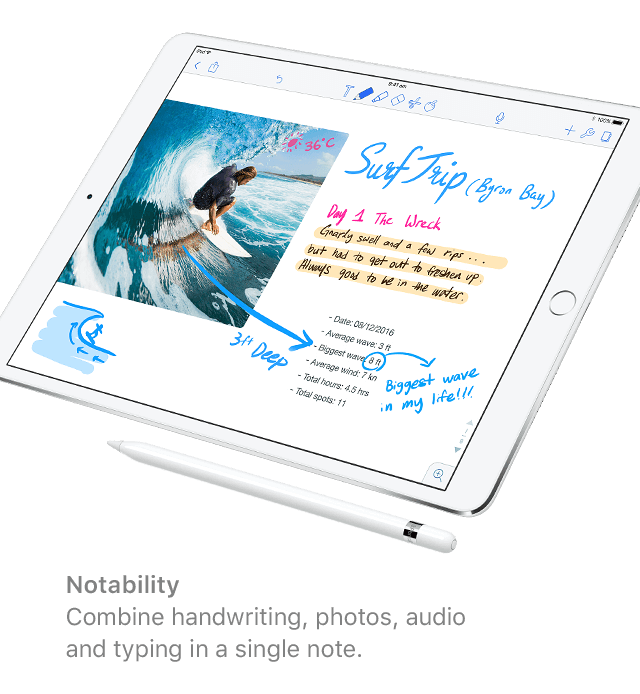 iOS 11
A monumental
leap for iPad
iOS 11 brings iPad to life as never before. New features and capabilities fundamentally improve the way you do things, making your iPad experience even more powerful and personal. Do with it what you will. Because now you can.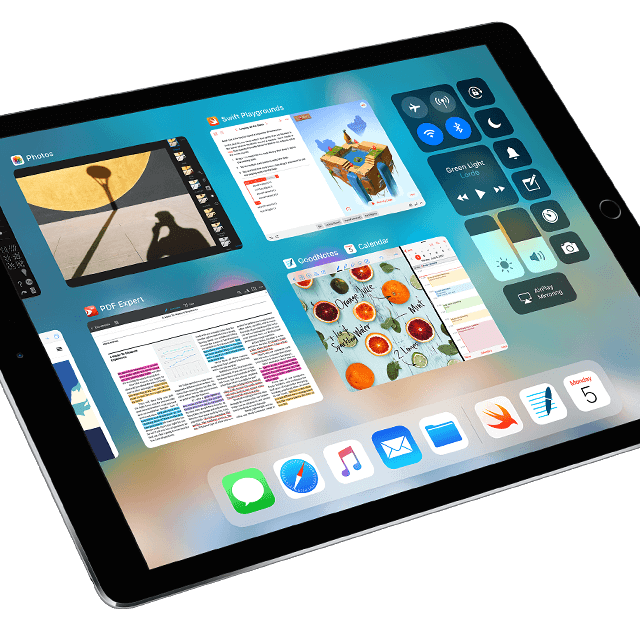 Dock
The all-new Dock makes it easier to find your favourite and recently used apps and files. It's especially useful for multitasking or navigating through apps.
Files
The new Files app brings all your files together. Not just the ones on your iPad, but also those in apps, in iCloud and across other cloud services.
Drag and Drop
Drag and Drop gives you a new way to move things around. With just a finger, you can simply and smoothly move text, photos and files from one app to another, anywhere on the screen.
App Switcher
The redesigned App Switcher makes changing apps as quick as a swipe. It even remembers the combinations of apps you've multitasked with previously.
Multitasking
Not only has multitasking been redesigned, but both apps now stay active in Slide Over and Split View.
Apple Pencil
iOS 11 makes Apple Pencil even more useful. Easily sketch, draw or write directly alongside text in Notes. You can even write a note instantly by tapping on your iPad Lock screen with Apple Pencil. ²
Apps
The power of
iPad. Times
1.3 millions.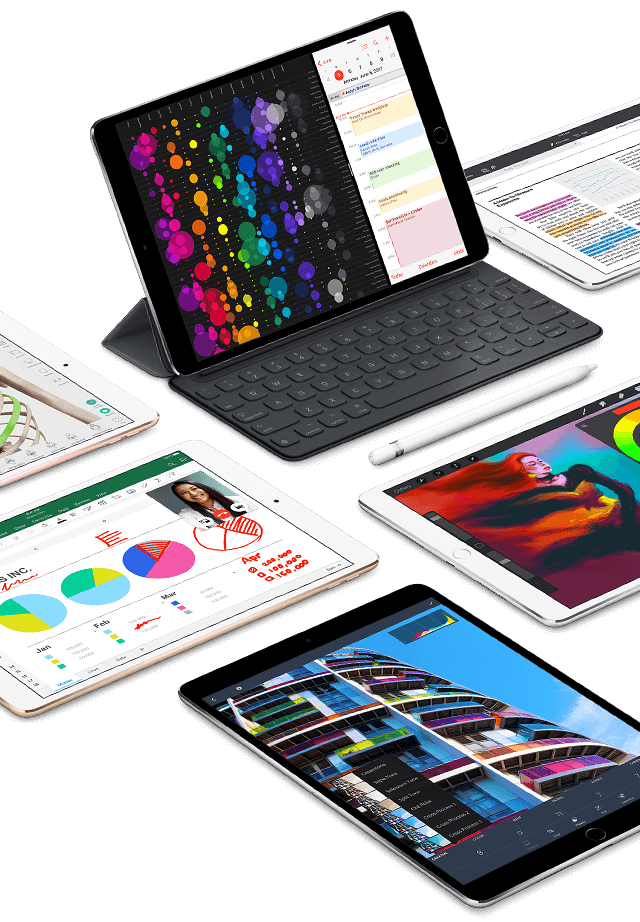 iPad is a powerful way to work, play and learn. With over a million apps designed to take advantage of its large Multi-Touch display and powerful chip, it can transform the way you do the things you love. ⁴
Design
Less than
500 grams
So much
capability.

Even though it's packed with amazing performance, an advanced display, two cameras, ultrafast wireless ⁵ and all-day battery life ³, iPad Pro is still sleek and compact. So you can go just about anywhere and do just about anything.
10.5"

12.9"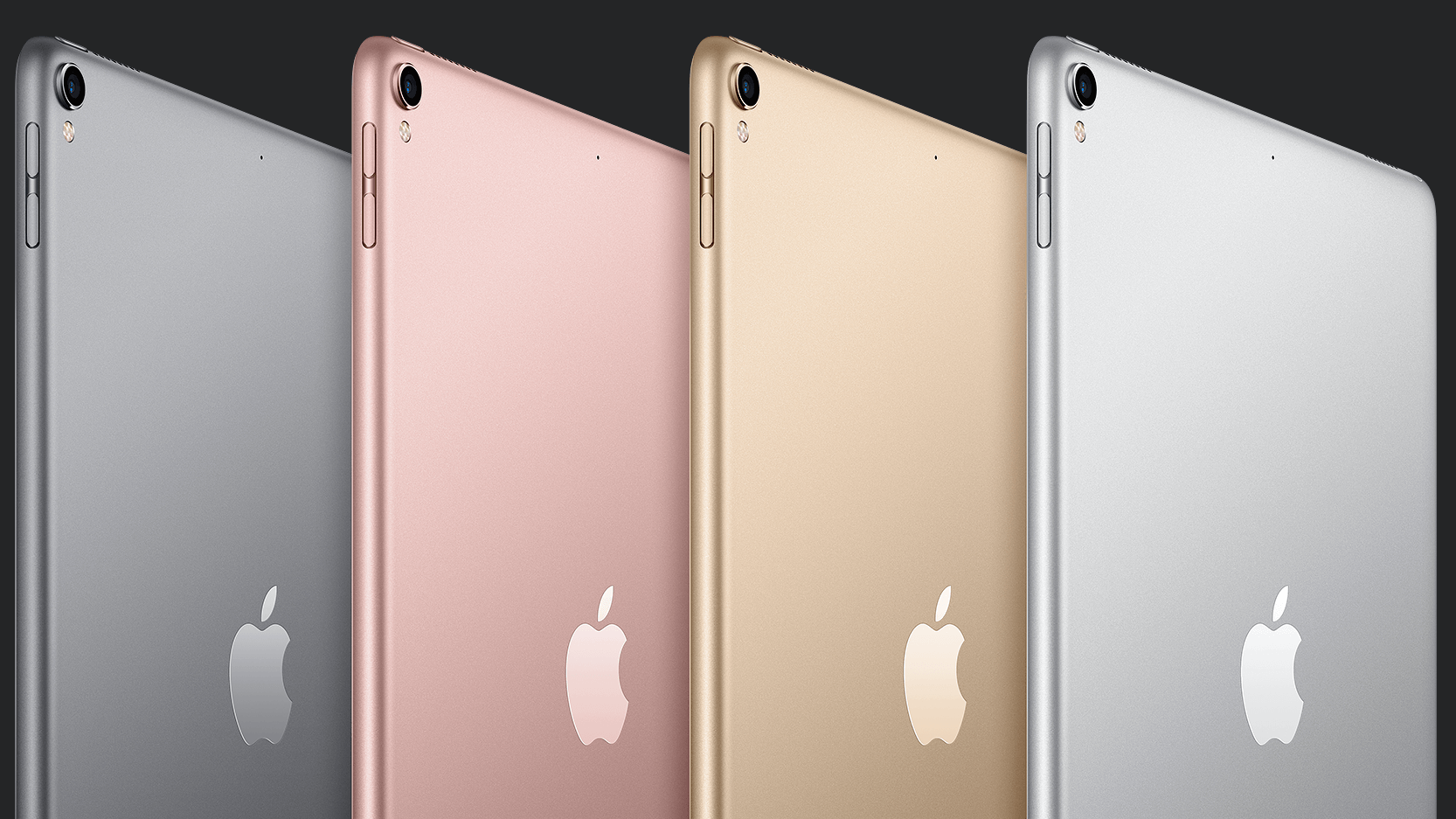 Wireless
Browse the web, stream video and share documents faster from pretty much anywhere with 802.11ac Wi-Fi and 4G LTE Advanced.⁵ All Wi‑Fi + Cellular models are unlocked, so you can pop in any carrier SIM card to stay connected when you're out of Wi-Fi range. And when you're travelling, an embedded Apple SIM lets you connect using mobile data networks in over 180 countries and regions. ⁶
Up to
450
Mbps via 4G LTE

Cameras
iPad Pro features the same great cameras as iPhone 7. Advanced optical image stabilisation and an ƒ/1.8 aperture make it even better for taking amazing photos and videos in low light. And wider colour capture makes every selfie worthy of a gallery.

TouchID
Touch ID uses an advanced fingerprint sensor that lets you unlock your iPad instantly and secure private data in apps. You can also use it to make purchases with Apple Pay and your eligible cards within selected apps and on participating websites.
2x
faster than the previous generation

Smart Keyboard
Simply unfold the full-sized Smart Keyboard — available for both the 10.5‑inch and 12.9‑inch iPad Pro — when you need it. Fold it to create a lightweight yet durable cover when you don't. It's as easy to use as it is to take with you. ⁶
New
10.5"
full-sized keyboard
iPhone + iPod
Start something
here. Finish it
there.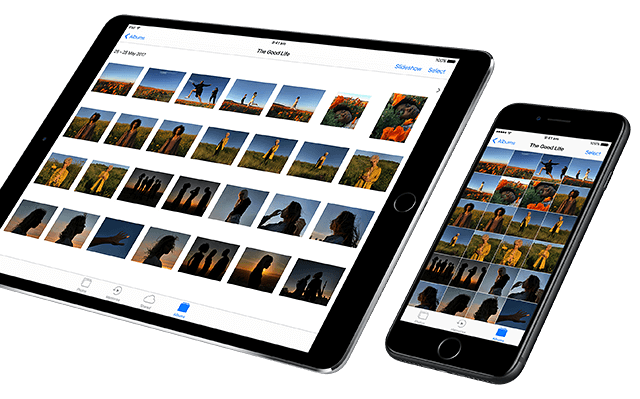 Begin an email on your iPhone and finish it on iPad Pro. Or copy images, video or text on your iPhone, then paste to your iPad. You can even use AirDrop to quickly share files wirelessly between devices. iPhone and iPad Pro were designed to work not only with each other, but also with your Mac and Apple Watch.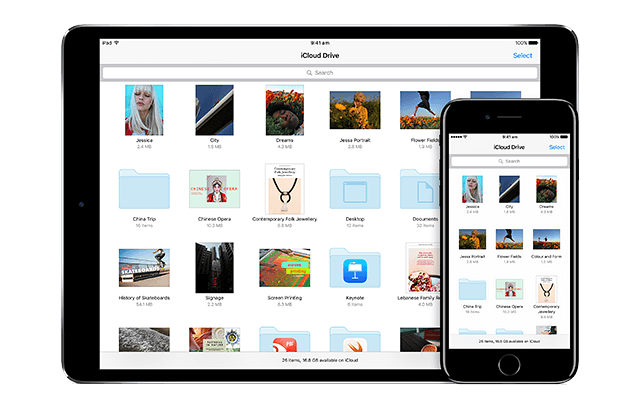 iCloud. One place
for everything that
matters.
iCloud safely stores all your photos, music, apps and more, keeping them up to date, secure and accessible from any device.
Find the iPad that's right for you.
No matter what you're looking to do.
you'll find an iPad to fit your needs.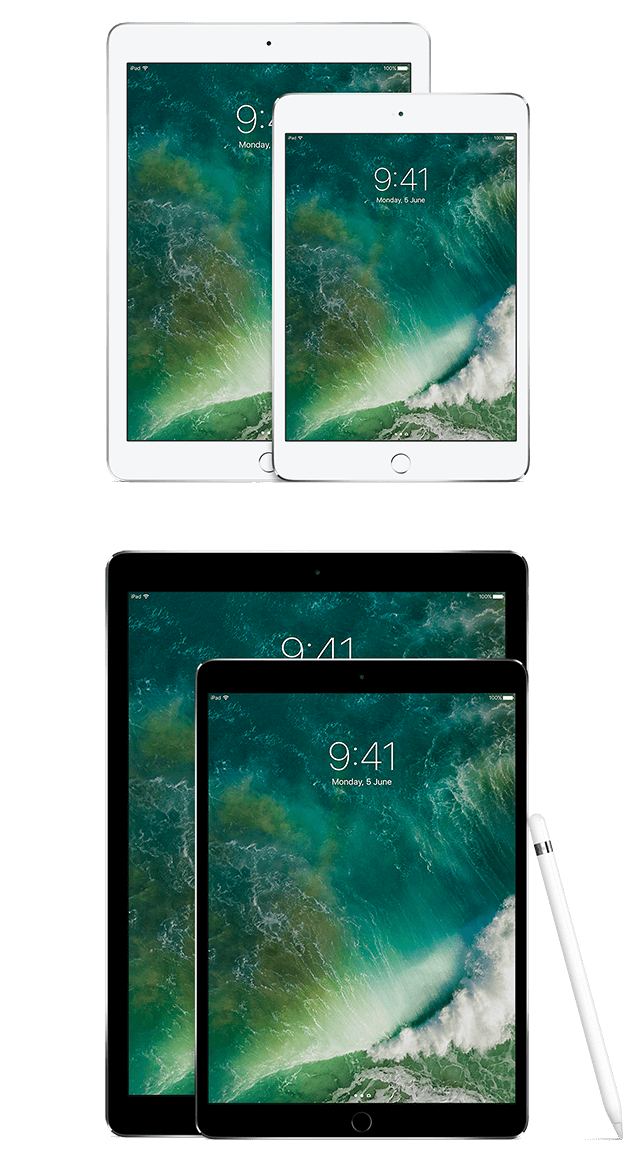 iOS 11 features shown. iOS 11 will be available as a free download this spring. Apps are available on the App Store. Title availability is subject to change. 10.5-inch model is available in space grey, rose gold, gold and silver. 12.9-inch model is available in space grey, gold and silver. Some features may not be available in all countries or all areas. Click here to see the complete list.
Display size is measured diagonally.
Apple Pencil and Smart Keyboard are sold separately.
Battery life varies by use and configuration. See www.apple.com/batteries for more information.
App count refers to the total number worldwide. Not all content is available in all countries.
Mobile data service is available only on Wi-Fi + Cellular models. Data plan is required. 4G LTE Advanced and 4G LTE are available in selected markets and through selected carriers. Speeds are based on theoretical throughput and vary based on site conditions and carrier. For details on 4G LTE support, contact your carrier and see www.apple.com/ipad/LTE.
Embedded Apple SIM in iPad Pro may be disabled when purchased from some carriers. See your carrier for details. Apple SIM and embedded Apple SIM are not available in China.