ARTICLE
Mix & Match Mothers Day Dinner Recipes
April 19, 2021 - 6 min read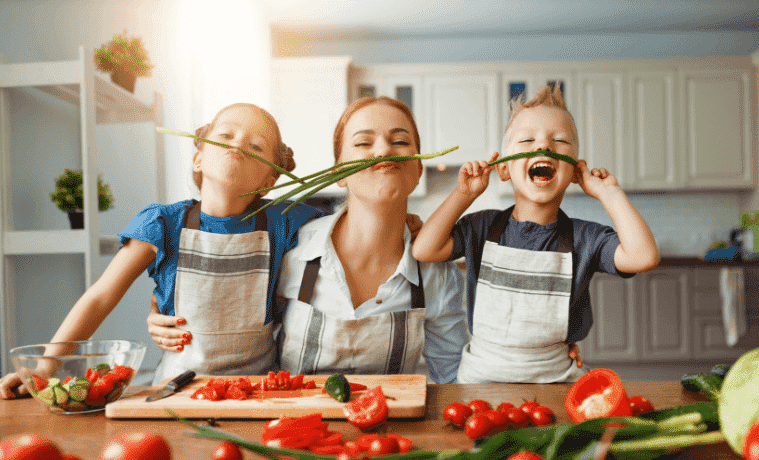 Mother's Day is all about letting mum relax. No cleaning, no breaking up sibling fights and no cooking. We've got everything you need to make mum (and the whole family!) a delicious home cooked meal this Mother's Day. Simply choose from a selection of delicious starters, show-stopping mains and mouth-watering desserts – the hardest part will be deciding on the menu.
Starters
Bosch Spaghetti Mushroom Nests

Ingredients
Spaghetti
300g Spaghetti
2 Tablespoons Olive Oil
Mushroom Mixture:
5g Dried Porcini Mushrooms
100g Fresh Button Mushrooms
1 Shallot
15g Butter
2 Eggs
Salt
Pepper - Freshly Ground
50ml Cream
Nutmeg - Freshly Grated
In Addition:
2 Tablespoons Parsley - Chopped
Butter for Greasing
Click here for the Method
Cook the spaghetti until 'al dente', drain, and immediately stir in 2 tablespoons of olive oil.

Let the porcini mushrooms soften in lukewarm water.

Rinse the button mushrooms, trim them and finely dice them. Peel and finely dice the shallot. Drain the porcini mushrooms and cut into small pieces.

Heat the butter in the frying pan. Add and sweat the shallot and crushed garlic. Add the button mushrooms and porcini mushrooms to the pan and sweat. After cooking, allow to cool
Westinghouse Spinach & Mozzarella Arancini Balls

Ingredients
Spinach risotto filling
1 onion finely diced
1 tbsp oil
5 threads saffron, soaked in stock
1 litre chicken stock, hot
1 garlic clove, crushed
½ cup aborio rice (350g)
1 cup white wine
1 cup parmesan, grated
50g butter
150g baby spinach, finely chopped
1 tbsp pesto
Tomato sauce
1 tin crushed tomatoes
1 punnet cherry tomatoes
½ cup red onion finely sliced
¼ cup red wine vin
½ cup water
2 tbsp olive oil
1 tbsp brown sugar
10 basil leaves
Salt and Pepper
100g bean sprouts
¼ shallot top thinly sliced
Mozzarella Balls
50g mozzarella, cut into 1cm cubes
2 eggs
1 egg for coating
⅓ cup milk
1 cup flour for coating
1 cup bread crumbs for coating
1 cup panko crumbs for coating
Rice bran oil spray
Click here for the Method
Spinach risotto filling

Sauté the onion till just golden and sticky in oil. Add crushed garlic, stir for 1 min.

Add rice, stir for 3 mins. Add wine and cook off

Add ladles of stock, stirring the whole time, letting each ladle full cook in before adding the next.

Before the last 2 ladles add the spinach and pesto to cook in.

Finish the last 2 ladles, adding boiling water if not cooked (cooked should be soft outside, bite inside).

Add butter and parmesan, store and cover.

Allow to cool 2-3hrs before assembling arancini.

Mozzarella Balls

Combine the 1 egg and milk and whisk.

Make ¼ cup balls and insert a mozzarella cube.

Dredge in flour, dip in egg and roll in crumb, spray all sides in olive oil.

Preheat oven to air fry 250°C.

AirFry till golden - 10 mins

Tomato sauce

Sauté onion in oil till softened, add remaining ingredients and simmer for 20 mins.

Puree once cooled slightly.

Serve with tomato sauce, fresh basil leaves and parmesan.
NOTE: If it's just a dinner for two – Halve or Quarter the recipe– or go ahead and cook them all, left over arancini for lunch anyone? DID YOU KNOW - that Westinghouse Oven range models have built in air frying technology. Yes, that's right, no additional benchtop appliance is required. Learn all about Westinghouse's Oven Range, including their stunning new black free-standing cookers here.
Mains
Westinghouse Steam Roast Lamb Shoulder

Ingredients
Lamb
2 lamb shoulder, bone in
8 French shallots, halved
1 bunch rosemary
300ml red wine
400g crushed tomato
500ml beef stock
300g swiss brown mushrooms
500g green beans, tops trimmed
Salt and pepper
Garlic Mash
5kg of potatoes, peeled, cut into 4cm chunks
1 head of garlic, cut in half
100g salted butter
⅔ cup milk, warmed
Gravy
50g butter
3 tbs flour
1 cup pan juices
Gremolata
⅔ cup curly parsley, finely chopped
1 garlic clove, finely sliced
1 orange, zested
Click here for the Method
Method
Preheat oven to 130°C steam bake.

In a large roasting dish, heat 1tbs olive oil over medium high heat.

Brown the skin side of the lamb till deep golden.

Set aside.

Add the French shallots flesh side down, along with the rosemary and fry for 3 mins.

Deglaze the pan with the red wine, then turn off heat.

Add the stock and tomatoes and nestle the lamb shoulders back in skin side down.

Season well with salt and pepper

Place into the steam oven and steam roast for 2 hrs.

After 2 hrs, remove the pan and turn the lamb to skin side up. Change setting to 150°C steam roast and cook for a further 1 hr.

For the last half an hour, add the mushrooms around the meat to cook in the pan.

The meat should be tender enough to pull from the bone with a fork.
Garlic Mash
Boil potatoes and garlic in heavily salted water for 20 mins and then drain.

Mash with the garlic (skin now removed and the milk and butter).
Gravy
In a small saucepan, melt the butter over medium heat and add the four.

Fry softly to make a paste, then add the pan juices, whisking till smooth.
Gremolata
Combine the ingredients and sprinkle over dish before serving
Miele Salmon with Orange Mustard Glaze

Ingredients
Salmon
800-900 g piece of salmon, trimmed, skin off
Brine
¼ cup fine sea salt
¼ cup caster sugar
2 litres cold water
Orange mustard glaze:
¼ cup honey
¼ cup brown sugar
3 tbsp Dijon mustard
1 orange, zest and juice
1 tsp ginger, finely grated
To serve
1 fennel bulb, finely shaved
1 lemon, juice
Extra virgin olive oil
Salt flakes, to taste
3 cups watercress
1 ruby red grapefruit, segmented
½ bunch chives, finely chopped
Click here for the Method
Method
Brine
Dissolve the sea salt and sugar in cold water. Cover salmon with the brine and leave at room temperature for 1 hour. Remove and pat dry.

Orange mustard glaze

Place ingredients into a small saucepan and bring to the boil on high heat, induction setting 8. Turn down the heat to induction setting 5 and reduce by half. Allow to cool completely.
Salmon
Preheat oven on Fan Grill at 240°C.

Place a grilling and roasting insert into a multi-purpose tray. Place a square of foil on the insert and brush lightly with grapeseed oil.

Place the salmon on the foil and lightly brush with the orange mustard glaze. Place into the oven on shelf position 4 and cook for 6 minutes.

Lightly glaze again, place on shelf position 5 and cook for a further 6 minutes.
To serve
Place the fennel in cold water for 10 minutes, then drain and dry. Toss the fennel in lemon juice, olive oil and sea salt. Mix with watercress and grapefruit.

Place the salmon on a warm serving platter, scatter with fennel and watercress salad and sprinkle over chives.
Hints and tips
Ginger can be replaced with either horseradish or wasabi for alternative flavours.

Extend or decrease the cooking time of the salmon, depending on degree of doneness. Being careful, as an extended cooking time may lead to the glaze burning
Smeg Lemon and Sage Roast Chicken and Potatoes

Ingredients
1.6kg whole chicken
1 onion, quartered
1 lemon, quartered
1 bunch sage
1kg new potatoes
2 tablespoons olive oil
Salt & pepper
Click here for the Method
Set combi-steam oven to steam + static + fan and pre-heat to 220°C with 70% steam.

Stuff chicken cavity with onion, lemon and sage and place on a baking tray with new potatoes. Drizzle chicken and potatoes with olive oil and season to taste with salt and pepper. Roast for 50 minutes.

Carve chicken and serve with pan juices and roast potatoes.
Dessert
Bosch Spiced Espresso and Chocolate Tart

Mixture:
200g Dark Chocolate
125g Butter
1 Tablespoon Milk
75ml Espresso
40g Cocoa
1 Pinch of Salt
1 Heaped teaspoon of ground spices, such as cardamom, cinnamon, cloves, allspice
2 Sachets Vanilla Sugar
5 Eggs
150g Fine Sugar
100g Ground Almonds
Topping:
400ml Cream
2 Tablespoons Sugar
Ground spices, such as cardamom, cinnamon, cloves, allspice for sprinkling on top
Click here for the Method
Methods
Cut the dark chocolate into small pieces, and place them in a heat-resistant bowl. Add butter and milk, then melt in the water bath. Pour in the espresso and stir well.

Finely sieve the cocoa. Add the ground spices and vanilla sugar.

Stir the eggs and sugar together till the mixture turns light and fluffy. Carefully stir in the chocolate mixture. Fold the almonds into the cocoa mixture. Pour the mixture into the springform cake tin, place it on the level 2 wire rack and bake for 25-35 minutes. (Option after preheating: Select 'Added Steam, Setting 03').

Line the base of the springform cake tin (Diameter 26cm) with greaseproof paper. Pour in the mixture and bake as indicated. Let the tart cool down in the tin a little, then remove and leave to cool down completely.

Whip the cream until stiff and then spread over the tart. Mix the sugar and ground spices together, then scatter over the spices over the cream.
Tip: You can also melt the chocolate in the microwave or a warming drawer.
Sunbeam Cheats Tiramisu

Ingredients
1 ¼ cups espresso
2 tablespoons caster sugar
¼ cup coffee flavoured liqueur (Tia Maria or Kahlua)
600ml tub thickened cream
¼ cup icing sugar mixture
2 teaspoons vanilla essence
250g sponge finger biscuits
50g dark chocolate, grated
Click here for the Method
Methods
Combine coffee, caster sugar and liqueur in a bowl. Cool.

Place cream, icing sugar and vanilla in a mixing bowl. Using an electric whisk, whip on very high speed until soft peaks form.

3. Dip one sponge finger into cooled coffee mixture. Remove from liquid and spread one side with a little cream.

Place sideways in an 8-cup capacity serving dish. Dip a second sponge finger in coffee mixture, spread with a little cream and lay next to the first. Repeat with remaining sponge fingers, coffee mixture and cream. If there is any remaining coffee mixture once all the biscuits have been dipped, pour this over the biscuits. Spread top with remaining cream and smooth surface. Sprinkle with chocolate; cover and refrigerate overnight.

Recipe can be made in an 8-cup capacity dish or 8 individual cup size glasses..
Conclusion:
Spoil mum this Mother's Day with a home cooked meal. From breakfast in bed to a tasty family roast, we've got the recipes to inspire you to cook for mum and make her day special. At The Good Guys, we have everything you need to make it happen. Discover the latest in cooking and small kitchen appliances available online and in store.