ARTICLE
DYSON AIR PURIFIERS RANGE
June 28, 2021 - 5 min read
Dyson are famous for their terrific vacuums, futuristic blow dryers and flat irons. But did you know that Dyson air purifiers can remove allergens and pollutants from the air that you breathe in your home, helping you to lead a healthier lifestyle. We'll show you all you need to know about how Dyson air purifiers clean your home and help you to feel better.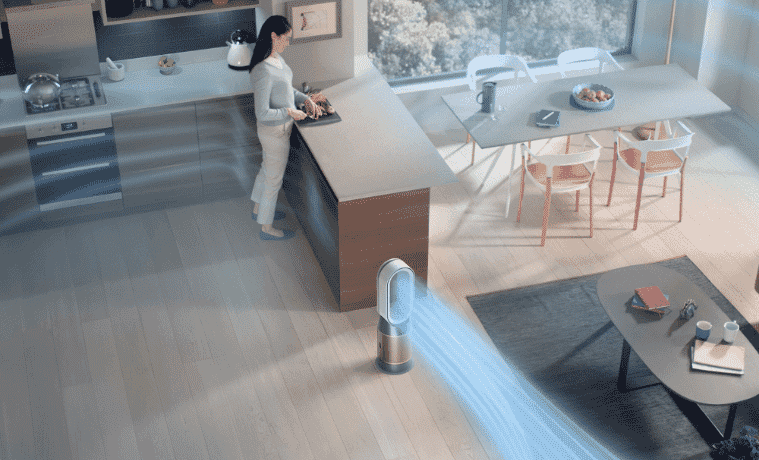 ARE DYSON PURIFIERS ANY GOOD?
We all want to lead cleaner, healthier lives and provide a comfortable environment for our families to prosper in. The Dyson Air Purifier range helps you to do just that by removing the allergens, microscopic particles and pollutants from the air you breathe.
Allergy and hay fever sufferers will love the fact that the Dyson range does an excellent job at reducing common allergens in the home like dust, dust mites, pet dander and pollen. This will help you to lead a comfortable life free of allergy flare ups during the tricky spring season and beyond.
The new sensing technology in the Dyson Purifier Hot+Cool™ Formaldehyde creates a clean environment for your family at home. Designed to capture ultrafine dust and allergens, it can also heat and cool you down from the one unit.
Importantly, it also captures Formaldehyde gas to prevent your family from breathing them in. You may not realise but furniture and wooden products such as plywood, fibreboard and even certain paints can all release formaldehyde for many years that regular purifiers aren't able to capture and destroy continuously.

The Dyson Purifier Hot+Cool™ White/Silver is the British engineered, best-selling air purifier that heats, cools and purifies your air at home. Pet families will love how it cleans the air from pet hair and dander. Best of all, it detects airborne particles and germs, and then diagnoses and reports them to you in real time! The perfect way to stay on top of your healthy house.

The Dyson Purifier Cool™ White/Silver is a tower fan that cools and purifies you with a minimum of fuss. Control it hands-free via compatible voice services so you never even need to leave the desk or couch while you're busy. And you'll love that it is 20% quieter than previous models. Clean home, serene spaces = bliss.
THE LATEST DYSON TECHNOLOGY
We'll break down all the technology and features that makes Dyson one of the most loved brands in the world.
AIR MULTIPLIER TECHNOLOGY™
The king of all whole-room fans, all Dyson air purifiers start with their bladeless fan technology. This provides a smooth flow of air throughout your home, similar to what a gentle spring breeze feels like. It circulates an approximate 20L of purified air per second around your home.
REMOTE CONTROL ACTIVATION
With the Dyson air purifier range, you can change the fan speed, air flow direction and mode without having to leave your desk or couch. All models come with a handy remote control that is magnetised, so it can easily attach to your air purifier. It's a life saver for families that always lose TV remotes!
MONITOR AIR QUALITY FROM ANYWHERE(8)
Smart technology always starts with convenience. You can monitor and adjust your Dyson air purifier from anywhere via the Dyson Link App (5). It allows you to monitor air quality, the filter life and the performance of the purifier. A good example of this technology is monitoring and adjusting the air purifier's performance in your kids' bedrooms on a hot or cold night.
QUIET NIGHT MODE(8)
Gone are the days of lying in bed on a summer's night listening to the drone of an old fan. The Dyson Purifier Hot+Cool™ White/Silver features Quiet Night Mode(8) which makes it the perfect appliance for use in bedrooms and nurseries. It might bring you a step closer to that elusive good night's sleep
HEPA FILTER FOR PURIFIED AIR (8)
What goes inside, stays inside the Dyson air purifier range. That's thanks to the air-tight seal and the HEPA filtration system. It results in 99.95% of microscopic particles as small as 0.1 microns from the air. It even picks up pollutants as small as 0.1 micron, leaving you with fresher, healthier air(3).
SENSES & REPORTS POLLUTANTS
Upgrade your home to a smart home with the Dyson air purifier range. With built-in sensors, the air purifier will notify you (4) with what pollutants it is detecting in your home via the phone App(5). Each air purifier also contains an LED screen to keep you updated and safe.
EASY FILTER REPLACEMENT
When the filter is ready to be replaced, the Dyson Link App(8) will notify you. Luckily, the filters are easy to access and replace with a minimum of fuss so you can continue to enjoy the safe, clean air you breathe in your home.
DYSON PURIFIER HOT+COOL ™
The Purifier Hot+Cool™ automaticallysense and remove pollutants from the air that can build up in your home. They also provide you with a fast, even heat throughout your rooms. Choose the colour that suits your home decor – the black/nickel model for modern, contemporary homes or the white/silver purifier for minimalist designs. Whichever you choose, you can be confident you are looking after your family at home in style.
DYSON PURE HOT+COOL ™
The Pure Hot+Cool range of Dyson Air Purifiers intelligently purifies, heats and cools your home. Whether you use it to remove the smells from your kitchen, toxins that build up over time in your home or as a heating and cooling device, you'll love how efficient and hardworking it is.
Choose from three fan modes for your convenience; jet focus, personal mode and diffused mode to set your desired output, then just sit back and relax.
FIND YOUR PERFECT DYSON AIR PURIFIER WITH THE GOOD GUYS
Dyson air purifier technology provides you with peace of mind at home that you're looking after your loved ones by keeping the air as clean as possible. Check out the full range at your local The Good Guys store.
(3)Particles as small as 0.1 microns. Tested to (EN1822). Gaseous capture tested to GB/T18801. Gaseous capture rate may vary.
(4)Applies to Dyson Purifier Hot+Cool™, Dyson Purifier Cool™ and Dyson Purifier Hot+Cool™ Formaldehyde models only.
(5)Requires device to run App, Wi-Fi or mobile data, Bluetooth 4.0 support, and iOS version 10 or Android version 5 (or above). Standard data and messaging rates may apply
(8)Applies only to TPO7, HP07 and HP09