1. Different Types
Laptop / Notebook
A laptop is often referred to as a notebook computer. Laptops often have screen sizes ranging from 13? to 17? and offer all the power and function of a powerful desktop computer in a lightweight, transportable package.
2-In-1 Laptop
A 2-in-1 laptop offers the ultimate in convenience. It combines the functionality of a laptop with the portability of a tablet. The choice is yours ? use it as a traditional laptop or convert it into a touchscreen tablet.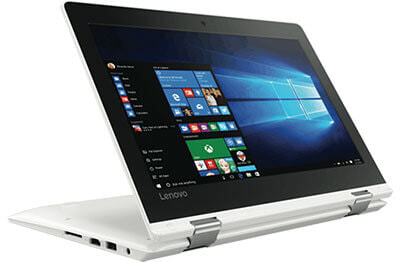 2. CPU/Processor
The Central Processing Unit (CPU) is often referred to as the 'processor', which is a chip inside the laptop that drives all of its functions and programs.
Investing in a high-end processor will mean your device runs more smoothly and efficiently, although also consider that you may not need all that power and should opt for a cheaper lower power processor.
Typically, only video/graphics editors and gamers require the most powerful processors, while everyday users will find cost-friendly options are more than enough.
AMD and Intel are the main processor manufacturers, with Intel considered the market leader. You will find more Intel than AMD processors available in a greater variety of machines.
Despite this, AMD chips are cheaper – so if you are on a tight budget you may decide this is the right option for you.
Intel processors include:
Celeron – This is a basic processor- it is cheap and will suit users who just want to browse the web or send emails.
Core i3 – This dual-core CPU is fine for casual use and is often in mid-range and budget laptops.
Core i5 – This is Intel's mainstream chip, which is found in most mid-range and some high-end laptops. It is great for business and student users who may want to run multiple programs.
Core i7 – Available in quad-core, these are only seen in the more expensive performance machines - great for gamers and users who need high speed processing power.
3. Memory and Storage
Whichever laptop/notebook you are considering, you will need ample storage capacity for managing applications, documents, music, video and more.
Hard Drive / Storage:
Your new laptop/notebook can either have a traditional hard drive (HDD) or a solid-state drive (SSD), and your budget restrictions are likely to have a big impact on your choice.
HDD: Found in the majority of laptops/notebooks, these are cheaper and have more capacity than SSD devices.
SSD: SSDs produce less heat and are faster than their HDD counterparts, but they will boost the price of your laptop/notebook significantly. Their reduced storage capacity also means you will struggle to store lots of music or videos on your computer.
All of our laptops/notebooks come in various sizes of storage so the amount you will need will depend on what you need to store on your machine. The sizes are measured as follows:
1TB = 1000 GB
1GB = 1000 MB
If you have a huge music and film/TV library you want to store on your laptop/notebook, then opt for between 700GB and 1TB+ of storage.
If you have some music and photos but don't download movies or TV episodes, then between 250GB and 700GB should be plenty of storage.
If you do not store music and only have a few photos or store your files elsewhere (like a portable hard drive) then a hard drive of around 120GB - 250GB is more than sufficient.
Memory is measured in RAM (Random Access Memory). The RAM amount will vary by laptop/notebook, the more RAM the more expensive the computer will be. RAM is the memory that programs use to run.
The higher the RAM, the more programs you can run simultaneously and the quicker they will work. As a basic guide, use the below:
4GB – Great for general users who do will perform basic functions such as web browsing, emailing and playing music files.
8GB – Great for general users who do will perform basic functions such as web browsing, emailing and playing music files.
16GB – Needed for gamers and other image and video editing software as these programs need a large amount of memory to perform at the ideal speed.
4. Graphics Card
Traditionally, users have favoured desktop PC's for playing their favourite games and videos due to them being more customisable. However, if you are an avid gamer or spend a lot of your time editing videos, then you may want to consider your laptop's graphics card.
Most serious gamers will be looking for at least 1GB of dedicated memory from a specialist graphics card, although more powerful products are available. It is also important to consider screen resolution – you will only be able to enjoy the maximum impact of great graphics if you have full HD capabilities (1920 x 1080p).
5. Size and Weight
Do you want to replace your desktop PC with a laptop you can use anywhere? Do you need a lightweight computer for travelling? Are you sick of lugging around a laptop and tablet? Do you want a laptop but need a big screen you can just plug your laptop into?
These are the kinds of questions you'll need to ask yourself when working out whether a notebook, laptop or a notebook that converts into a touch-screen tablet will make your life easier.
The beauty of a convertible 2-in-1 is that it gives you a laptop for work and a touch-screen tablet for fun – all in one!
Screen sizes of 10,11 12 and 13 inches are good for portability with 15 inch screens at the larger end of the spectrum, which will be fine for home use with some portability.
If you spend a lot of time working on the go then you may want to go for a smaller screen size, especially if you have long commutes or travel a lot for work. Weight is also really important – if you're carrying it around with you all day you may want to opt for a lighter model.
The right screen size is about finding the balance between the lightweight portability and minimum screen size you need to work productively and keep yourself entertained.
Slim laptops tend to have SSD storage and no DVD disc drive to make them lighter, so consider what features are essential for you.
6. Battery Life
If you're frequently on the move, battery life is going to be important as you may not always be near a power source to recharge. Laptops typically run for around seven hours depending on what you're using them for, but you can find models that offer more. Alternatively, a lower battery life should be fine if your device is going to be used mainly around the home.
Shop Laptops and Notebooks