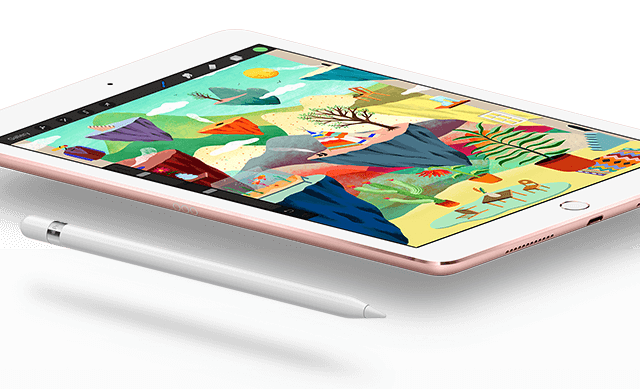 iPad Pro isn't just the next generation
of iPad. It's a new vision of computing.
It puts more power than most portable
PCs at your fingertips. And makes even
complex work as natural as touching,
swiping or writing with a pencil. iPad Pro
is more capable, versatile and portable
than anything that's come before.
In a word, super.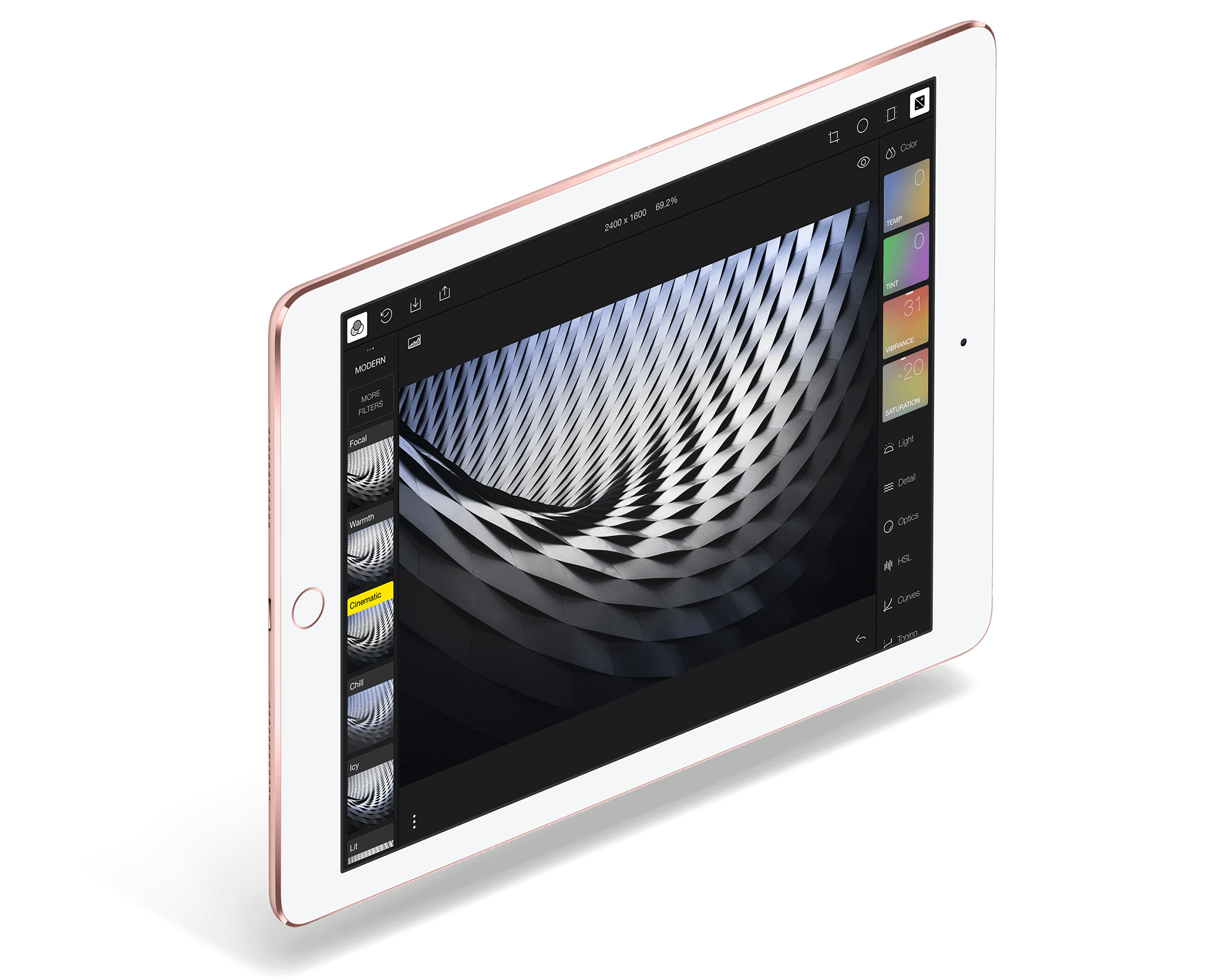 An awesome display
of progress.
The key to the iPad experience is the
display. It's how you interact using
Multi-Touch, and how you view content in
spectacular detail. iPad Pro comes with the
most advanced Retina display ever made
for iPad. It also has the brightest and least
reflective screen in the world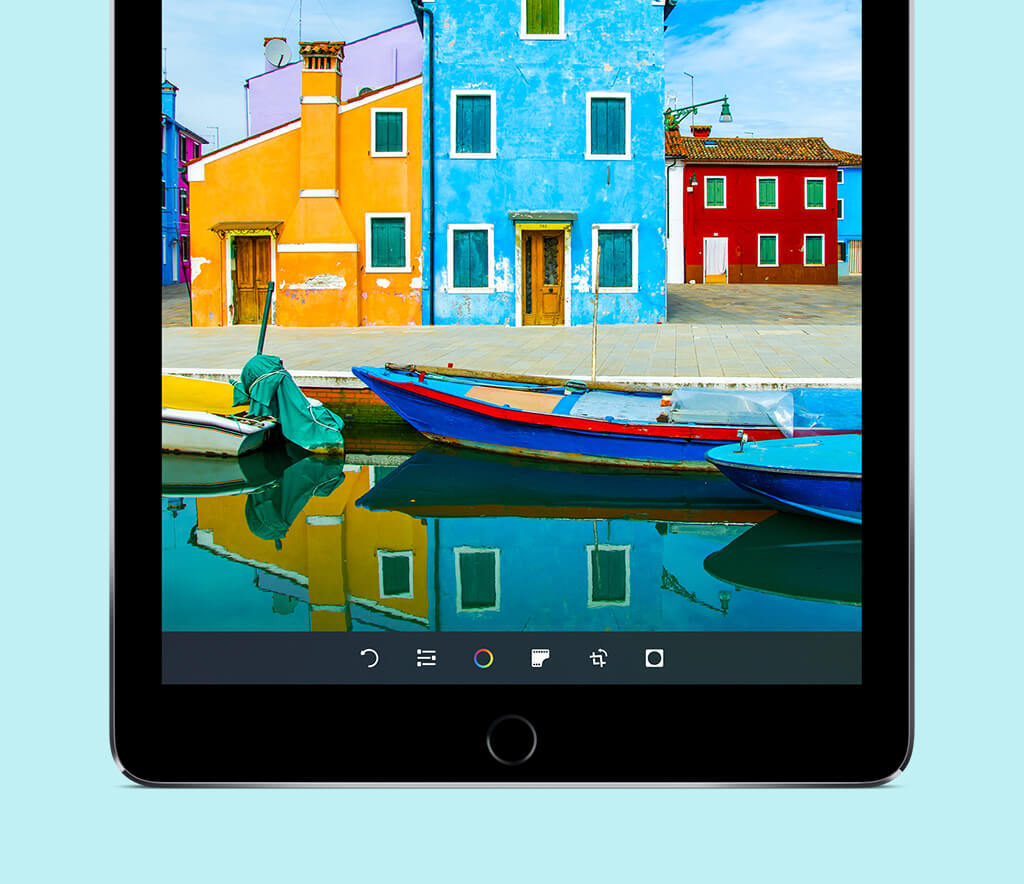 A colour standard big
enough for Hollywood.
The iPad Pro display uses the same colour
space as the digital cinema industry. This
wider colour gamut gives iPad Pro up to
25 per cent greater colour saturation
than previous iPad models. So colours
are more vivid, true to life and engaging.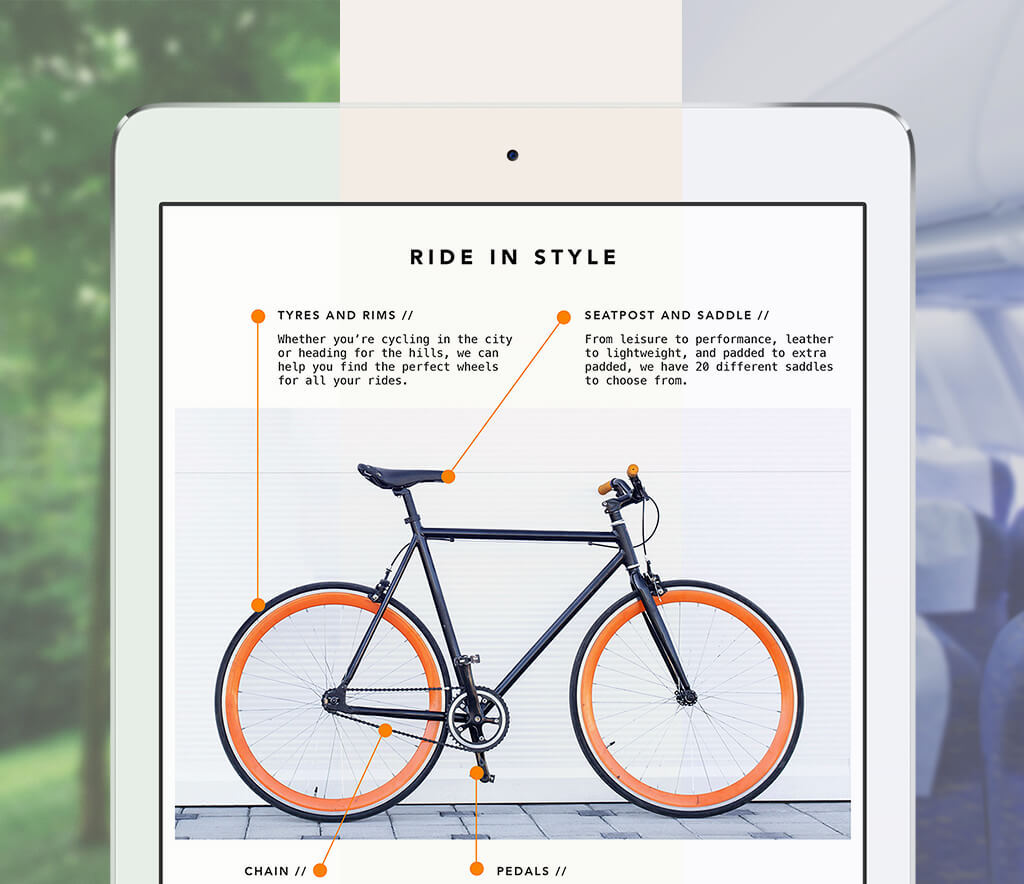 See things in the best
possible light. Whatever
the lighting.
People love using iPad everywhere.
That's why the new 9.7-inch iPad Pro has
a True Tone display. It uses advanced
four-channel ambient light sensors to
automatically adapt the colour and
intensity of the display to match the light
in your environment. Which means reading
is more natural and comfortable — almost
like looking at a sheet of paper.
No matter how you turn it,
you'll want to turn it up.
With a high-fidelity speaker in each corner,
iPad Pro creates a rich, wide and detailed
sound stage. It automatically adjusts the
orientation of the high frequencies to the
top speakers, no matter how you're
holding it. So whether you're playing a
game or watching a movie, you — and your
ears — will be completely immersed.
Faster than a speeding notebook.
The 64-bit A9X chip gives iPad Pro the
power to easily take on tasks once reserved
for PCs. Not to mention tasks you'd never
consider doing on a PC. Despite this
barrier-breaking performance, the A9X
chip's efficient architecture enables up to
10 hours of battery life.1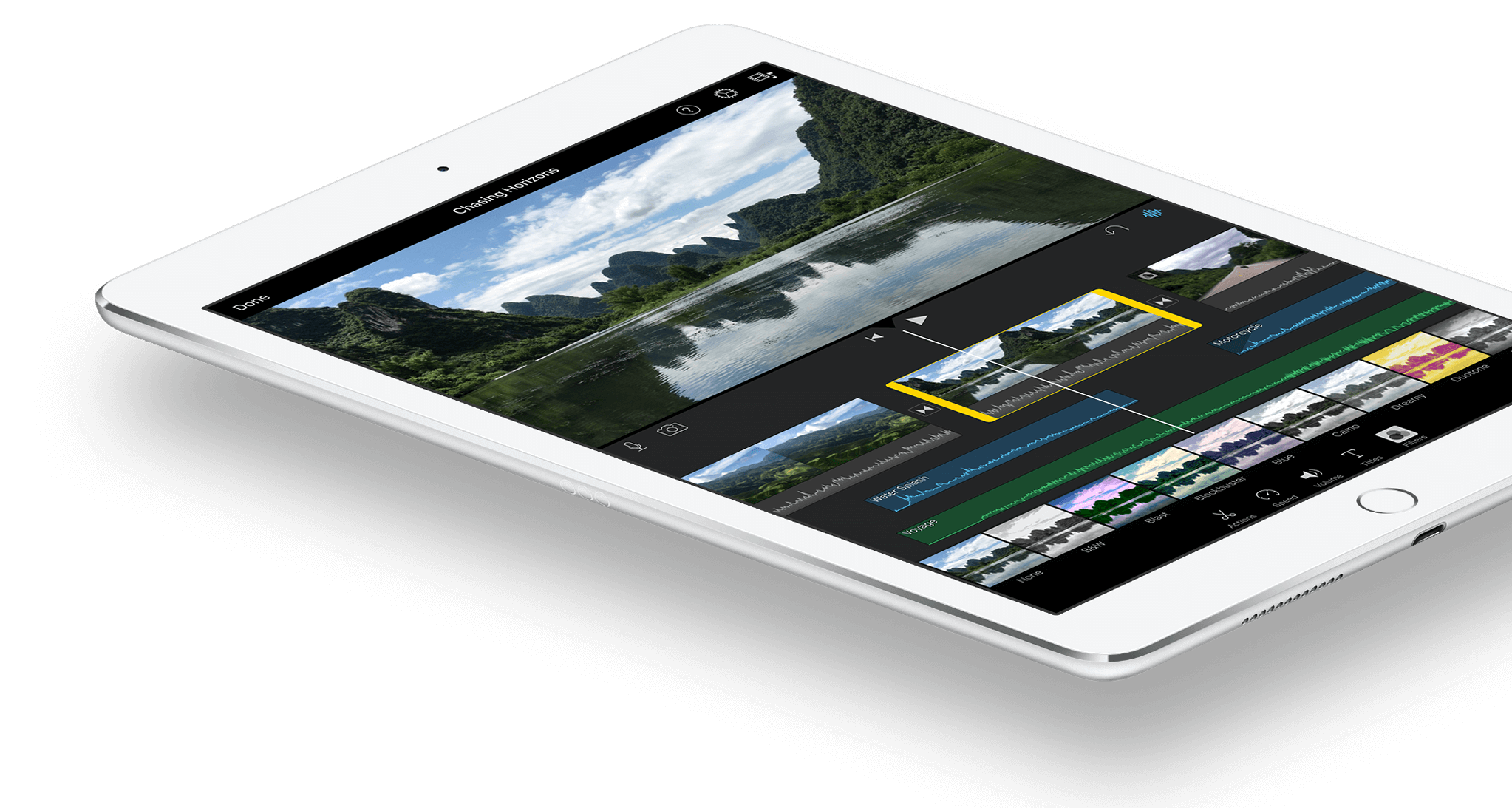 Smart keyboard for iPad Pro
Type. On a totally new
type of keyboard.
By combining new technologies and
materials, Apple created a portable
keyboard that's unbelievably thin and even
doubles as a lightweight yet durable iPad
cover. 2 And thanks to the Smart Connector,
there are no cords, pairing or plugs.
Just attach and start typing.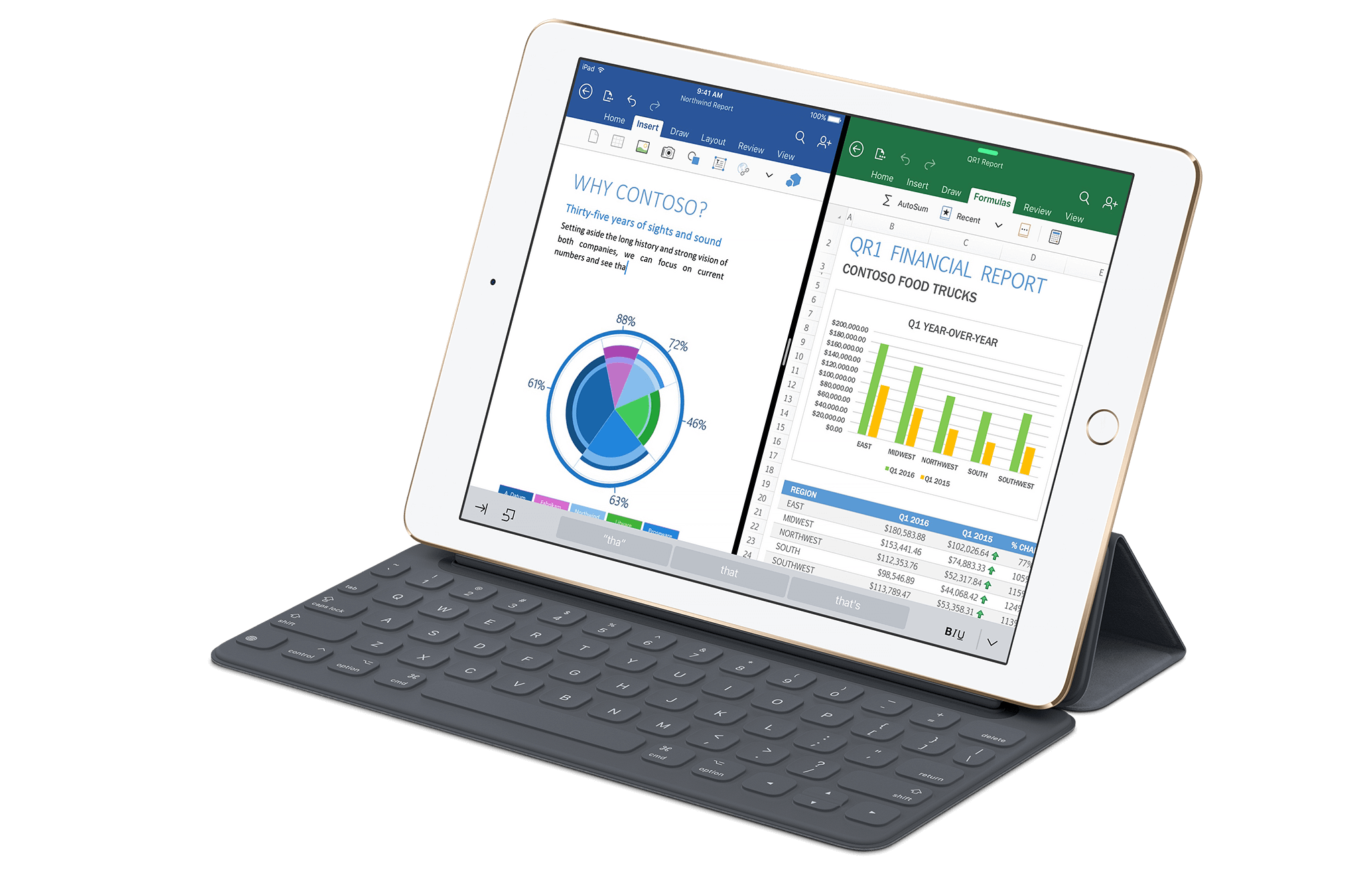 Apple Pencil for iPad Pro
Completely familiar.
Entirely revolutionary.
Apple Pencil feels incredibly responsive from
the moment you pick it up.2 It's sensitive to
both tilt and pressure, allowing you to create
a range of artistic effects. And with its
pixel-perfect precision, Apple Pencil opens up
new creative possibilities.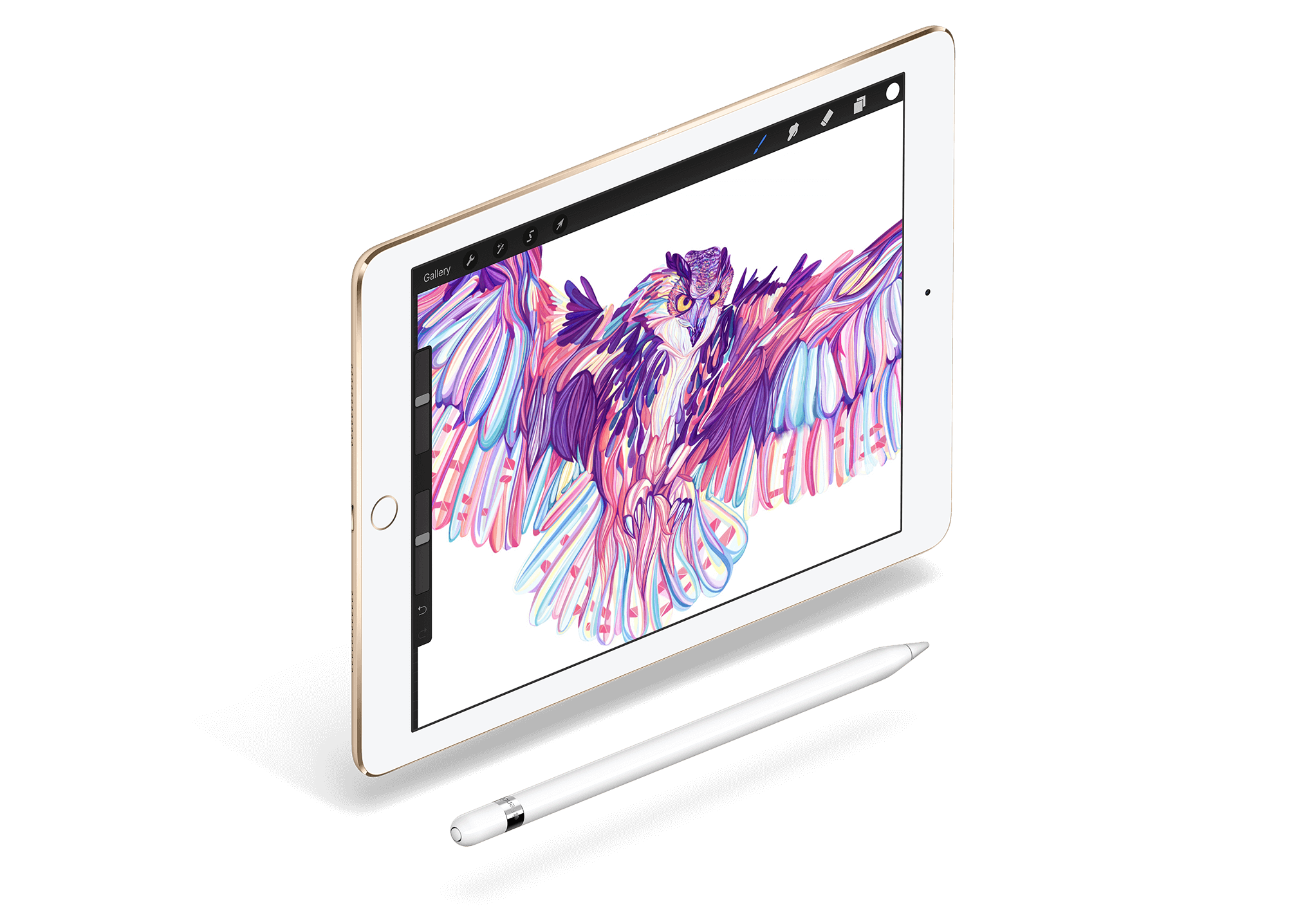 Facetime HD and iSight Cameras
Capture every detail
in greater detail.
iPad Pro has remarkable cameras on both
the front and the back. The 9.7-inch iPad Pro
comes with a 12-megapixel iSight camera,
which can capture 4K video, 240-fps
slow-motion video and Live Photos. It's also
the first iPad with True Tone flash, so skin
tones look great regardless of the lighting.
Things are sharper on the other side
of iPad Pro too. The latest sensor in the
front-facing FaceTime HD camera makes
video calls more lifelike.3 And the 5-megapixel
FaceTime HD camera features Retina Flash
with True Tone for gorgeous selfies.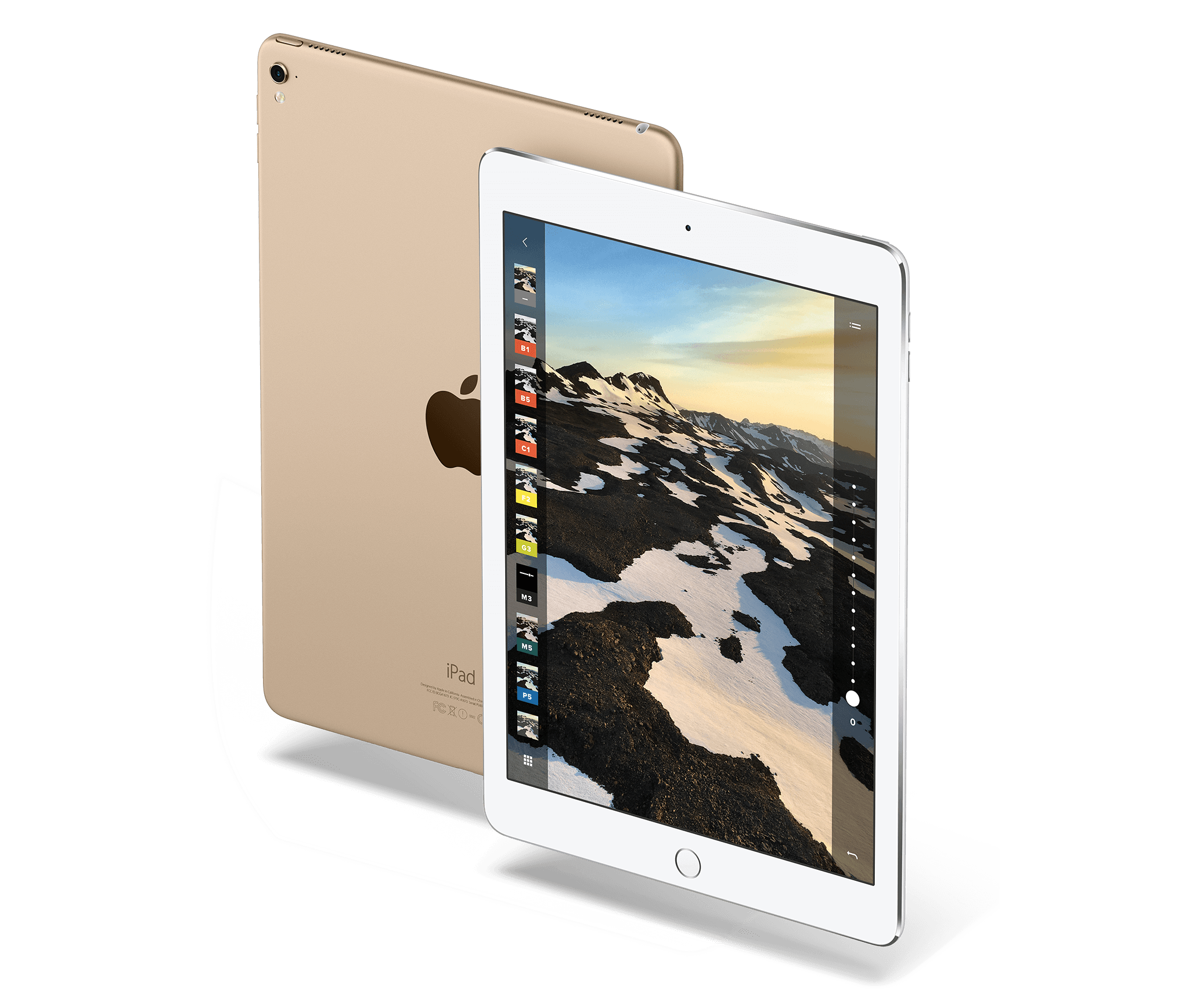 Incredible power has
never been so easy
to handle.
Even though iPad Pro can handle tasks
usually reserved for PCs, it's lighter than any
PC could hope to be. It packs heavyweight
performance into less than 500 grams.4 And
thanks to the aluminium unibody, iPad Pro
feels reassuringly solid in the hand.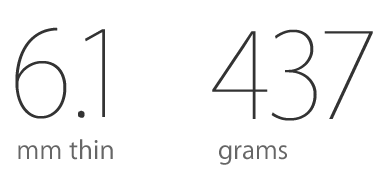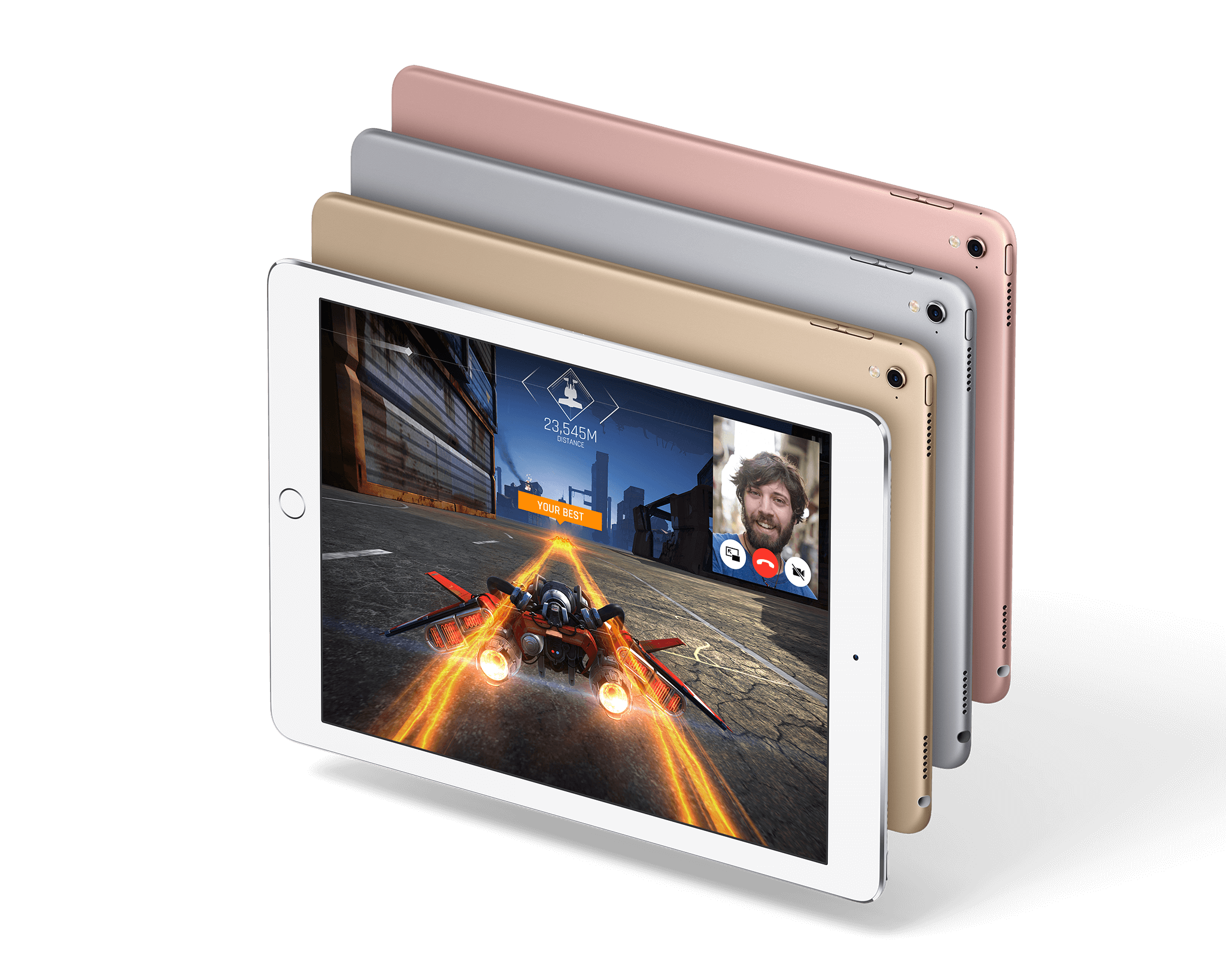 Fast wireless connectivity.
iPad Pro can connect to the fastest Wi-Fi or
mobile networks, so you can surf the web,
stream music and share documents from
virtually anywhere. The Wi-Fi + Cellular
model supports a wide range of LTE bands
when you're not in Wi-Fi range. And the new
9.7-inch iPad Pro features 4G LTE Advanced,
enabling up to 50 per cent faster mobile
connections. 5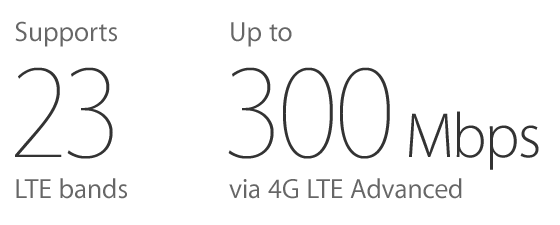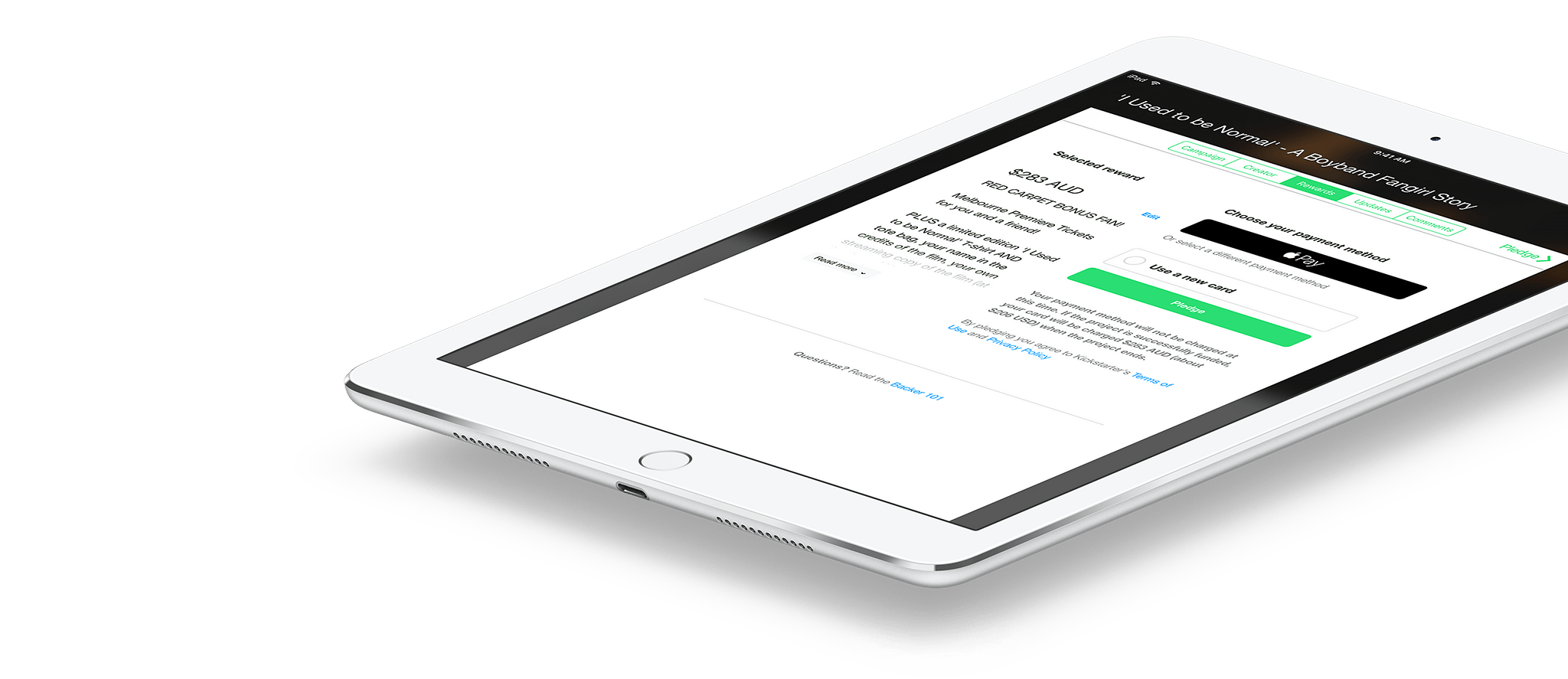 iPad Pro uses Touch ID technology to
turn your fingerprint into an unforgettable
password. So you can unlock your device
with just a touch. You can also make
secure purchases in iTunes, iBooks and the
App Store. And with Apple Pay and
American Express-issued cards, you can
make purchases within participating apps
easily and securely.
A better experience
with every touch.
iOS 9 is the world's most advanced, intuitive
and secure mobile operating system. From
powerful multitasking features to Night Shift
and News, iOS 9
is designed to help you get
the most out of iPad.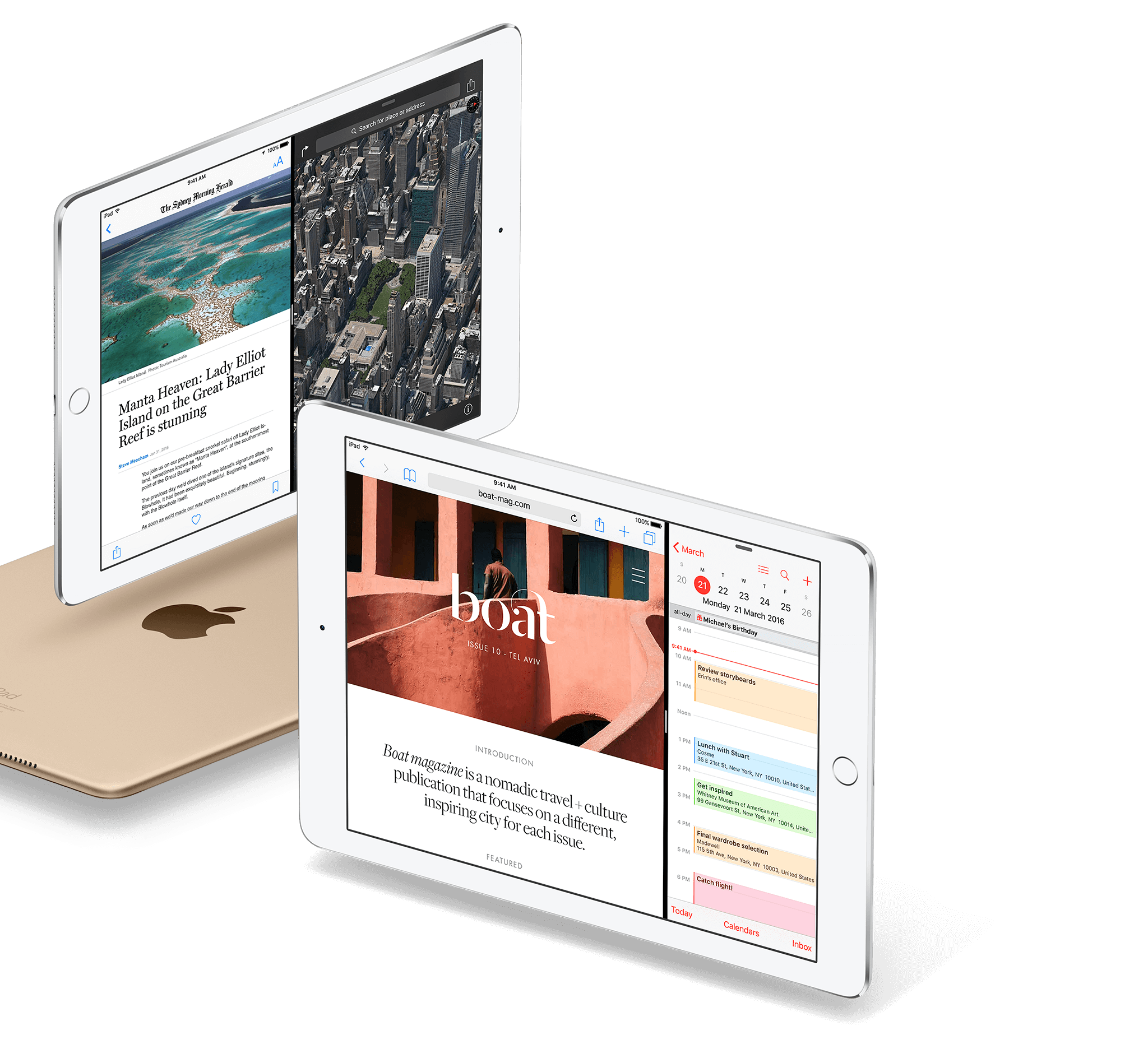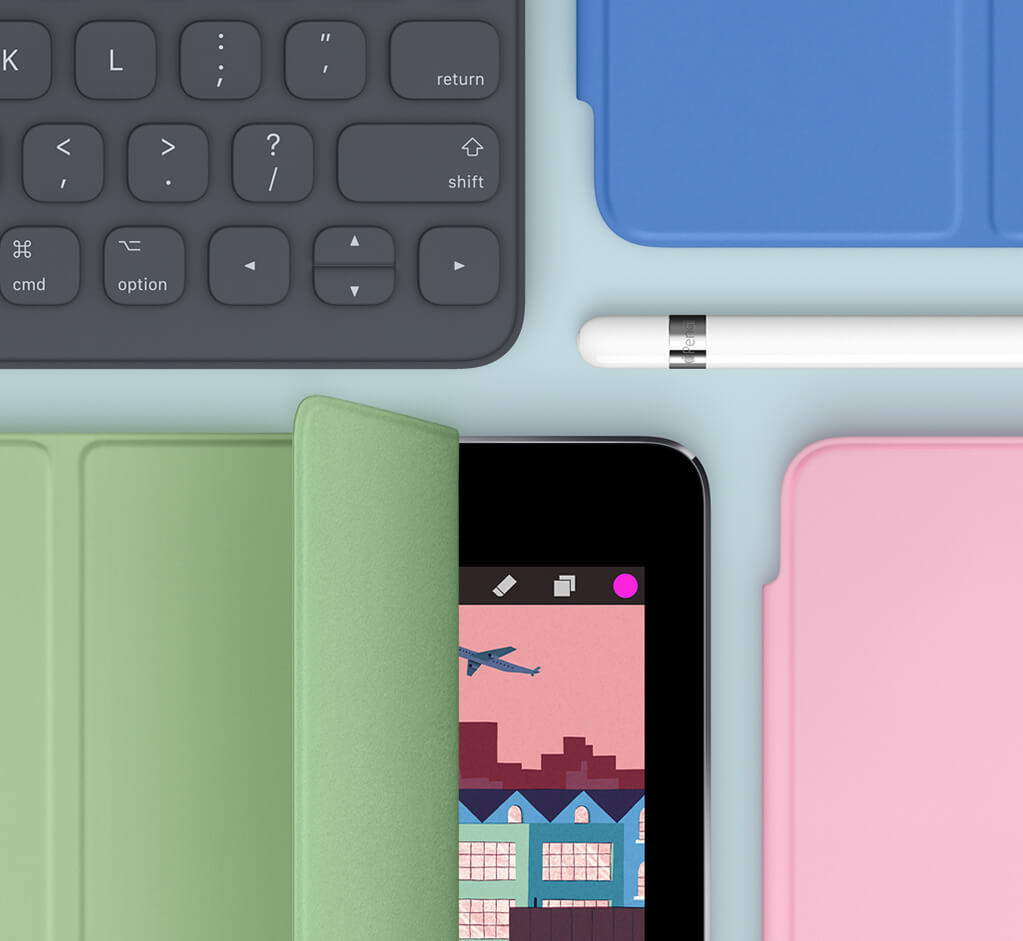 Great ways to expand
what's possible with
iPad Pro.
You can get even more creative and
productive with accessories designed
especially for the scale, capabilities and
power of iPad Pro. (Sold separately.).
Battery life varies by use and configuration; see www.apple.com/batteries for more information.
Apple Pencil and Smart Keyboard are sold separately. Smart Keyboard for iPad Pro is only available in a US English keyboard layout.
FaceTime calling requires a FaceTime-enabled device for the caller and recipient, and a Wi-Fi connection. Availability over a mobile network depends on carrier policies; data charges may apply.
Mobile data service is only available on Wi-Fi + Cellular models. Data plan is required. 4G LTE Advanced and 4G LTE are available in selected markets and through selected carriers. Speeds are based on theoretical throughput and vary based on site conditions and carrier. For details on 4G LTE support, contact your carrier and see www.apple.com/ipad/LTE.
Watch the Jurassic World trailer at trailers.apple.com/trailers/universal/jurassicworld. Jurassic World © 2015 Universal Studios. All rights reserved.
Content is available on iTunes and the App Store. Title availability is subject to change.
TM and © 2016 Apple Inc. All rights reserved.