1. Types of washing machines
An important question to ask yourself is whether you want a top-loading or a front-loading washing machine, a washer dryer combo or a dual load washer, or an auto-dosing washing machine.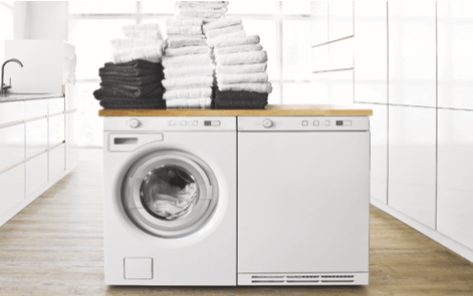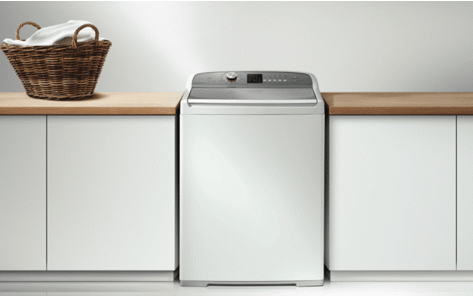 Top Loader
Top loaders come in two types:
Agitator: Clothes are moved around by a central pole (agitator) in the middle of the drum.
Impeller: This whips up the water to move clothes using a propeller-like device at the bottom of the machine.
Advantages of a top loader
Lower purchase price
Faster wash cycles
Larger capacity
Can open the washer mid-cycle to add clothes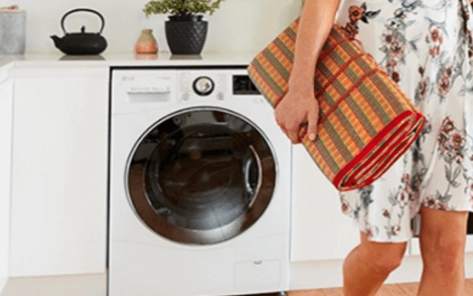 Washer Dryer Combo
A washer dryer combo combines a front loader washer and a sensor dryer in one compact machine.
Advantages of a washer dryer combo
The perfect laundry solution for those with limited space
The compact design means you can save a lot of laundry space
No more manually moving your clothes from the washer to the dryer
Water and energy efficient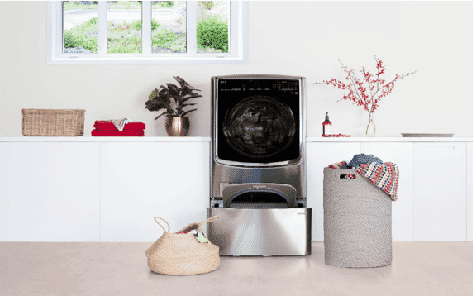 Dual Load Washers
A dual load washer features two washers in one, with a larger capacity front loader for the everyday and a smaller capacity top loader for separating the delicates.
Advantages of a dual load washing machine
Wash two colours at the same time, separate your whites from the darks
Separate your delicates from the everyday
Choose different programs for each wash
Saves space and time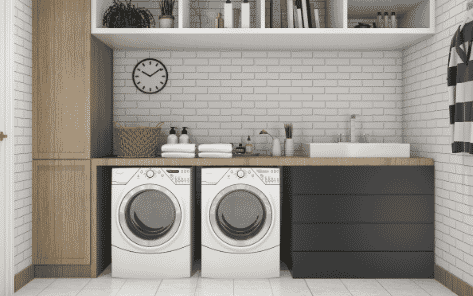 Auto-Dosing Washers
An auto-dosing washing machine takes out the guesswork when it comes to adding washing detergent. The self-dosing technology, also commonly referred to as I-Dos, will automatically sense the weight of your washing load and apply the right amount of detergent so you can get optimal wash results.
Advantages of an auto-dosing washing machine
Uses the perfect amount of detergent and prevents under or over-dosing
Save time, a full detergent tank will last for multiple washes
May be more cost-efficient due to using the right amount of detergent with each wash
2. Size & capacity
Physical Size
Next, you need to make sure you choose a washer that will fit in your laundry space. Pull out the tape measure and carefully note down the dimensions, leaving enough space for the lid or door to open, and at least 2.5cm between the washer and the wall for the power cable and hose connections. Some washers can be wall-mounted if you're floor space poor.
Washing Capacity
Size is an important factor when buying a washing machine, so getting to grips with the different levels of capacity will help you make the right choice.
An average washing machine is likely to have a capacity of around 6 to 7kg, which should be enough for a typical family of four.
Opt for a smaller model if there are fewer people in your household – but remember that washing machines last a number of years, so you may want to plan ahead if you expect your family to get bigger.
Don't get sucked in by the price of a smaller model. If you're using it twice as much it's a false economy and will actually end up costing you more in the long run.
When we talk about washing machine capacity we're referring to how many kilos of dry laundry will fit in each washing load.
Here's a rough guide to washer capacities and how they suit different households: 1-2 people: 4kg-6.5kg

Each load can wash approximately:
4-6 towels (1 dry beach towel/bath sheet = approx. 1 kg)
OR

4-6 outfits (pants, top, undies and socks)
OR

1 single doona (6kg+ washers only) 3-4 people: 7kg-8.5kg

Each load can wash approximately:
7-8 towels (1 dry beach towel/bath sheet = approx. 1 kg)
OR

7-8 outfits (pants, top, undies and socks)
OR

3. Energy efficiency
When buying washing machines, look out for the Energy Star Rating label, which will give you an idea of how energy efficient your chosen appliance is.
Each machine is given a score out of ten, while the actual consumption figure – usually measured in kilowatt hours per year – should give you a good idea of how much power the product uses.
Click here for more tips on choosing the most energy efficient washing machine for your home.
4. Water efficiency
Australia's Water Efficiency Labelling Scheme (WELS) is used to rate how much water a washing machine gets through on each cycle.
Models are graded between zero and six stars for efficiency, with a higher number of stars meaning the unit is more environmentally friendly.
The label will also say how many litres of water per wash the product requires, which is called the water consumption flow.
5. Speed and settings
Having lots of speeds and settings on your washing machine may offer you greater flexibility, but it could also be confusing.
Faster speeds mean clothes are dryer at the end of the cycle, which can be useful for woollen clothes and other heavier materials.
Settings will vary between machines, but useful features include cycles for whites, delicates and woollens, as well as an option for a fast-speed wash.
High-end machines contain sensor technology to set a cycle automatically, removing much of the hassle of selecting the right program.
6. Other features to consider
Automatic lock function- to prevent door from opening during a wash
Touchpad controls – so you can select your preferred setting at the touch of a button
Auto spin balancing – the technology that makes sure the machine won't go off balance. This is an important feature to have if you want your washer and dryer to be stacked on top of each other.
Stainless steel tubs for durability – durable stainless steel tubs give your washing machine a longer lifespan
Adjustable legs - help keep the unit steady
Extra insulation or a dampener system for noise reduction – you can do laundry at any time of day
Front loaders with features to add clothes during cycle – allowing you to add forgotten items once the washing cycle has begun
Wi-fi and app enabled – allowing you to use your smart phone for trouble shooting and to start or end the machine when it's the most convenient to you
Quick garment refresh function – freshens your clothes without the need of detergent
Automatic dosing – Automatically senses the amount of detergent required based on the weight of your load
7. Cleaning your washing machine
Cleaning your washing machine regularly removes build up detergents and laundry soils which can cause your washing machine to smell. Giving it a quick clean once a month also ensures your clothes are washed properly every time.
Some models remind you when cleaning is needed. Other models have cleaning settings that allow you to clean the machine at the touch of a button so you can say goodbye to manually cleaning your washer.
8. Installation
Most retailers will offer a fitting service, but if you decide to tackle the project on your own, here are some things to keep in mind.
Firstly, you'll want to make sure the unit actually fits in your laundry! It is advisable to leave around one inch of space at each side of the unit.
Take careful measurements of the space where you intend to put it and make sure you leave enough room for the door to open.
Also, try to keep the appliance on an even surface – washing machines are heavy and vibrate, so they'll need to remain steady to ensure the weight is well distributed.
Type of installation
You can have your washing machine installed in a few different ways, and the best option really depends on how much space you have and the type of washer you have: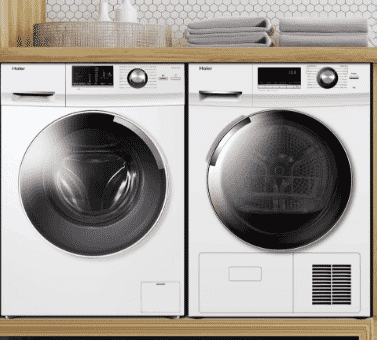 1. Side by side
The washer and dryer sit alongside each other in the laundry, so transferring everything from one to the other is easy.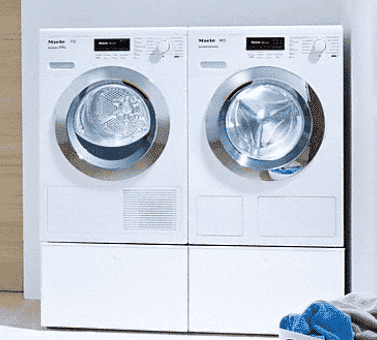 2. Side by side with Pedestal
The side by side washer and dryer are slightly elevated by a pedestal, that creates extra storage space underneath the two appliances.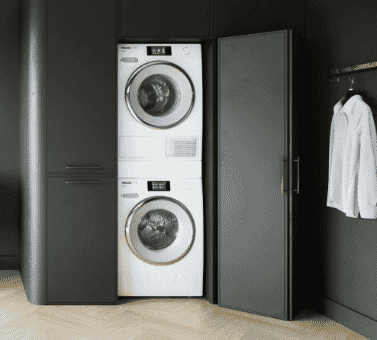 3. Stackable
The washer sits underneath the dryer which is stacked on top with a stacking kit (only possible for front-loader washing machines).