1. Sizes and Types of Ovens
Bigger may not always be better, particularly if you have a smaller kitchen and need an oven to fit in with the available space. There are typically four types of oven: built-in single, built-in double, built-under and freestanding ovens.
Built-In Single Oven
A built-in single model oven needs to go in an oven housing, whether this is at eye level or under the worktop. Single multifunction ovens usually have a grill included, which saves space but means you can't use the grill and oven functions at the same time.
A combination oven and microwave gives you two essential appliances in one so you can save space in a small kitchen, or use the microwave oven as a second oven to cook or keep food warm when entertaining.
Shop Built-In Single Ovens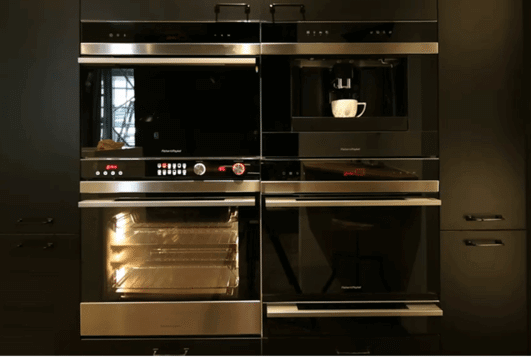 Built-In Double Oven
As with the built-in single models, these need to be installed in an oven housing, although they boast a bigger capacity than their counterparts. They will require more space, but have either a separate smaller grill oven included or two large oven cavities, making them ideal for people who are cooking big meals.
Shop Built-In Double Ovens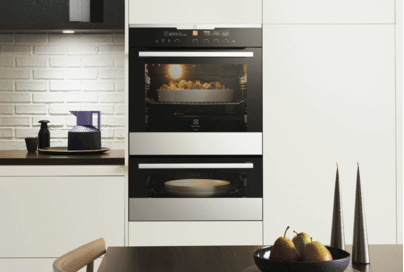 Built Under Oven
Unlike built-in appliances, built-under ovens are designed to fit into the space between two cupboard units. They are either fitted with brackets or are freestanding, and are double cavity.
Shop Built Under Ovens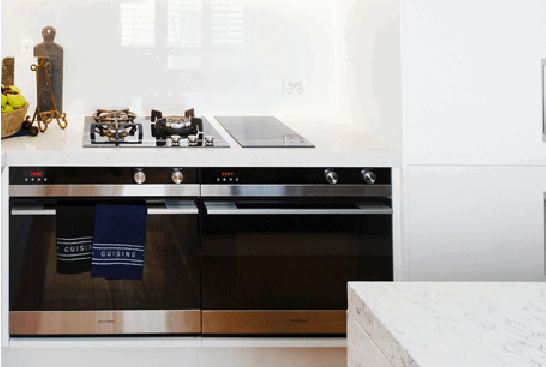 Freestanding Oven
Generally this type of oven is less expensive than built-ins. They are simpler to install and easier to switch out if you are thinking of switching or upgrading, although appearance is not as integrated as with built-in appliances.
Shop Freestanding Ovens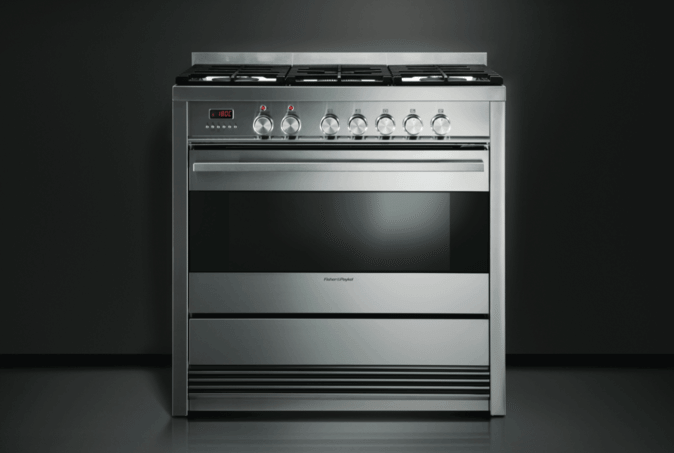 2. Oven Capacity
Capacity is often a factor many people find important when looking for what oven to buy. The capacity is the usable size of an oven's cavity measured in litres, enabling you to estimate how much food can be cooked in one sitting. Obviously, built-in single models tend to have the smallest capacity, while built-in doubles and built-under options are larger. Also consider the number of shelves available, as a 50-litre oven with three shelves can cook more food than a 60-litre oven with only two.
3. Fuel Type
Like cooktops, there are two types of fuel for ovens, each with different benefits. The one that's right for you depends on your budget, what you like to make, and how you like to cook.
Gas Ovens
Cook with more moisture in the air than electric ovens
Better for roasts, cakes and casseroles
Usually more expensive to buy and install
Generally cheaper to run than electric ovens
Can be expensive to install if your kitchen doesn't already have a gas connection
Don't cook food evenly if there's no fan (because the flame is at the back)
Won't brown or crisp as well as an electric oven if there's no grill at the top
Like a gas cooktop, a gas oven gives you instant flame and temperature control
There are not as many gas oven brands and models to choose from as electric ovens
Electric Ovens
Cook with drier air than gas ovens
Better for baking bread and pizzas
A more popular choice than gas ovens
Cheaper to buy and install than gas ovens
More expensive to run than gas ovens
Need pre-heating but many of today's models pre-heat very quickly
Heats more evenly than gas, especially with the assistance of a fan
Has lots of different cooking modes to help you get the best results
Are becoming much more efficient thanks to technological advances
Some have steam technology that creates moist air for perfect roasts and cakes
Both gas and electric ovens can be a conventional oven or a convection (fan-assisted) oven.
Conventional Ovens
Once the heat enters the oven it starts spreading around but not evenly, so if food isn't rotated into different positions it cooks unevenly.
Fan Ovens
A fan at the back of the oven forces the hot air all around the oven so food cooks faster than in a conventional oven and more evenly (without needing to be rotated around).
4. Self-Cleaning Features
Some ovens come with a self-cleaning feature that can save a lot of elbow grease if your appliance gets a lot of use!
Pyrolytic Ovens
What is a pyrolytic oven? It's an oven with a special pyrolytic cleaning cycle that burns away any food spills and fat splatters and turns them into a fine ash. The ash is then is simply wiped away with a cloth once the cycle has finished (it usually takes about three hours). The heat can be intense and uses energy, but it saves you so much time and energy and will probably be cheaper than buying oven cleaning fluids.
Ovens with Catalytic Liners
Catalytic oven liners break down the grease in any food spilt in the oven, making it easier to clean. They may need replacing after some time and can be ruined if you spill water on them.
5. Layout and Budget
Choosing a layout when deciding what a good oven to buy is will depend on your budget, space and preferences. A built-in model has more flexibility, as it can be fitted at any height to prevent bending and squatting to use.
It also doesn't have to be put under the cooktop. However, buying a separate oven and cooktop may take up more space and will cost more. Double ovens are better if you want to cook large quantities of food at the same time, but they may not be suitable for smaller kitchens or tight budgets.
6. Oven Doors
Most oven doors drop down, but some models do offer side opening or hinged doors. There are also ovens that have doors that fold away underneath the oven. Ultimately, your choice is likely to come down to convenience and layout - if a drop-down door is going to cause problems when opening you may want to consider other options. Also think about material, with glass doors making it much easier to check on the progress of food than a stainless steel alternative.
7. Controls and Settings
Ovens have a number of controls and settings that, while designed to make your life easier, may seem confusing at first. Always check the instruction manual to gain a better understanding of your appliance, but here is a list of common settings on ovens.
Defrosting - often the oven fan without heat
Fanned oven heat - the fan helps to circulate heat around the oven
Grill
Grill and fan combination
Upper and lower heating elements - heat spreads through convection rather than being moved by the fan
Steam setting – keeps the oven at the perfect humidity for food that's bronzed and crunchy on the outside and juicy and tender inside. Think crisp, succulent roasts.
Baking setting – regulates the oven moisture levels for perfect, fluffy cakes and muffins and crunchy biscuits.