How Does PayPal Pay in 4 Work?
Getting approved with PayPal Pay in 4 is quick and easy. Use PayPal Pay in 4 at The Good Guys on any purchases ranging from $30 - $1,500.

Interest-Free

Make interest-free payments with PayPal Pay in 4.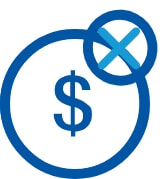 No sign up or late fees

No sign-up fees or late fees on your purchases.

Sign up Fast

With a fast sign up you can shop all your favourite products in seconds.

It's backed by PayPal.
Get the same security and buyer protection you already enjoy from PayPal.
Frequently Asked Questions - PayPal Pay in 4
PayPal Pay
in 4 FAQS
PayPal Pay in 4 is a feature that lets you split your purchase into 4 payments, with the first payment due at the time of transaction and 3 subsequent payments made every 2 weeks thereafter.
PayPal Pay in 4 is available for transactions between $30 and $1500.
Who can use PayPal Pay in 4?
You must be an Australian resident and have a PayPal personal account in good standing or open a PayPal personal account to apply.
When you choose Pay in 4 as your payment method when you check out with PayPal, you will be taken through the application process. You'll get a decision instantly but not everyone may be approved based on our suitability checks.
Are there any fees associated with PayPal Pay in 4?
No. There are no fees for choosing to pay with PayPal Pay in 4 and there are no late fees either.
How can I pay with PayPal Pay in 4?
Just choose to pay with PayPal when you shop online and if it's an eligible transaction, you'll see Pay in 4 as one of the available payment methods. Simply apply for PayPal Pay in 4 in just a few steps, get an instant decision, and finish checking out.
How do I make my repayments?
After your first payment, your 3 subsequent repayments will be taken automatically from the payment method you provided at the time of your application.
Can I still apply for a refund if I used PayPal Pay in 4?
Yes, you can still apply for a refund for your purchase when you use Pay in 4. The Good Guys' standard returns policy and process applies to all purchases made with Pay in 4 and PayPal's Buyer Protection will also apply to eligible purchases.