Recipe: Roast Pork with Crispy Crackling on the Weber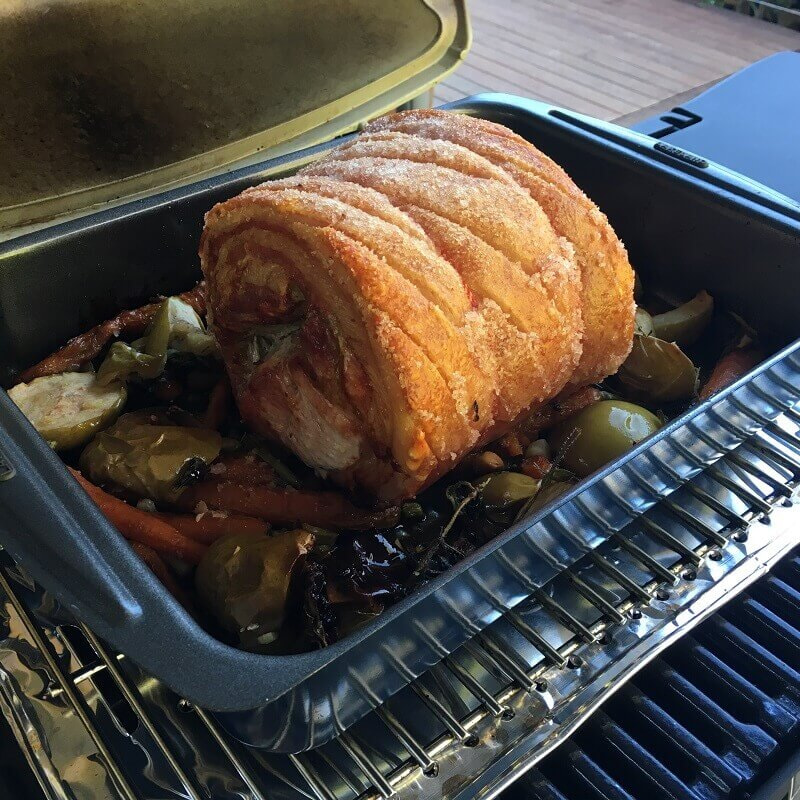 Ingredients
2kg pork with fat scored
Extra virgin olive oil
Salt
6 apples, cut in half
2 bunches of Dutch carrots
1 bunch fresh sage
6-8 sprigs of thyme
60g macadamia nuts, crushed
30ml maple syrup
Method
Preheat the Weber Q with both burners on high heat for 20 minutes.
Place the convection tray and trivet on the pot plates.
To prepare the pork, pat it dry with paper towel, rub about 2 teaspoons of oil over the fat and coat with a generous amount of salt.
In a suitable tray, add the apples, carrots fresh herbs and macadamias. Drizzle with olive oil and maple syrup.
Set the pork in the middle of the dish on top of the bed of carrots and apples.
Place the roasting dish on the trivet on the Weber and close the lid. Turn the middle burner off and roast for 20-30 minutes or until the crackling has started to pop (you'll hear it!).
Then, turn the outside burner down to medium and roast for another hour.
If the crackling has not gone completely crunchy, place the pork in a hot oven for 10 minutes. Alternatively, you can remove the fat from the pork and place it under the griller to make super crunchy crackling (that method never fails!).
Recipe by Emily Pereira, Accredited Practising Dietitian and runner-up in the 2017 Kitchen Star competition. Emily's mission is to help people nurture a positive relationship with both their bodies and the foods they love.