Perhaps you like to invite family around for dinner on a regular basis, or you're about to celebrate a special occasion? Or maybe you like nothing better than firing up the Barbie in the back yard for an informal get together with friends?
Whichever way we like to entertain — and whoever is on our guest list — we all like to ensure our home looks its stylish and welcoming best.
"Our home is very much a reflection of our personality and lifestyle," says Carissa Schmerl, interior designer and stylist at Upstaged Home Staging.
"Our home is a mirror of who we are."
So when guests do drop by, how can you create a little bit of that show-home sophistication? Believe it or not, a few simple additions and upgrades can help turn the key entertaining areas of your house from so-so to show home — and you don't have to spend a fortune or endure months of messy renovations.
Let there be light
Show homes use downlights that are neat and open up the living spaces where you entertain. Add some warmth and interest to the kitchen and dining area with pendant lights that make a statement.
"Hang a pendant over the dining room table to create warmth as people sit around the table and chat and think about hanging pendants over a kitchen bench to create a focal point," Carissa says.
"They encourage people to sit around the bench and chat if you're entertaining and preparing food."
Kitchen focus
Replicate the look of a show-home kitchen by upgrading your dishwasher, cooktop, oven and fridge. "If you cook and entertain a lot, consider having two ovens side by side so you can cater for a crowd," Carissa says.
And make cleaning up after a gathering easier by opting for a pyrolytic oven — the pyrolytic cleaning cycle turns messy fat splashes into an easy-to-clean ash so you spend more time with your guests and less time tidying up.
"If you invest in a new cooktop, choose something that is slimline and sits almost flush with the bench to keep those clean lines that you find in modern show homes," Carissa says.
Stainless steel is a popular choice for fridges, but gloss white is increasingly in demand. Popular models include those with built-in ice machines and a drink dispenser — ideal for when guests drop by during the warmer months.
If your guests prefer an after-dinner latte or espresso, invest in a coffee machine to make cafe-quality coffee at home. Choose from a quick capsule machine, one with a manual coffee-making control to show off your barista skills, or an automatic coffee machine that is convenient but provides enough control for you to make coffee the way you and your guests like it.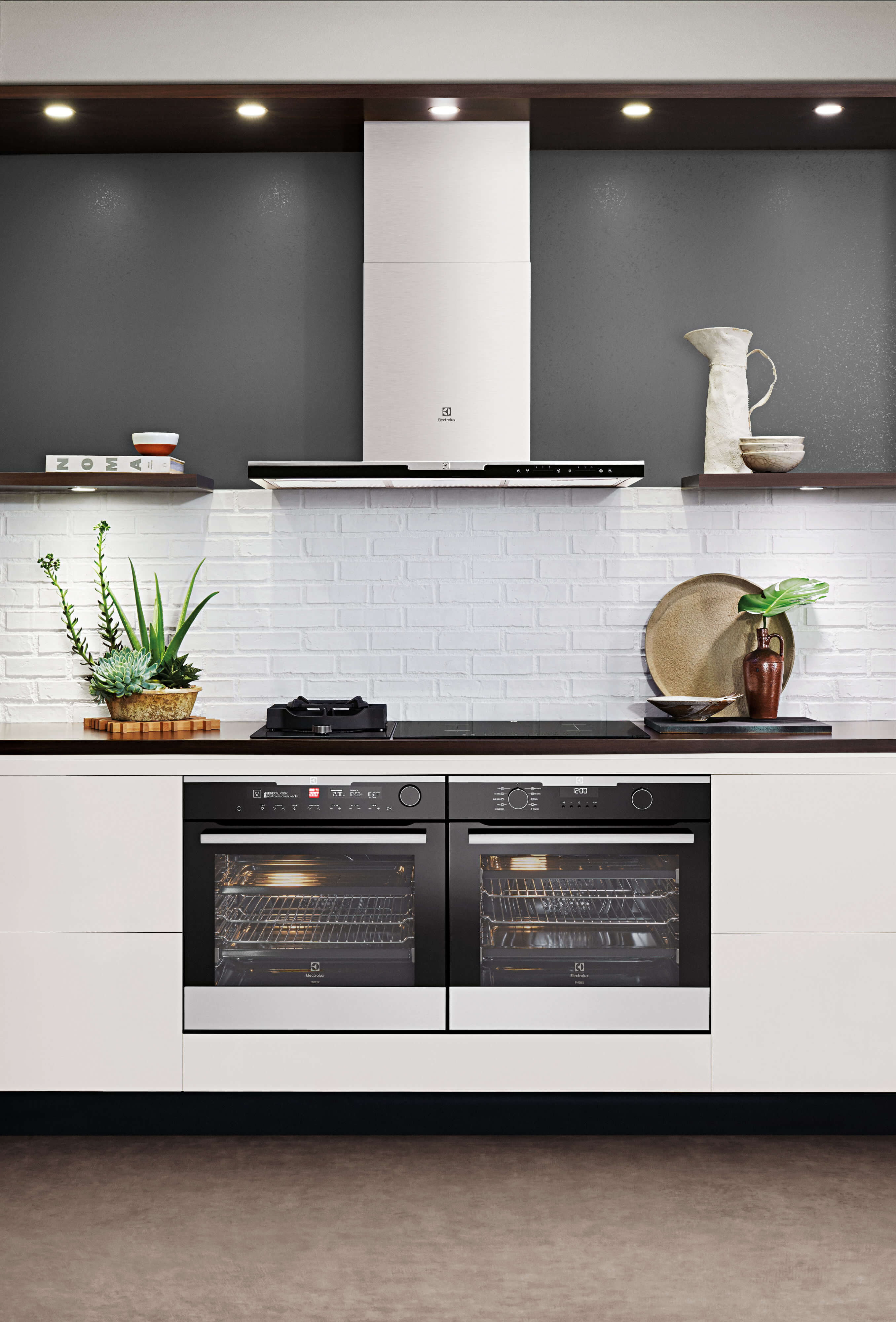 Side by side
Left: Electrolux 60cm Pyrolytic Oven, EVEP606SC, $1848
Right: Electrolux 60cm Pyrolytic Oven, EVE614SC, $1099
Lounging around
The TV and fireplace are a focal point of family living and entertaining. Mirror that show-home lounge look with a large screen TV mounted to the wall. Serious entertainers will get maximum enjoyment from a curved screen 3D Smart TV that creates a theatre experience at home.
Team your TV with a media player so you can stream your favourite shows from online streaming services, such as Netflix, using your home internet. Alternatively, record your favourite movies or invite friends over to view a sporting event — from the Melbourne Cup to the Grand Prix.
"You can have a floating unit or storage underneath the TV, or a beautiful fireplace," Carissa says. "When the TV is switched off, the fireplace becomes the feature for people to gather around."
Be smart with lounge storage so guests don't see everyday clutter.
"Clutter doesn't create a calm and relaxing space," adds Natalie Morey, director of The Life stylers Group. "You can have a floating unit or storage underneath the TV, or a beautiful fireplace," Carissa says. "When the TV is switched off, the fireplace becomes the feature for people to gather around."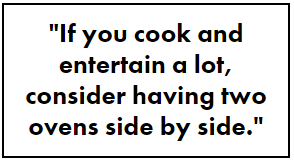 Instead of a traditional coffee table, opt for an ottoman with in-built storage, Natalie suggests. "Foot ottomans are handy storage places for TV remotes and similar gadgets.
Also, cull your bookshelf because overstuffed shelves crowd a room."
Outdoor living
If you're a serious entertainer, a built-in barbecue or artisan module with four burners, stainless-steel hood and window is a worthwhile investment.
A pizza oven is another popular outdoor accessory and, in summer months, an outdoor fridge or bar fridge will keep drinks at just the right refreshing temperature.
If wine is your drink of choice, invest in a wine cooler so you'll always be ready to serve a perfectly chilled glass of wine.
Smaller wine coolers will hold about 20 bottles of your favourite tipple while the larger versions can chill up to 170 bottles.
GET THE LOOK Hot inclusions for show-home kitchens
A bank of ovens built into your cabinetry is ideal for home chefs — it looks impressive and you can cook multiple dishes at once.
A French-door refrigerator with built-in ice and water dispensers adds instant style to your kitchen space.
Colour match your kitchen appliances for a stylish and cohesive look, from blenders and toasters to food processors.
Built-in or benchtop coffee machines are a must-have addition to any designer home.
Integrated appliances, such as dishwashers and fridges hidden behind cabinetry, create a seamless look for a modern twist on classic style.