Discover the vacuum

cleaner

of the future:
The cordless Dyson Cyclone V10 TM vacuum.
This revolutionary cordless replaces your plug-in vacuum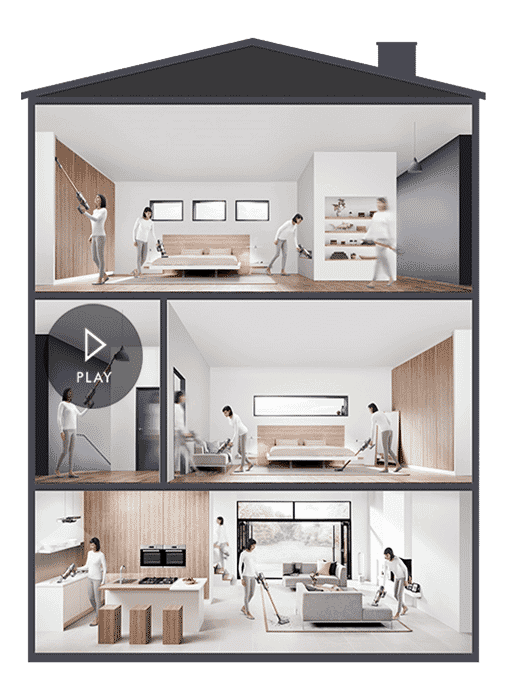 Cordless and versatile with heavy-duty suction power
Dyson digital motor V10 generates the suction power of a full-size vacuum.1
Deep clean your whole home
With a seven-cell, nickel-cobalt-aluminium battery, you have the fade-free power to clean here, there and everywhere around your home.
Up to 60 minutes of fade-free suction2
7-cell Nickel-Cobalt Aluminium batteries ensure suction power doesn't fade.
Bigger bin capacity for less emptying
The 0.76L bin in this cordless vacuum is 40% bigger for more vacuuming and less emptying3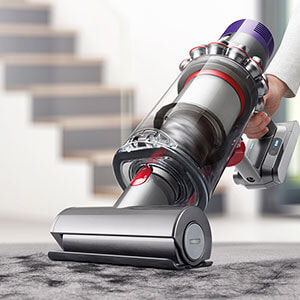 Tackles pet hair and deep-down dirt.
Pet hair and dirt deeply embedded in carpets, rugs, furniture and the car are powerfully lifted and removed by the mini motorised tool.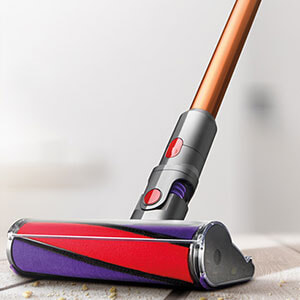 Gentle on hard floors. Tough on dirt.
Dust is gently removed from hard floors by anti-static carbon fibre filaments, and the soft woven nylon covering the motor-driven brush bar captures debris.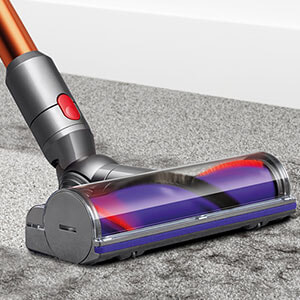 Removes ground-in carpet dirt and dust by driving nylon bristles deep into the carpet. This deep cleaning is powered by the brush bar's DC motor inside the direct-drive cleaner head.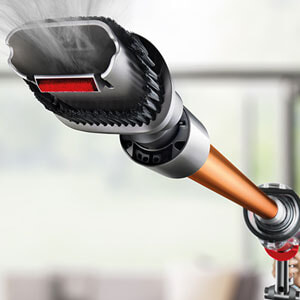 Better top-to-bottom cleaning
The Dyson Cyclone V10 TM motor sits above the handle, so the centre of gravity makes it much easier to reach underneath furniture and up high for cobwebs and dust.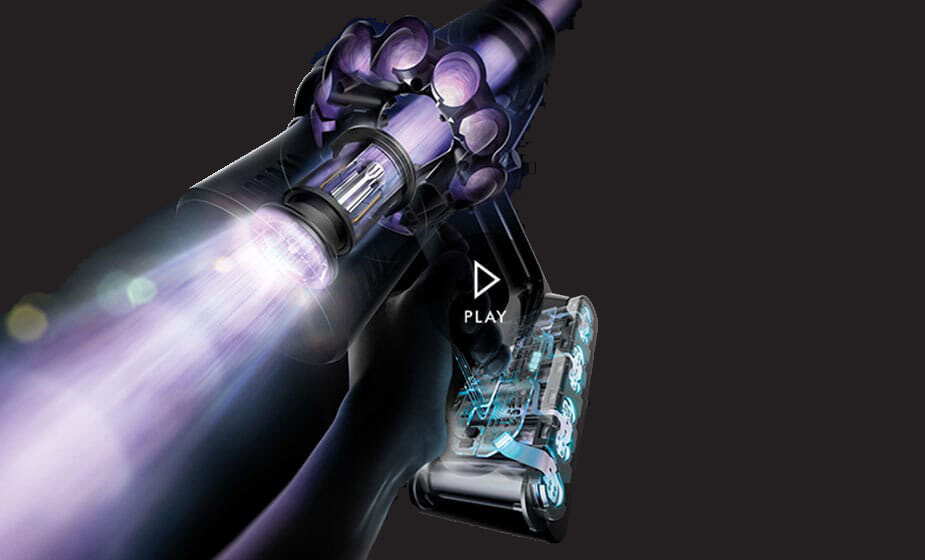 Dyson digital motor V10. Generates the suction power of a full-size vacuum.1
"This is why I've stopped developing corded vacuums."
James Dyson – Engineer
The Dyson Cyclone V10™ vacuum captures 99.97% of particles as small as 0.3 microns every time you vacuum.4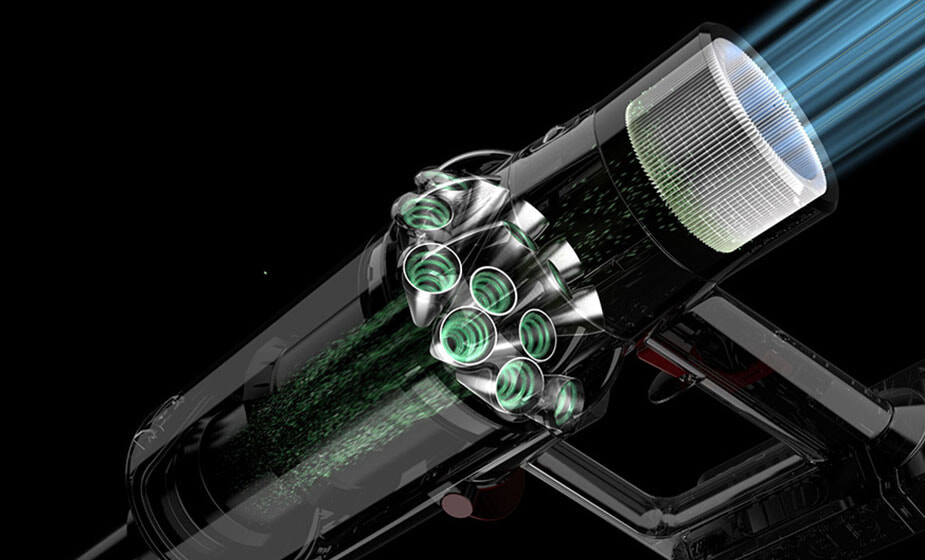 Discover all 14 Dyson Cyclone V10TM vacuum features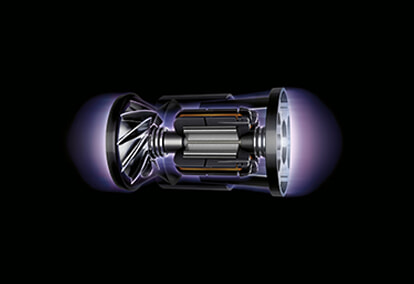 Powered by the Dyson digital motor V10
The most powerful suction of any cord-free stick vacuum in use.1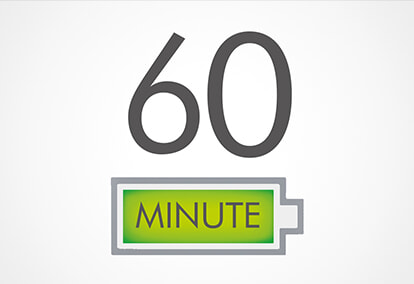 Up to 60 minutes of fade-free suction2
Suction that won't fade so you can vacuum anywhere.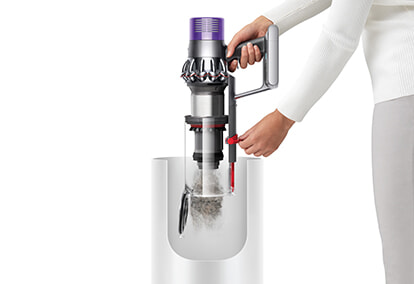 So easy and hygienic to empty
The 'point and shoot' mechanism hygienically ejects dust and debris deep into your bin, in one action – so there's no need to touch the dirt.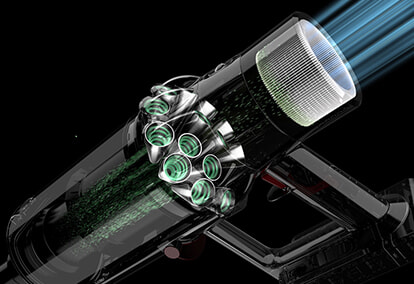 The fully-sealed filtration system traps 99.97% of particles as small as 0.3 microns – expelling cleaner air. 4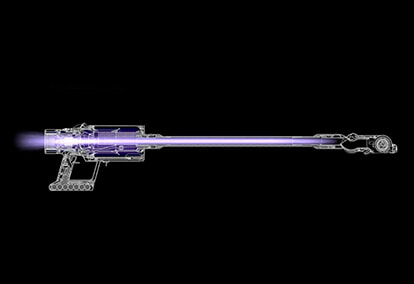 The motor, bin and cyclone are aligned, so air is drawn into the cyclones in a straight line – creating 20% more suction power than the Dyson V8 TM vacuum.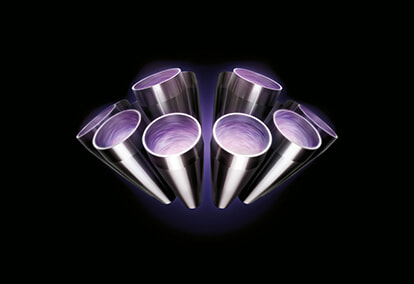 Particles such as pollen and bacteria are forced into the bin by more than 79,000g from 14 cyclones.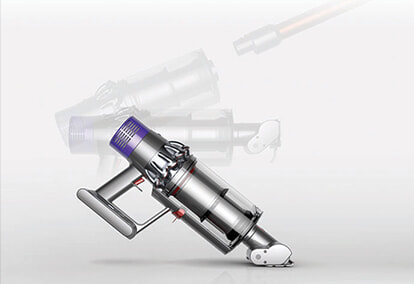 A stick and handheld vacuum in one
With just one click this vacuum transforms from a cordless stick into a handheld vacuum.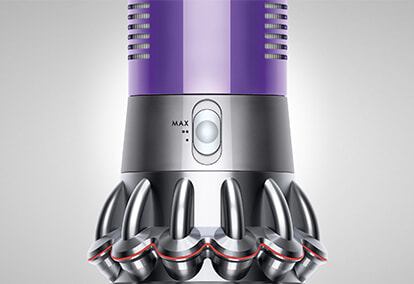 So you can choose the right power for to suit all kinds of cleaning on any type of floor.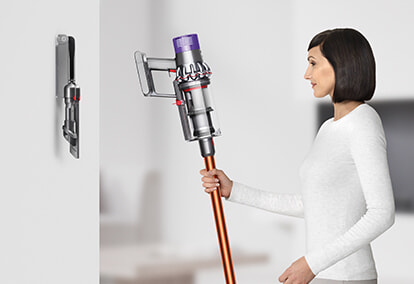 Just drop it into the wall-mounted docking station to recharge, then grab and go.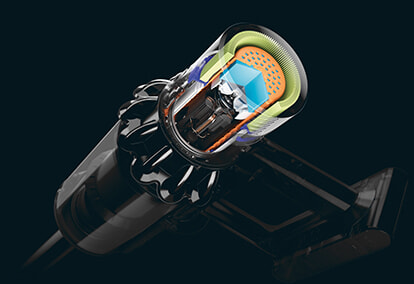 Designed to absorb vibrations and dampen sound, to keep sound levels down.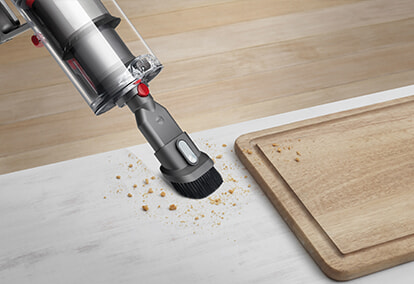 Switching between cleaning surfaces is quick and easy with this two-in-one tool.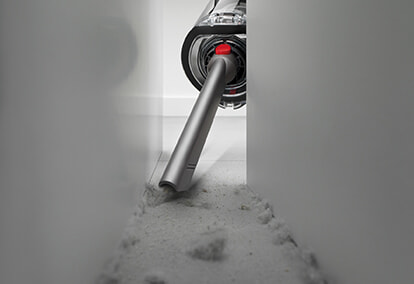 Designed to clean between skirting boards, couch cushions and furniture.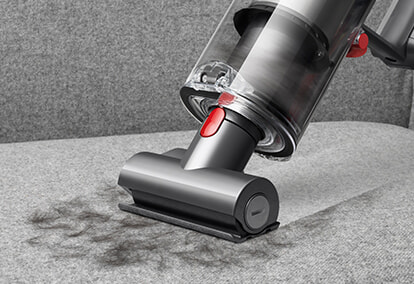 The mini brush bar is motorised to tackle ground-in dirt and pet hair.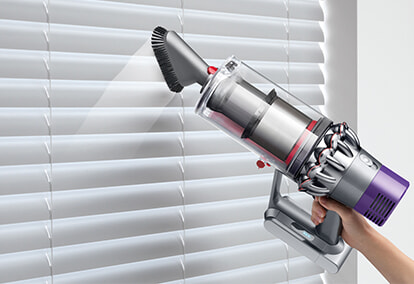 Makes cleaning your window blinds, screens and delicate surfaces easy.
Why people love the Dyson Cyclone V10 TM vacuum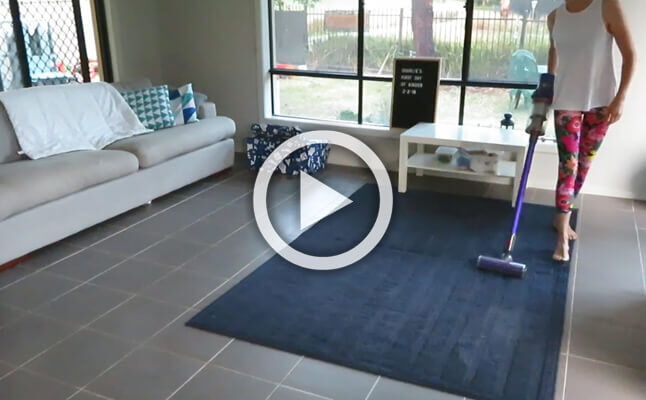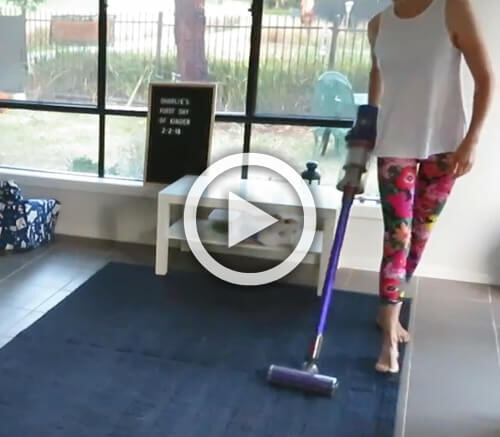 "It's so convenient because of how light and powerful it is. I love it!! Great on polished floors - doesn't scratch. Can be used in the car and has accessories so you can vacuum skirts and window sills!"
Brianna via Reevoo AU
"I couldn't love it more. It's easy to use, easy to empty, powerful, the best vacuum I've had. I have a Dyson stick and also a barrel but this is by far their best. Well done Dyson and thanks!"
Fi via Reevoo AU
"Fabulous vacuum, great for pet hair and removes so much dirt from carpets. Makes my life so much easier, wish I had one years ago. 10/10"
Naomi via Reevoo AU
Compare the Dyson Vacuums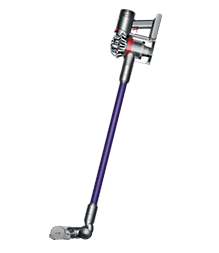 Model
Type
Surfaces
Bin/Bag Capacity
Battery Life
Battery Type
Charge Time
What's in the box
Manufacturer's Warranty:
Shop the Dyson Cyclone V10TM vacuum