The glitter of Los angeles is a garnish of success for super-chef Curtis Stone, but firing up the barbecue with family Down Under is his happy place.
The glitter of Los angeles is a garnish of success for super-chef Curtis Stone, but firing up the barbecue with family Down Under is his happy place.
Curtis' top tips for easy barbecuing
1. Preheat the barbecue
This will prevent sticking and creates a good crust on your food.
2. Keep it clean
After preheating your barbecue, scrub grates with a stiff-bristled grill brush. Wipe soot from the grates with a wet cloth. After cooking, leave the heat on for five minutes and brush the grates again.
3. Dry it off
Big flavour comes from a good sear. Since moisture is the enemy to a good sear, pat your meat dry before cooking.
4. Oil the barbecue or oil the food?
Always lightly coat the food you're grilling with oil (though too much will cause flare-ups). For fish and thin steaks, oil grates too.
5. What tools do you need before you start?
I have a little collection of tools that I call my 'barbecue caddy.' Put all of your tools on a baking tray and take it outside with you. My caddy includes: salt and pepper, a plate with the raw meat and vegies, a clean platter or two for the cooked food, a towel, canola oil for oiling the grill grates, a kitchen towel, a bowl for rubbish and scraps, a spray bottle with water for any flare-ups, and a cold beer. A digital thermometer is ideal.
Chef Curtis Stone will always call Australia home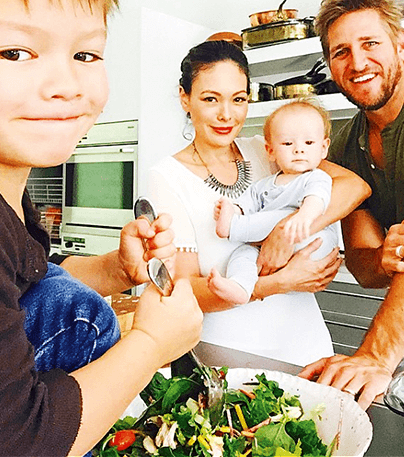 He may have made a career and home in Los Angeles, but celebrity chef Curtis Stone will always call Australia home. If he has his way, he likes to be in the country for Australia day — often near a barbecue.
"It's a day we can all come together to celebrate, reflect and take pride in our country," he says.
"It's kind of nice after the busy times of Christmas and New Year to have a holiday that's a bit more relaxed — just the way we like it Down Under."
Curtis likes to return to Australia as often as possible, recently spending Christmas here with his wife Lindsay Price and their two boys, Hudson, 5, and Emerson, 2.
"I like to come to Australia about five to six times a year, for about two weeks at a time," he says.
"I get to mix a little bit of work with family and leisure time."
Since rising to fame as host of Seven's My Restaurant Rules in 2004, Curtis has rarely been out of the limelight and is now one of our most successful and recognisable exports on television in the US.
During the past two years he has returned to the kitchen, opening two restaurants — Maude and Gwen — in Los Angeles.
But despite all the success, Curtis still loves nothing more than to cook, especially on the barbecue, something households across the country will do today.
Completing a barbecue once over
The barbecue is more than just a sausage, a lamb chop or chicken wing for Curtis. His favourite thing to cook at the moment includes Fred Flinstone sized barbecued rib-eye steaks, or the all-American burger. If he marinates the meats, his secret ingredient is fresh ginger when grilling.
But what is his biggest tip to get started?
"Complete a once-over of your barbecue," he says.
"Is it clean? Do you have all the right tools in your barbecue toolkit?
"Do you have a sufficient gas, charcoal or wood supply to keep it cranking?
"I think the barbecue once-over is super important to look at in advance as it's no fun running into setbacks and dramas on game day."
Everyone has their own way of barbecuing at home, but Curtis says there is a very common mistake a lot of us make.
"People mistakenly think that it's a good thing when flames flare up and engulf the food, but that's not the case," he says.
"When flames swallow your food, they leave a nasty, sooty film on the surface of it.
"Minor flares are OK, but keep those flames at bay by closing the lid and vents to cut off the oxygen supply, and move the food away from the flare-up.
"A few moments with the lid and vents closed should choke the fire."
We should also think outside of the box when it comes to what we cook on our barbecue — including seafood.
"Cooking fish on the barbecue imparts a delicious, smoky flavour," he says.
"Whole grilled fish are really impressive to serve and simple to do."
Barbecued rib-eye steak with salsa quemada
Ingredients
Salsa (makes 4 cups)
2 tbs olive oil
2 dried chillies de arbol
8 large tomatillos, husked and rinsed
3 medium heirloom tomatoes (about 560g)
2 red jalapeno chillies or 2 long red chillies
1 green jalapeno chilli or 1 long green chilli
1 bunch spring onions, trimmed
2 garlic cloves
1 cup coarsely chopped fresh coriander
Juice of 1 lemon
Steak (serves 6)
4 boneless rib-eye steaks (about 360g each and 2.5cm thick)
3 tsp olive oil
Special equipment
3 cups hickory wood chips, soaked in cold water for 1 hour
Smoker wood chip box or a 32 x 23cm aluminium foil pan (if using a gas barbecue)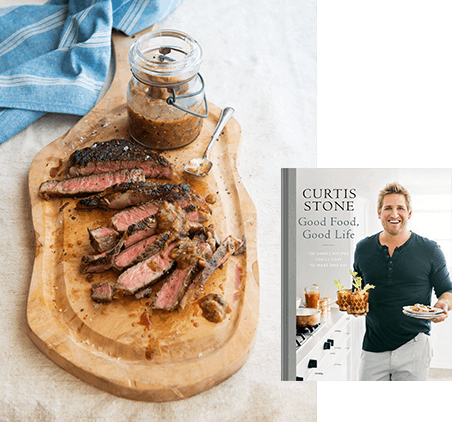 Photo(recipe and cover inset): RAY KACHATORIAN
Good Food, Good Life, by Curtis Stone (Penguin Random House, $39.95)
Method
Prep:
Let steaks stand at room temperature while you prepare a barbecue for medium-high heat and make salsa. For a gas barbecue, spread drained wood chips in smoker box and close it; alternatively, spread wood chips in foil pan. Place smoke box or foil pan on a lit burner. For a charcoal barbecue, sprinkle drained wood chips over hot coals.
To make salsa:
In a small heavy saute pan, combine oil and chillies de arbol and cook over medium heat for about 4 minutes, or until chillies are toasted and beginning to blacken. Remove chillies and set aside. Allow chilli oil to cool slightly. On a large baking tray, toss tomatillos, tomatoes, jalapenos and spring onions with chilli oil and season with salt. Lightly oil barbecue grates, place vegetables on barbecue, and close lid. Cook vegetables, turning only once, until they are blackened as much as possible; don't stress out if tomatoes and tomatillos break open and begin to fall apart — it's a sign that they're cooked through. Aim for these cooking times: 8 minutes each side for tomatoes and tomatillos, about 6 minutes each side for jalapenos, and about 3 minutes each side for spring onions. Using tongs, transfer vegetables to baking tray and let cool slightly. Trim stems from jalapenos and remove seeds, if desired. Do not remove charred skin. In a blender, combine blackened vegetables, garlic, coriander, lemon juice and toasted chillies de arbol and blend until smooth. Season salsa with salt.
Meanwhile, to barbecue steaks:
Coat steaks with oil and season with salt and pepper. When you see wood chips beginning to smoke, set steaks on barbecue grates and cook for about 6 minutes each side, or until meat feels only slightly resilient when pressed with a fingertip, for medium-rare. Transfer steaks to a carving board and let rest, uncovered, for about 5 minutes. Serve steaks with salsa.
Source: Originally published in The Home Edition News Corp Australia.
Looking for a BBQ? Shop The Good Guys range of BBQs